If you are in the Pigeon Forge area of TN, You might be wondering if a trip to Dollywood Theme Park for their famous Christmas festival is worth it. After visiting Dollywood during Christmas with my family, I can say 100% it's an experience you don't want to miss!.
They have more than 6 million twinkling lights, a 50 foot tree, award winning festive shows, delicious Christmas treats and holiday cheer everywhere you look, plus all the great rides at Dollywood and its all included with your regular one day ticket.
After the sun goes down, you will feel like you have been transported to a Christmas Hallmark Movie and it's sure to be a trip you'll remember!.
When Is The Smoky Mountain Christmas Festival?

You can enjoy this magical festival from Nov. 4, 2023 to Jan. 6, 2024.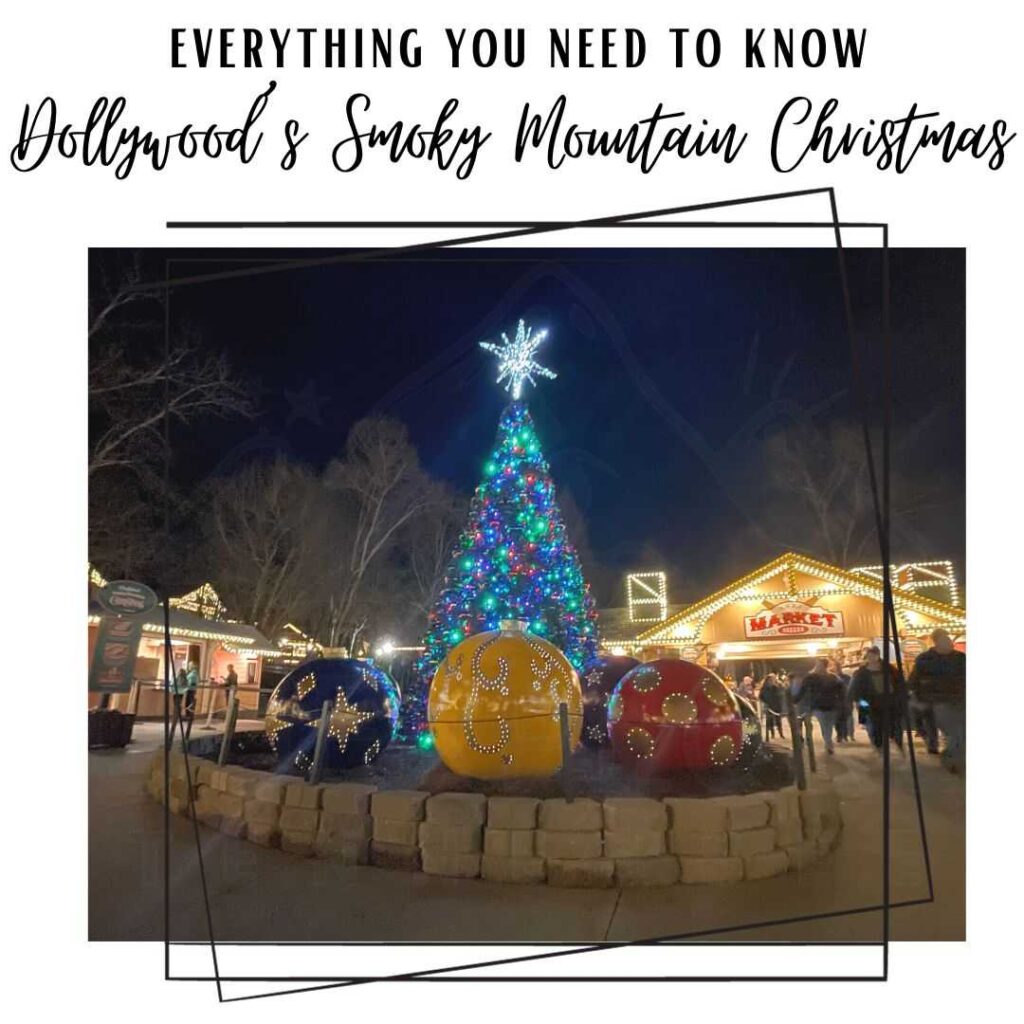 ---
When Does Dollywood Decorate For Christmas?
---
Dollywood crew begins working on their Christmas decorations months before November.
The park normally closes for a few days after the Harvest Festival to transition into a winter wonderland!. The Christmas decorations at Dollywood are usually done by that first week of November and the park is completely decorated and open for guests to experience the magic of the season ( and take great photos ).
---
How long do the Christmas lights stay up at Dollywood?
---
The Holiday lights at Dollywood stay up from early November through the first week of January when Dollywood closes for the season.
---
What Is Dollywood's Christmas Schedule?
---
Dollywood is open almost every day in November/December.
In November, Dollywood is open every day except for November 1st, 2nd, 3rd and the 23rd. They are also closed every Monday in November. In December, They are closed on the 24th and 25th. You should always double check Dollywood's website for official operating days and times before your trip.
---
How Much Does it cost to go to the Christmas Festival?
---
The Smoky Mountain Christmas Festival is included with the price of normal park admission (not including food or extra add ons). A Ticket for one day to Dollywood (as of 2023 season) normally costs $89 plus tax. 2 Day Tickets are $109 and 3 Day Tickets are $119. Sometimes they can vary by seasons, so always double check before your trip.
---
What Fun Activities Can I Find At The Festival?
---
Besides all the rides and attractions at Dollywood, there are some special activities that only happen during the festival. One of them and a family favorite is Glacier Ridge and you can't miss it. It turns Dollywood's Timber Canyon and Wilderness Pass areas into a winter wonderland with light displays plus They have the Wonderful Christmas! tree show at Wilderness Pass Plaza. The show has a 50-foot tall, animated tree that sparkles to a fully-synchronized, dazzling light show throughout the evening!.

Dollywood has just announced that they have added a new drone show "Joyful! Season of Light" for the 2023 Christmas season with hundreds of drones lighting up the night sky and displaying festive reds, greens and whites in a show sure to delight every guest.
Another cool activity is you can see Santa in his cabin in the Smokies actually checking the Naughty and Nice list and have your picture taken with him! ( If you have the memory pass, this picture is included ). Can you find your name on the list? Don't miss this once-in-a-lifetime experience.

You can also do some holiday shopping for seasonal merchandise. From festival shirts, mugs, bags and jewelry, you will want to take everything home with you!. Don't forget to check out The local artisans and see what they're making for the season.
Tip: Take a ride on the Dollywood Express after the sun goes down for the best views of the millions of lights twinkling and Christmas decorations.
---
Christmas events and attractions at Dollywood
---
There are different Christmas shows at Dollywood during the holiday season. These include "Twas the Night Before Christmas" and "Christmas in the Smokies". You can also enjoy an outdoor performance of "Appalachian Christmas" or "O Holy Night," filling the air with Christmas spirit!. They have many scheduled performances each day during Dollywood's Smoky Mountain Christmas. Here is a quick list;
'Twas the Night Before Christmas
(Pines Theater)

You will join the Baxter family and the snickerdoodle loving mice as they experience their own Christmas miracle.
Christmas in the Smokies show
(DPs Celebrity Theater)

The show is a great way to get into the holiday spirit. This live musical production takes place in the park's Celebrity Theater and has a cast of singers, dancers, and musicians performing holiday songs and traditional Christmas carols. Watching this show together is a Christmas tradition for a lot of families who have enjoyed it for generations since it began with the festival 30 years ago.
Heart of the Holidays
(Dreamsong Theater)

This show is all about family and the warmth of the Christmas season. Its performed in DreamSong Theater. This Dolly Parton family show features Dolly's family. The show has songs from Dolly's Christmas album, "A Holly Dolly Christmas" , plus some of her holiday favorites.
The Candlelight Carolers
(Robert F. Thomas Chapel)

On the steps of the Robert F. Thomas Chapel, you will find The Candlelight Carolers. They share the true spirit of the season with traditional Christmas hymns. They will ask you to join in and be part of the joyous message of Christmas.
Christmas with the Kingdom Heirs
(Showstreet Palace Theater)

Join Dollywood's own Southern gospel group, as they sing about the reason for the holiday with Christmas hymns and songs to keep spirits soaring. You can enjoy this Christmas show in Pines Theater.
---
How are The Crowd levels during Christmas at Dollywood?
---
While the park is festive and full of holiday cheer, it can also get pretty crowded, especially on weekends. But don't worry, with a little bit of planning, you can still enjoy all the holiday festivities without having to spend hours in line.
The park normally gets the busiest during the weekends and the week before Christmas, so if you're looking to avoid long wait times, your best bet is to plan your visit during the weekdays. If you cant visit during the week, get to the park as early as possible, to beat the crowds and go on your must ride attractions. This way, you'll be able to enjoy shorter lines.
Another way to avoid long lines at Dollywood during the Christmas season is to buy a TimeSaver pass. There are currently 3 to choose from; TimeSaver, TimeSaver Plus and TimeSaver Premium. With this ticket, on rides and attractions that take it, you go on a different line, which is shorter than the normal line and you get on the ride faster. You also get priority seating at shows in participating theaters.

Check out our post on the TimeSaver for all the info you need!.
---
What are some Holiday Food, Drinks and Deserts Options
---
Dollywood really knows how to get into the holiday spirit, and that includes the food! You'll find so many options during this festival. Here's a list of some of the holiday food, Snacks and Drinks options available at Dollywood during the Christmas season:
Cinnamon Bread

This is a must-try for anyone visiting Dollywood during the holidays or anytime during the year. It's a warm, soft and gooey cinnamon bread that's perfect for snacking on while taking in all the festive sights and sounds. It's big enough to share ( or not ! ).
Gingerbread Everything

If you love Gingerbread get ready! You can find different snacks in the gingerbread family like a gingerbread dusted funnel cake, gingerbread churros with a side of peppermint eggnog dipping sauce and ice cream in a gingerbread cone.
Peppermint Bark

Satisfy your sweet tooth with a piece of peppermint bark. This delicious treat is made of white chocolate and crushed peppermints.
Hot Cocoa

There's nothing like a warm cup of cocoa to get you in the holiday spirit and warm you up on a cold day. You can find Hot Chocolate through out the park in many different areas.
Santa's Chilled Cocoa

If you would rather have a cold drink, you can also find Santa's Chilled Cocoa. It has hints of peppermint and cream on top.
Pecan Sticky Bun

the pecan sticky bun from Spotlight Bakery, is so sweet, gooey and delicious that you will want to get more than one!
Eggnog Cheesecake

Perfect holiday dessert. The Eggnog cheesecake is made with rich eggnog, cream cheese and wrapped in a gingersnap crust. Its so good!
Wassail
Available at different locations throughout the park, Wassail is a hot cider with delicious harvest spices and citrus flavors.
These are just a few of the many delicious holiday food options available at Dollywood during the Christmas season.
Can't pick just one? Get The Smoky Mountain Christmas Tasting Pass. This package lets you enjoy up to 5 festival food tastings at select food locations in Dollywood. You can choose to use all five tastings at one location or at different festival locations. The tasting pass is $36.99 plus tax or $33.99 plus tax for Gold and Diamond passholders. It's a great way to try different flavors and dishes!.
Tip: Download the Dollywood app before your trip for a complete list of culinary locations and the festival menu.
---
Does Dollywood Have Fireworks For Christmas?
---
Dollywood has a new drone show called " Joyful! Season of Light " and It does include some fireworks.

When the sun goes down, the winter sky lights up with Hundreds of festive drones as they dance to holiday tunes! Your whole family will love watching.

Keep in mind that during the Smoky Mountain Christmas festival, Big Bear Mountain will pause operation before and during each evening's 8:30 p.m. drone show.
Guests can still wait in line during the drone show. Once the show has finished, Big Bear Mountain will resume operation.
---
So Is Christmas at Dollywood Worth It?
---
I highly recommend it! Visiting Dollywood during the Christmas season is an unforgettable experience full of holiday magic, excitement, and joy that you can't get other times of the year.
---
Enjoy and make beautiful memories and new traditions together, have fun!
Did you visit Dollywood during this Winter Wonderland festival ? Share your experience with us in the comments!
---