Hey parents! As a Mama of 3, I know how overwhelming it can be to get everything ready for a day at the Theme park! And don't even get me started on vacation planning.

I made this post to try and help you be a little less stressed with all your packing and planning, because trust me, I have been there too!. We'll be talking about what to take to Dollywood with toddlers, babies, or just kids in general so you can have a fun day with your kiddos and family.
We also made a Downloadable packing list so you can have it on hand while packing to make sure you don't forget anything. Let's get started!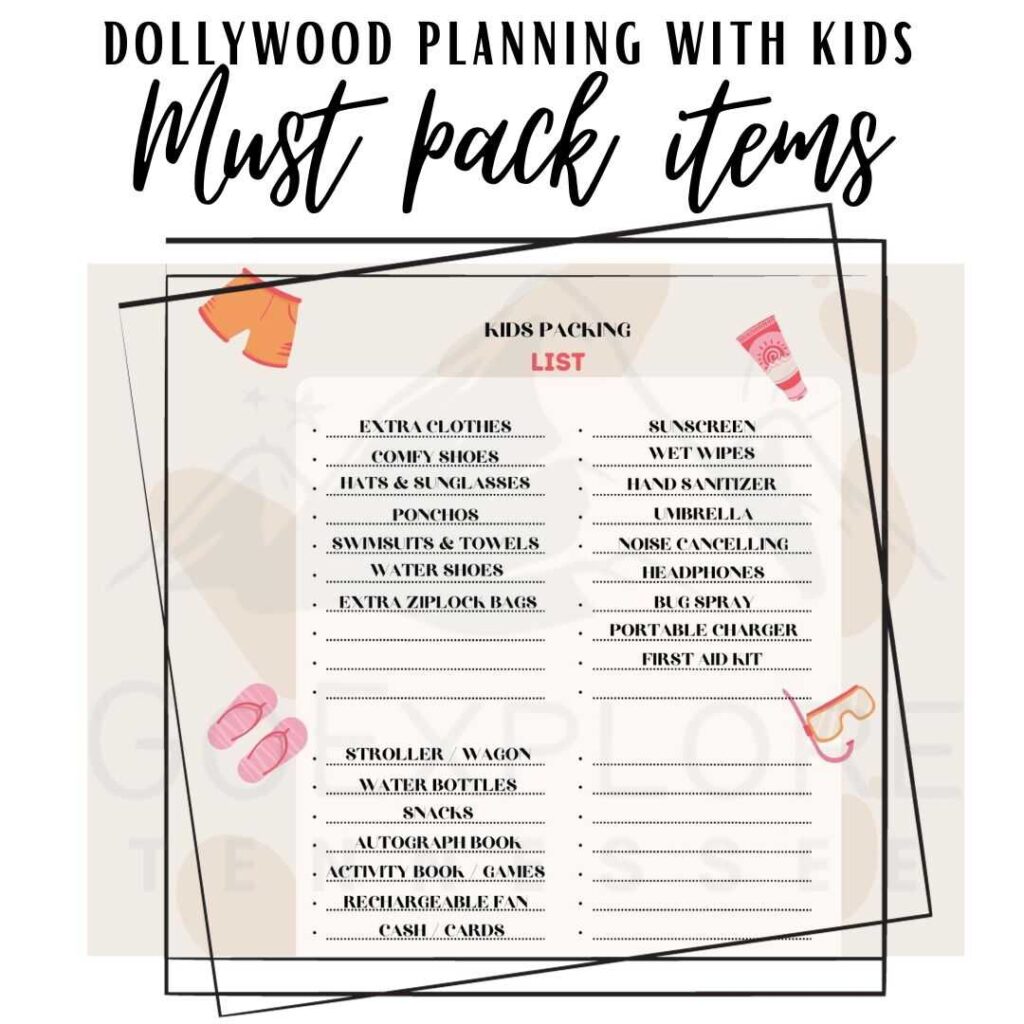 ---
---
Comfortable Shoes:
---
When you are visiting Dollywood or any theme park, it's very important to wear comfortable tennis shoes!. Theme parks have a lot of ground to cover, and with different attractions and rides spreading out over a large area, you will be doing a lot of walking.
Your shoes need to be broken in. If you wear brand new shoes, you might end up with blisters and sore feet, and that is no fun! If you are buying shoes for your vacation, I recommend buying them a few weeks before and wearing them so they are broken in by the time you go on your vacation.
These are some of our favorite comfortable shoes, for Women , Men and for kids. Remember to pack extra shoes and socks, some rides at Dollywood involve getting wet or just in case it rains.
---
Sunscreen:
---
Sunscreen is a must have! You want to be protected from the sun's strong rays, and sunscreen packs are an essential item. Even when its cloudy during the summer months, you should still apply sunscreen. Sunburns can be super painful to deal with, especially for your kiddos, and they can even cause fevers. Remember to re apply sunscreen through out your day.
Tip: You can put alarms on your phone so you won't forget. We like to use this sunscreen for an easy application.
---
Hats and Sunglasses:
---
Just like sunscreen, its important to bring hats and sunglasses during the warmer months when there are lots of sunny days and temperatures go up. Wearing a hat will protect your face, head, and eyes from the sun's harsh rays. You can find hat and glasses for the kids online and they are super affordable, like this one.
Sunglasses help protect your eyes, and help you see better. If you are taking sunglasses, it might be a good idea to take cheap ones, just in case you lose them.
You should also pack your favorite lip balm to protect and avoid chapped lips.
---
Water Bottles:
---
Staying hydrated is super important especially in the summer heat, so remember to pack your refillable insulated water bottles or bottled water. If you need to buy refillable water bottles, these are good and cheap! We've had them for a few years and we love them.
They also make them for kiddos. Dollywood has many water fountains throughout the park, where you can refill your water bottles for free. You can even go to any restaurant or food cart and ask for water cups, free of charge!.
---
Snacks:
---
I highly recommend bringing snacks to the theme park, especially if you have little snack monsters like I do. Bringing snacks from home can save you money and time that you would spend waiting in line for food. We know kids get hungry and cranky in an instant, especially when they're running around and having fun. Having snacks on hand can help prevent meltdowns and keep them energized and happy.

If you have specific dietary needs or restrictions, bringing your own snacks might be a good idea so you have food options that meet your needs. Make sure to pack different individual sized snacks that are easy to carry and won't melt or go bad in heat. For more information on bringing your own food and drinks into Dollywood, Check out this helpful Guide.
---
Ponchos:
---
Pack some ponchos!. Rain showers or heavy rain can pop up out of nowhere, even on sunny days. Plus, Dollywood has 2 rides that involve water, so if you go on them you might want to wear a poncho unless you want to get wet.
We prefer rain ponchos because they're easier to carry around than an umbrella and use less space. You could take your rain jackets too. Theme parks sell ponchos if you need some last minute, but it will cost you more than if you buy them outside of the parks! You can find a pack of ponchos for the whole family on Amazon, disposable and reusable.
A little tip, get some ponchos that are easy to put on, especially on the kids. I recommend bringing a poncho for each member of your family ( 1 or 2 extras if you buy dollar tree ponchos, just in case they break ) and make sure they are in an easy to grab place, for when you need them.
---
Extra Clothes:
---
If you have kids, you probably already know this, always pack extra clothes!. Accidents can happen at any time, whether it's a ride that gets you wet, a potty accident or a spill that happens while eating a snack. Packing an extra set of clothes for each kiddo can save you from having to buy shirts and shorts at the park or having to leave the park earlier than expected. I recommend packing a light jacket too, sometimes the weather changes as the sun goes down.
It's also a good idea to pack a few plastic bags to store soiled or wet clothing.
If you're worried about the bulk of packing extra clothes, you can roll a whole outfit tightly together!, or use these packing cubes.
---
Wet Wipes:
---
Wet Wipes, a Mama's best friend! Sticky hands and dirty faces happen all the time with kids, especially after eating a messy snack. With wet wipes in hand, you can quickly and easily clean up any messes. If you have a little one in diapers, you probably already have some in your bag, but if you are past that stage, don't forget to pack some baby wipes!.
We love the extra thick baby wipes from Aldi, they are awesome and cheap! If you want to buy baby wipes in bulk, you could order these from Amazon.
---
Hand Sanitizer:
---
Always pack hand sanitizer. You wont be able to quickly wash their hands every time they touch something or play somewhere. We all know how fast a toddler can stick their fingers in their mouth and with everyone in the park touching everything, even though they do clean surfaces frequently, its a breeding ground for nasty germs. The last thing any parent wants is sick kiddos.
That's why I always make sure to bring plenty of hand sanitizer with me on our trips. Hand sanitizer is a fast and easy way to kill germs. These are the ones we use , you can also find them at target or Walmart on the checkout section. I like to clip it onto bags and stroller for easy access. You can use it after touching ride handles, playing in the play areas, after using the bathroom and before eating any snacks.
---
Portable Power Bank (battery pack):
---
I highly recommend packing a portable power bank / battery pack. Your phone's battery can only last so long, and you will be taking a million pictures and making videos through the day!. With a portable power bank, you won't have to worry about missing out on capturing those special moments! You can simply plug in your device and keep taking all those pics.
It can also come in handy for other devices, like tablets and portable fans. Maybe you want to keep the kids entertained while waiting in line for a ride and if your device does happen to run out of juice, you can plug it into your portable charger and keep going. This is one we recommend.
---
Bug Spray:
---
Like hand sanitizer & sunscreen, you should always keep a small bottle of bug spray in your backpack. The Smoky Mountains region is known for its beautiful forests, rivers, and wildlife, but that also means pesky insects like mosquitoes, ticks, and other biting bugs.
You might not need it at the theme parks, but many of the outdoor activities you'll want to do in the area, like hiking, or just enjoying a picnic in the park, will put you in close proximity to these bugs.
There are so many different types of bug sprays today, some even come in little patches or bracelets, so you don't even have to spray it on.
---
Handheld fan or misting bottle:
---
If you are heading to Dollywood during the summer months, I highly recommend that you pack rechargeable portable fans!. The summer months in this area can be hot and humid, and the last thing you want is for your kiddos to be uncomfortable, cranky and overheated while you are waiting in line or walking around the park.
We have 3 different clip on ones that we always pack, i personally don't like the cheaper ones with batteries. They don't work, they hardly throw any air, and die super fast. This is the rechargeable one we use. We have used it for years, daily and it still works great.

You can also pack a misting bottle. It can be filled with cold icy water and used to spray a fine mist on your face and body to help you cool down. There's even a rechargeable clip on misting fan, you can check it out here!
---
Swimsuits and towels:
---
If you're planning to use the water play areas at Dollywood, visit Dollywood Splash Country or just want to cool off in a hotel pool, make sure to pack your swimsuits, towels and flip flops / water shoes!. Almost all hotels in the area have swimming pools for guests, and since swimsuits, towels and water shoes / flip flops don't take up much space in your luggage, you should have them just in case you want to cool off in the pool after a long day at the park.

I really recommend packing waterproof phone pouches if you are going to Dollywood Splash Country. That way you can have your cell phone on you at all times for emergencies or to take pictures and videos of your fun day.
These are the phone pouches we use. We have not had any problems with them and our phones stayed nice and dry.
---
Portable umbrella:
---
I always recommend packing a small, portable umbrella when visiting a theme park. It's a simple item that can easily fit into a backpack or purse, but it can be a lifesaver when the weather turns. Not only will it keep you dry during a sudden rain shower, but it can also give you shade on a hot, sunny day. This is like the one we have, We always keep it in our bag or car.
---
Activity books or games:
---
Waiting in a long line can be boring, especially for the littlest ones! I always try to pack something to keep my kids entertained while we wait. Having something to do in line helps pass the time and keeps kids from getting restless & cranky.
Activity books or games are a great alternative to phones/tablets. They are a fun way to keep kids engaged and focused on something other than a screen. Sticker books are also a good option. If they love to draw, you can pack these! Don't forget to bring some snacks and water to stay hydrated and energized during those long wait times.
---
Noise-cancelling headphones:
---
If you have noise cancelling headphones, take them with you. Some rides, shows or the park in general can be loud, which can be overwhelming to some kids. They can help reduce stress and anxiety for kiddos with sensory issues and in case a ride gets stuck, which can happen in any theme park, noise cancelling headphones can help block out the noise and make the situation more comfortable & bearable.
We started using noise cancelling headphones after an incident with fireworks at another popular theme park when one of our kids was 2 years old. We now have a kiddo who gets super scared if he hears fireworks or really loud noises.
We found that the "amazon basics kids noise earmuffs" work great for us and really recommend them. They are currently unavailable on Amazon so I can't link them for you, but you can search for other alternatives. Make sure to test the headphones with your child before the trip to make sure they fit and block out noise.
---
Ziplock bags:
---
Packing extra Ziplock bags can be a real lifesaver. Accidents happen, especially when you have littles in tow. A spill, a wet ride, or a potty accident, having a few extra Ziplock bags can come in handy. You can use them to store wet or dirty clothes, so you don't have to worry about them staining your clean clothes. You can also use them for sharing snacks.
---
First Aid Kit:
---
Accidents happen, and having a small kit in your backpack or purse can quickly help for minor injuries. Essential items to pack include band-aids, antiseptic wipes, antibiotic cream, pain relievers, gauze, adhesive tape, and any necessary medications. You may also want to add allergy medication and other things depending on your family's needs. This is the first aid kit I carry with me.
---
Cash and cards:
---
I always recommend bringing both cash and cards when visiting the theme park. Even though Dollywood takes credit cards and debit cards, having cash on hand can be helpful for smaller purchases like snacks, drinks, and arcade games. In case there are issues with your card or with the parks system, having cash as a backup lets you make purchases without any hassle.
---
Stroller or Wagon:
---
If you have a stroller, take it with you!. It can be tiring for little legs to walk around the park all day, and without a stroller or wagon, you might end up carrying them.
Having a stroller or wagon is a safe place for them to rest, take a nap or eat some snacks and It makes navigating through the park easier. With so much people walking around and long lines, it can be tricky to keep track of little ones, especially if they like to run around everywhere. So having them in a stroller or wagon can make it easier and safer to move through the crowds.
Another perk of taking your stroller/wagon is that you wont be carrying around all the bags you take!. You can just put everything under the stroller, or hang the backpacks with these clips. Also, cup holders!.

We own both, a stroller wagon and a stroller. I highly recommend having a stroller wagon. We have the MUV by Baby Trend Expedition 2-in-1 Stroller Wagon Pro, Equinox. We got it 4 years ago and we still absolutely love it. Its especially great to have if you have more than one kiddo.
If you have a small car and can't fit a huge stroller wagon like the one we have in there, you can get this stroller wagon which folds up tiny, or a normal stroller.
---
Autograph Book:
---
Bringing an autograph book when visiting theme parks turns into a fun activity for your littles to do throughout the day. They can look out for characters, during meet & greets, and ask for their autographs.
An autograph book, can be a wonderful keepsake from your visit. Your kids can print the pictures they took with the characters and glue them next to the Autograph. Most of the ones you find on Amazon are for Disney trips, like this one, but they work just the same for any trip!
---
Get ready to experience the joy, excitement, and pure magic of Dollywood.
What are some must haves for your trip that you like to pack? Let us know in the comments!
Happy planning!
---

Don't forget to download our free packing