From delicious food to exciting rides and attractions, Dolly Parton's Dollywood Country Fair has it all!. This part of Dollywood is super family friendly, it has rides for kids and toddlers. And what's always the best part of going to the fair? The food!. You can find classic fair foods like burgers, corn dogs, fried funnel cakes, cotton candy and ice cream!.
But the excitement doesn't stop at the food. If you are a fan of fair rides, you will not be disappointed. There are so many rides to enjoy, including a few gentle rides for the littlest visitors.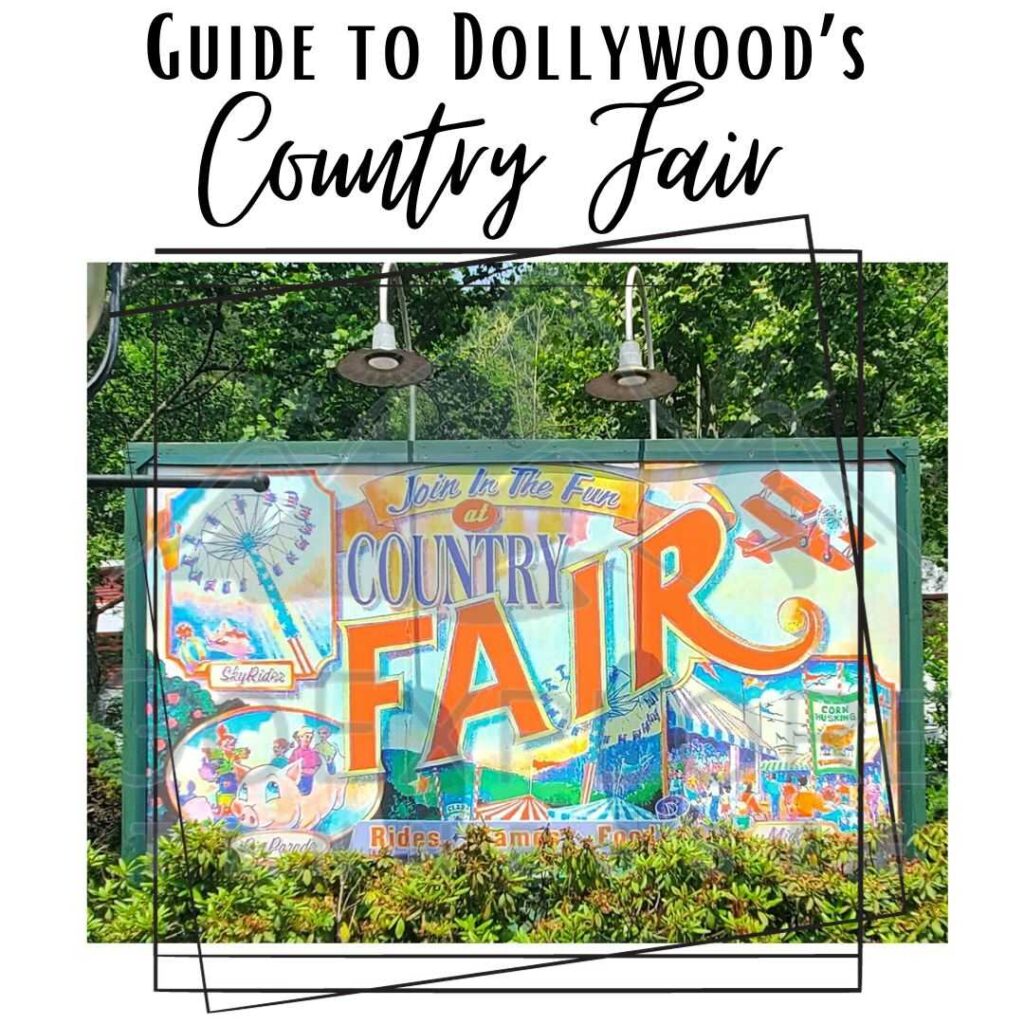 ---
Places to eat at Dollywood's country fair.
---
Like in any good fair, there are tons of amazing foods to try.
Here's a list of some of the places and foods you can find at the Country Fair;
Blue Ribbon Cones

This spot specializes in ice cream cones. They offer classic flavors like vanilla, chocolate, or a swirl of both!. You can choose which cone you want, or you can get your ice cream in a cup ( in my opinion, the best option for toddlers ). Prices are pretty reasonable, with most cones costing around $5. You can add sprinkles or cookie pieces. If you want something to drink, they sell fountain drinks and water here.
Dippin' Dots

Another sweet option you can get is Dippin' Dots. These are one of my kiddos favorite treat. These "dots" of ice cream are a fun way to cool down on a hot day. You can choose from different flavors like chocolate, cookies & cream, banana split, birthday cake, cookie dough, brownie batter, and rainbow ice or opt for a mix of flavors.

The prices are a bit higher than what you'll find at Blue Ribbon Cones, with a small cup of Dippin' Dots costing around $7. You can also purchase the Souvenir bowl for a few more bucks, and refill it every time for half of what it costs to buy a regular bowl again!.
Grandstand Cafe

If you're looking for something to eat for lunch or dinner, check out Grandstand Café. This restaurant serves classic fair food like nachos, hot dogs, chicken tenders and French fries. They also have a fried chicken sandwich and the southern salad. Prices are reasonable, with most menu items costing around $10. They have an outdoor seating area where you can enjoy your meal and take in the sights and sounds of the fair.
Midway Market

This spot is located right in the middle of the Country Fair area and has a variety of classic fair foods. They have snacks like fried funnel cakes, cotton candy, and buttered popcorn. They also sell footlong corndogs. Prices are pretty standard for fair food, with most items costing between $5 and $10.
---
What rides are in country fair at Dollywood?
---
The Country Fair wouldn't be complete without classic fair rides plus some kiddie rides, there's something for the entire family. Let's take a look at some of the rides;
Busy Bees

This ride is perfect for babies and toddlers. Kids get to ride around and around on the back of the bees! The bees light up, and as the ride starts going around, the bees go up and down gently to a catchy song!. There is no height requirement for this ride and little ones can ride on their own, or with an adult.
Demolition Derby

The Demolition Derby is a classic bumper car ride that is perfect for kids and adults. The ride has 20 cars that can each seat up to two people, making it great for a little family competition!. Hold on tight as you bump and crash your way around the arena.
Dizzy Disk

This is a thrilling ride that spins riders around in a circular motion while simultaneously tilting back and forth. Riders sit in a round saucer that has seats along its edge. The disk spins faster and faster, giving riders an exciting and dizzying experience. The ride has 24 seats, and riders must be at least 48 inches tall to ride.
Lemon Twist

The Lemon Twist is a spinning ride that has seats inside the cups, and a giant pitcher of lemonade as the centerpiece. The ride has 16 seats and spins riders around in a circular motion. You can make your cup go faster by spinning the wheel inside.
Lucky Ducky

Kiddos sit in brightly colored ducky shaped boats. Similar to Busy bees, it goes around and around, except this one doesn't go up and down. The ride is gentle and slow-moving, making it a great option for babies and toddlers.
Shooting Star

The Shooting Star is a classic kids drop tower. Your legs dangle as the ride starts slowly going up. Once you are at the top taking in the view, the Shooting star drops you all the way back to the ground. It's a fun ride you can do with your kids!.
Piggy Parade

Another cute ride that is great for babies and toddlers. Riders sit on the backs of oinking pigs and go around and around. Parents can ride with their child if they want.
Sky Rider

The Sky Rider is a fun and exciting ride for the whole family that takes you high up into the air. You are the pilot of a plane, and you can have a co pilot sit with you. There's a lever in the middle of your seats , you or your copilot can use this lever to change the position of your plane's wings. Once your plane takes off, you will be spinning around 70 feet in the air. Riders must be at least 42 inches tall to ride.
The Amazing Flying Elephants

This ride takes you on a magical journey through the air. You sit on the backs of circus elephants that move up and down as you're flying through the air in circles. The ride has no height requirement, but riders under 48 inches tall must be accompanied by an adult.
The Scrambler

The Scrambler is a classic fair and carnival ride that is sure to leave you dizzy! . Riders sit in chairs that are attached to a central claw. The chairs spin around in circles while the claw moves up and down, giving riders a fun and exciting experience. The ride has no height requirement. Riders who get motion sickness may want to skip this one.
The Waltzing Swinger

The Waltzing Swinger is a swing ride at Dollywood that takes riders 25 feet up in the air. It has individual bucket chairs that are suspended from a central tower. This ride also has double rider chairs, so parents with small kids can sit with them. The seats rotate around the tower as they swing through the air. This ride is great for families and thrill-seekers alike.
---
what else can you find at The Country Fair?
---
Baby Care Center For You and Your Little Ones

It's always important to have a safe and comfortable place to take care of your little ones. That's where the Baby Care Center comes in! It's a great spot to take a break from the hustle and bustle of the park and take care of your baby. The Baby Care Center provides quiet, private nursing rooms, changing stations, and even a feeding area.
Multiple Restrooms Located Throughout The area

The Country Fair has multiple restrooms throughout the area,
so you never have to go far to find one.
Private Companion Care Restroom

For those who require assistance or have special needs, The Country Fair has a companion care restroom. This private restroom is located near the entrance of The Country Fair area, and is designed for individuals who require assistance. The restroom includes a bench and a changing table, making it easy for caregivers to assist their loved ones.
Emergency Defibrillator in Celebration Hall

Safety is always top priority, and Dollywood understands that. That's why there is an emergency defibrillator located in the Celebration Hall. This life-saving device can be used in the event of a medical emergency.
Lockers available To Rent For The Day

If you have a lot of stuff with you, or you're planning on staying for a while, renting a locker can be a great option. Lockers can be found near the entrance of The Country Fair, and are available to rent for the day. This way, you can store your belongings and enjoy the park without having to carry everything around with you.
Need an ATM to Withdraw Some Cash?

No problem! There is an ATM located near the Country Fair entrance.
---
Have you been to Dollywood's Country Fair? What was your favorite part?
Share with us in the comments!.
---