Between the thrilling rides, enchanting attractions, a wild water park and 2 amazing resorts, Dolly Parton's Dollywood is a world of fun and excitement waiting for you to explore. Whether you are taking the kiddos on a fun family vacation or having a little couples getaway, you want to make the most out of each and every day.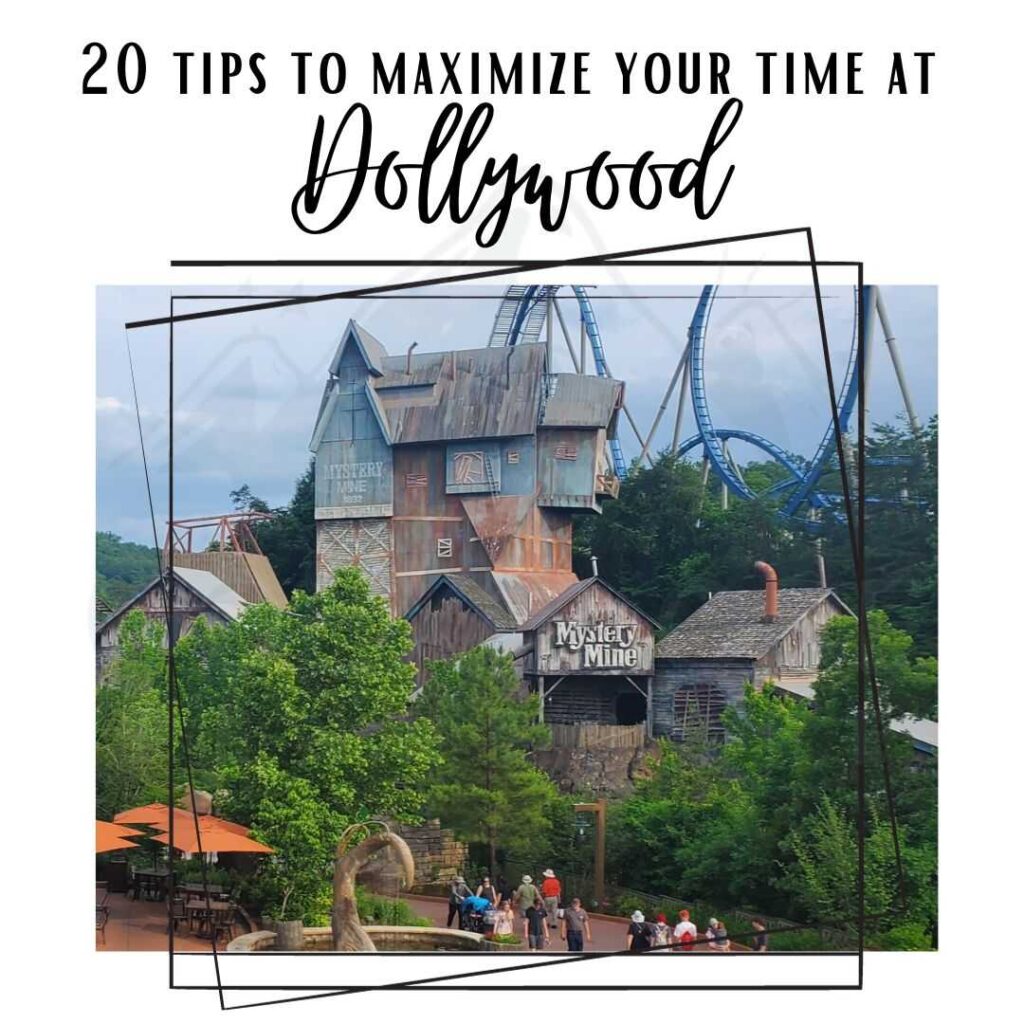 Our years of visiting Theme Parks have taught us that Time really does fly when you're having fun. That's why we've made a list of the best ways to maximize your time to get the most out of your visit, whether you're enjoying the shows, screaming on the epic roller coasters, or simply relaxing by the pool – no judgments here!
Ready to plan your best vacation yet?
---
---
Pick The Best Times To Visit

One of the biggest questions when planning your trip is, 'When is it the best time to visit with the lowest crowds?' We always recommend visiting on weekdays, if its possible – especially during high seasons including the week of Thanksgiving, winter break, spring break, and summer break.

September has been said to be the best month to visit Dollywood, since many families with kiddos have gone back into their school routines by then.

Be sure to check out our Best Times to Visit post to pinpoint which dates will most likely have the lowest crowds.
---
Buy Your Tickets in Advance:
---
The last thing you want to do when you get to the park is wait in line to buy tickets. Save time by buying your tickets online in advance through Dollywood's official website.
Maximize your time at the park by choosing between a regular admission ticket or Season Passes for extra perks, like discounts on food. You can also enhance your experience by adding on the TimeSaver Pass (fast pass) to skip the lines and minimize your wait times. (More details on that below.)
---
Stay at a Dollywood Resort

When it comes to enjoying a magical stay at Dollywood, there are many reasons to stay right on property. Beyond the cozy rooms, delicious dining options, and amazing pools, you'll get exclusive perks that make staying at a Dollywood Resort Hotel a great choice.

For one, getting to and from the parks is super easy! You can quickly make your way to Dollywood and Dollywood's Splash Country by hopping on their shuttle or take a short drive since the resort is only a couple of blocks from the parks.

One of the best perks of staying at a Dollywood Resort is getting the Dollywood TimeSaver Passes for each member of your party. Staying at the DreamMore Resort and Spa or the Heartsong Lodge & Resort grants each Resort guest complimentary access to Dollywood Timesaver Passes. This exclusive perk lets you breeze through the lines at most of the popular attractions, again and again!
---
If You Can't Stay On Property, Stay Close By
---
Staying nearby is the next best thing and are normally cheaper compared to Park resort options. Many of them even have complimentary breakfast buffets or grab-and-go options so you can head out the door in the morning ready to start your day! You can also enjoy the convenience of local restaurants, shops, and entertainment options in the surrounding area.
---
If You Can't Stay On Property Consider
Timesaver Passes

If your vacation to Dollywood happens to fall during the super busy holiday seasons, spring break, or the summer months, you should consider buying a Dollywood Timesaver Pass.

This pass is the key to skipping the regular lines and can make your park day more enjoyable, saving you hours of waiting in queues. (It's a lifesaver when you have little explorers who tend to get a bit fussy waiting in long lines)

There are a few different Timesaver options for you to choose from at Dollywood: TimeSaver, TimeSaver Plus and TimeSaver Premium. By having this pass, You get to go on a different queue which is shorter than the normal line and you get on your favorite rides faster AND you also get prime seating at shows in participating theaters.

---
Arrive Ahead Of Park Opening
---
The shortest wait times are going to be bright and early at the beginning of the day and just before the park closes at night. Wait times always tend to peak mid-day, no matter the attraction. Get a head start in the morning and plan to arrive at Dollywood at least half an hour before the gates open, as staff members sometimes let guests in a few minutes earlier than the posted opening.
On our last visit to Dollywood, we arrived at the gate 30 minutes before park opening and strolled through the entrance to the heart of the park. Once the park opened, We were able to go on the popular rides with almost no wait times during that early morning hour!
---
Allow at Least 30 Minutes For Parking and Security

While little explorers (and parents too) may not like waking up before the sun rises, it's better to be safe than sorry. Depending on the season, lines can be fairly long at Dollywood. (Security tends to be less of a hassle since there are many stations being used. At times, lines can look long but usually move quickly.)

If saving time is a priority, consider upgrading to Prime Parking which is closer to the park entrance, avoiding the need to take the trolley.
---
Eat Breakfast Before You Arrive
---
Even though there are on site locations to grab a quick breakfast or sit down restaurants, one of the smartest strategies is to fuel up before your Dollywood adventure. This simple step can save you valuable time once you've arrived and parked.
---
Bring Your Own Water Bottle and Snacks

To make the most of your day you should consider bringing your own water bottle and snacks. By doing so, you'll save time that would otherwise be spent waiting in line for food and drinks.

You can bring your own water bottles into the park, and you'll find many water fountains through the park to refill or you can ask any restaurant for free iced water, making it easy to stay hydrated, especially important in the Summer months. You can also bring in small individually packed snacks – like chips, cookies etc.

To learn more about Dollywood's Food policy and what you can take with you, Click Here
---
Get a Refill Mug
---
Staying hydrated is a breeze at Dollywood, thanks to Dollywood's Refill Mugs.
There are two options; First, there's the All-Season Refill Mug, which is the best choice if you visit frequently, available for $31.99 plus tax. With this mug, you'll enjoy FREE fountain refills and $2.99 frozen refills through the end of the season.
If you're looking for a more affordable daily option, you have the Daily Refill Mug. Starting at just $16.99, this mug allows you to enjoy FREE refills on the day of redemption. If you visit Dollywood again a different day, you'll get $1.99+tax fountain refills and $2.99 frozen refills all through the end of the season.
What makes this a great time saving option is that you'll find Freestyle machines all throughout Dollywood. You can just walk up to any machine and refill your cup instantly!.
---
Schedule Your Day Around the Shows

Plan Your Day Around Dollywood's Shows: Wondering why? Well, rides run throughout the day and can be enjoyed at any time whereas shows run on a specific schedule. You can find the showtimes for the day on the official Dollywood app, and they're also conveniently posted at each show's location within the park.

In addition to providing incredible entertainment, these shows offer a well deserved break for those tired feet after a day of adventure in the park. If you're planning to catch any of the shows, we recommend securing your spot at least 20 minutes before showtime. Trust us, those prime viewing spots fill up quickly each Show.
---
Use the Single Riders Line When Available.
---
If you want to maximize your time at Dollywood without buying their Time saver pass, you should take advantage of the Single Riders or Groups of 2 lines, which are available at some attractions.
It's important to know that by using the Single Riders or Groups of 2 line, you may be separated from your group.
---
Have Lunch During Off-peak Times 

You will save the most time at Dollywood if you have lunch outside of peak meal times. The fewer people ordering food, the quicker your food is ready. With so many things to do around the park, we recommend spending no more than 30 minutes eating and also sitting down to have lunch a little earlier or later than usual. Tasty snacks (like their famous Cinnamon Bread) can be found all around the parks to keep tummies from growling until lunch time.
---
Research Height Requirements in Advance
---
Planning a visit to Dollywood with your little ones? You don't want to get your kiddos all excited for a ride only for them to be turned away because they aren't tall enough. Knowing height requirements in advance will help you tailor expectations for the whole family and make your day go a lot smoother, with a lot fewer meltdowns!

Even though it takes a few extra minutes, Dollywood has a measuring station and its free to use. You can find it between the Ride Accessibility Center and Rental Services on Showstreet ( after they scan your ticket, go to the left ). A host will measure your kid(s) and they will be given a color coded wristband which helps you see all the rides they are tall enough to go on. The coded wristbands match the color coded information displayed on the signs at each ride in the Park.
---
Take Advantage of the Parent Swap Program at Dollywood

If your littlest explorers don't meet the height requirements or are too scared to go on certain rides, you don't have to miss out on any of the fun! Dollywood's Child Swap program has got you covered.

This fantastic feature allows one member of your group to wait with the kiddos while the rest of your party takes on the ride. Once they are done, you easily switch places and ride without having to wait in line again. It's a win-win situation for everyone.

What we love the most about this program is that it allows the entire party to go through the queue together. So, no more waiting outside with the littlest explorers while others have all the fun.

---
Prepare for Water Rides at Dollywood
---
Dollywood is home to two exciting water rides: Daredevil Falls and Smoky Mountain River Rampage. These attractions are perfect for those looking to cool off during the summer or just have a splashing good time.
If you're planning to get on the water rides at Dollywood, It's a good idea to bring along inexpensive ponchos and throw them on before getting in the queue, that way you wont get soaked and you won't have to waste time changing clothes after you get off.
---
Get a Locker

While it's ideal to travel light so you're not lugging around your belongings all day, that may not be possible with all the stuff you should bring (reusable water bottles, snacks, sunscreen, jackets, portable chargers, etc.) That's why one of your first priorities when you get to the park should be renting an all-day or floating locker. They're available on a first-come, first-served basis near the entrances of Dollywood and at different locations throughout the park. 

---
Take Advantage of Festivals and Special Events
---
Every year in the spring, summer, fall and winter, Dollywood has different amazing festivals!
Like the vibrant Flower & Food Festival, the Smoky Mountain Summer Celebration, the Harvest Festival and the magical Smoky Mountain Christmas Festival. They all bring special food, decor, entertainment and more to the park!

You can check which festivals are happening during your next visit here.
---
Have a Plan and Prioritize Attractions 

Before you even head to Dollywood, you should come up with a plan for your day and prioritize which rides/attractions you 100% want to do on this trip.

If you are not buying the TimeSaver pass, we recommend going on your favorite or most popular rides, like Lightning Rod or Big Bear Mountain as soon as you enter the park, early in the morning or before the park closes. That way you beat the crowds before the lines get really long.
---
Download the Official Dollywood App
---
From checking ride wait times, confirming park hours and the park schedule, finding the nearest restroom, or finding rides on the park map, the Dollywood app will be your best friend during your visit. Virtually everything you need to know is just a tap away.

Since you'll probably be using your phone all day, especially if it's your first visit, remember to bring a fully charged portable battery. (You can find portable chargers in the park, but having one on hand will save you time.)
---
We hope these tips will help you make the most out of your Dollywood vacation!.
Do you have any extra tips you'd like to share? Leave them in the comments below.
---