Now that you are planning your trip to Dolly Parton's beautiful park in Pigeon Forge, you might be wondering what to expect for ride wait times. Let's take a look at the wait times at Dollywood and give you some tips on how to minimize your wait and maximize your fun!.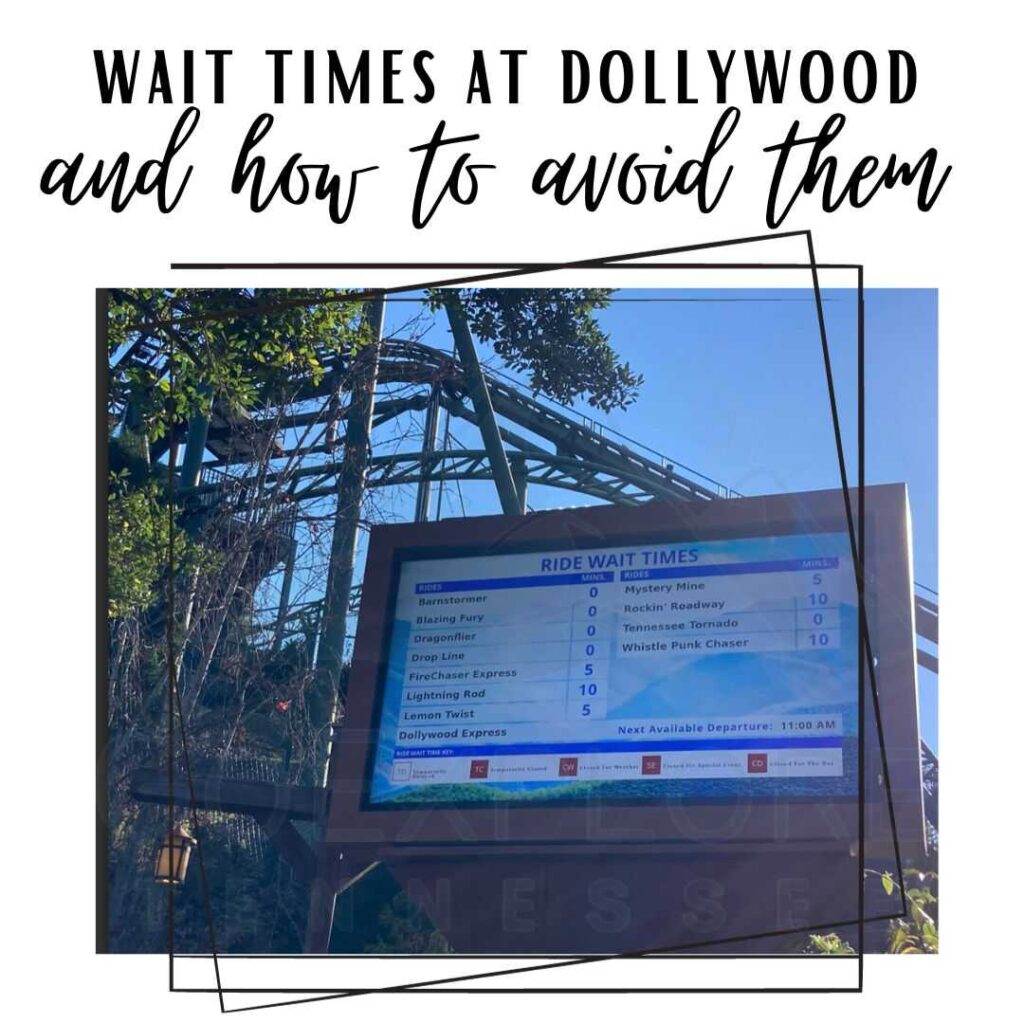 ---
How Do Wait Times Vary by Seasons at Dollywood?
---
The high seasons for Dollywood are during the summer and holidays and the park can get pretty crowded. Wait times for popular rides and attractions are usually longer. The park's seasonal events like the Harvest Festival and Smoky Mountain Christmas also bring in more people. During the Summer, Dollywood's Splash Country, the water park at Dollywood opens, which adds to the crowds.
Fall and early spring, normally have smaller crowds. Wait times for rides and attractions are shorter and It's easier to find seating for shows and events. Weekdays are also normally less crowded than weekends and holidays, since many people work during the week.
---
Chart of Dollywood average Wait Times.
( by seasons )
---
This chart shows the average wait times for Dollywood's rides/attractions, broken down by high season and low season. It will give you an idea of what to expect when it comes to wait times at the park and its a great tool for planning.
| Ride Name: | Low season: | High season: |
| --- | --- | --- |
| Lightning Rod | 38 min | 71 min |
| FireChaser Express | 30 min | 50 min |
| Dollywood Express | 24 min | 22 min |
| Dragonflier | 23 min | 40 min |
| Smoky Mountain River Rampage | 22 min | 40 min |
| Mystery Mine | 20 min | 40 min |
| Tennessee Tornado | 17 min | 34 min |
| Blazing Fury | 15 min | 30 min |
| Daredevil Falls | 15 min | 27 min |
| Rockin' Roadway | 15 min | 28 min |
| Thunderhead | 14 min | 31 min |
| Wild Eagle | 13 min | 25 min |
| Barnstormer | 12 min | 21 min |
| Black Bear Trail | 12 min | 15 min |
| TreeTop Tower | 12 min | 14 min |
| Sky Rider | 10 min | 16 min |
| Drop Line | 10 min | 15 min |
| Mad Mockingbird | 9 min | 12 min |
| Whistle Punk Chaser | 8 min | 17 min |
| Amazing Flying Elephants | 8 min | 13 min |
| Dizzy Disk | 8 min | 12 min |
| Lemon Twist | 8 min | 11 min |
| Scrambler | 8 min | 14 min |
| Shooting Star | 8 min | 13 mi |
| Demolition Derby | 7 min | 12 min |
| Frogs & Fireflies | 6 min | 7 min |
| Lumberjack Lifts | 6 min | 9 min |
| Piggy Parade | 6 min | 7 min |
| Waltzing Swinger | 6 min | 8 min |
| Busy Bees | 5 min | 5 min |
| Lucky Ducky | 5 min | 8 min |
| Village Carousel | 5 min | 6 min |
When you are walking around the park, the best and fastest way to get current wait times and daily show schedules is to download the Dollywood App. That way you can decide where to head to next.
---
Is there a way to avoid long lines at Dollywood?
---
The best way to avoid longer wait times is to visit during the low season. The crowds at the park are smaller during these times, which means shorter wait times. Plus the weather is usually cooler during these seasons, making the day more enjoyable!.
Planning your visit on a weekday rather than a weekend or holiday can also help to avoid large crowds. Weekdays are normally less crowded at Dollywood than weekends and holidays, which means shorter wait times!.
Dollywood has a great program called parent swap. One parent will ride with the kids that want to go on the ride while the other waits with those not riding. When the ride returns, the parents will swap positions and the kids that went with the first parent get to ride again, without waiting in line! You simply tell the first host you see in the ride queue that you'd like to use the Parent Swap program. At each ride that offers this, the host will clearly explain the process for each attraction.
You can also take advantage of the park's single rider lines. These lines are available for some of the park's rides/attractions. Keep in mind that you will be separated from your party and ride alone.
Tip

You should plan on doing your favorite rides as soon as the park opens. That way, you can beat the crowd. When the park gets really crowded and wait times are long, go on the less popular rides/attractions. The lines will be shorter for those. Or you can relax and watch a show!.
---
Are there any ways to skip the lines at Dollywood?
---
If you want to spend less time waiting in line , The TimeSaver Pass is an option available at Dollywood. There are 3 to choose from; TimeSaver, TimeSaver Plus and TimeSaver Premium. With the pass ( on rides/attractions that take it ) you go on a different line, which is shorter than the normal line and you get on the ride faster.
You also have priority seating at shows in participating theaters. If you stay in their resort, you get TimeSaver Complimentary ( for resort guests with theme park tickets or Season Passes ).
In my opinion, the TimeSaver Pass is not needed If you're visiting the park on a weekday or during the slow season. You should consider buying it if you're visiting on a weekend or holiday, or if you really want to make sure that you can ride a specific ride or attraction.
---
How do wait times at Dollywood compare to other theme parks?
---
Every Theme Park is different but If you have been to Disney World or Universal Studios, you know the wait times there are crazy! The great news when visiting Dollywood is that you will not spend 300 minutes waiting in line like at Disney World. If you go on the most crowded day to the ride everyone wants to get on, you might spend 80 minutes.
---
Do you have any tips to avoid long wait times for your park visit? Share with us in the comments.
---