If you're looking for the perfect family coaster to introduce your kids to a more thrilling ride, this is it. The Dragonflier is one of the newer additions to the park and has top speeds of 43 mph, which is not super fast but fast enough to still get an adrenaline rush!. It was made to mimic the flight of a dragonfly. this ride is super smooth and really quick, about 1 minute. And it never goes upside down! Perfect for the kiddos that are a little scared to ride.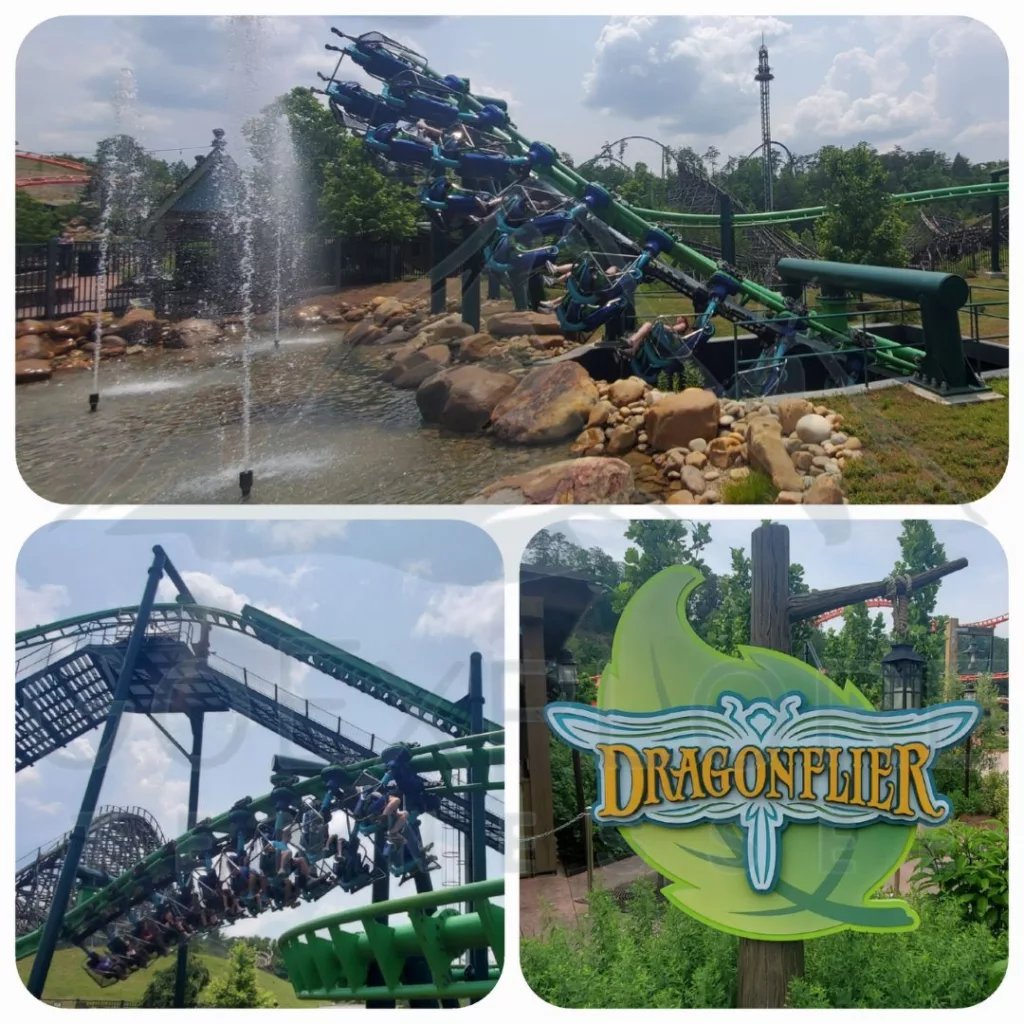 ---
---
comparison of the Dragonflier to other Dollywood coasters
---
| Rides | Height | Speed |
| --- | --- | --- |
| Lightning Rod | 48" | 73 |
| Tennessee Tornado | 48" | 70 |
| Wild Eagle | 50" | 60 |
| Thunderhead | 48" | 55 |
| Big Bear Mountain | 39" | 48 |
| Mystery Mine | 48" | 45 |
| Dragonflier | 48" | 43 |
| FireChaser Express | 39" | 35 |
| Blazing Fury | 42" | 22 |
| Whistle Punk Chaser | 36" | 16 |
---
What's it like to Ride Dollywood's Dragonflier Coaster?
(Review)
---
My 9 year old loved this ride. She was a little skeptical at first, but once we told her it was quick and doesn't go upside down she was sold and now its one of her favorites. Even though its a quick ride, it only has one train, so the line moves a little slower than other coasters.
Once you are ready to board, you will sit 2 per row. This ride has 10 cars per train, for a total of 20 riders per train. Dragonflier is an inverted roller coaster, which means the train hangs under the track and your feet dangle below your seat and don't touch the ground! It makes you feel like you are flying through the air like a dragonfly. Once you are strapped in your seat and they have checked everyone, you are off on you're flying adventure!
As soon as the ride starts, you have a small climb of 63 ft. The kids might get a little nervous, but just remind them that its a super short ride. You dive down into an underground tunnel and out the other side to different turns and some twists, like a dragonfly. And just like that, you are back and ready to get off. Its a really fun ride!
---
How Big is the Drop On The Dragonflier at Dollywood?

This coaster does have a small drop at the beginning. Since it is a family friendly coaster, the drop is only 63.3 ft. Not that scary!
How Fast Does Dollywood's Dragonflier Go?

The Dragonflier has speeds up to 43 mph. This speed gives you an exhilarating experience without being overly intense, so both parents and their kids can enjoy the ride  and have fun together.
---
How Intense is the Dragonflier Roller Coaster at Dollywood?
---
The Dragonflier is not an intense roller coaster, its perfect for families to go on together and a great coaster to introduce the bigger kiddos to something a little more intense than the kiddie coasters. It is not a scary roller coaster at all. What makes Dragonflier such a great roller coaster its that it has an ideal balance between intensity and enjoyment!

In the ride you will experience up to 3.5 positive G-forces. What does that even mean? Imagine feeling a sensation of weightlessness as you zoom through the twists and turns.These G-forces make you feel like you're defying gravity, adding an extra layer of excitement to the experience.
---
Where is the Dragonflier Located at Dollywood?
---
The Dragonflier is located in the back of Wildwood Grove, one of the parks newest expansions. If you need help finding certain rides, you should definitely download Dollywood's app. They have an option for each ride to "get directions". This will only work while you are at the park and you will need to have your location services enabled.
---
What are the Requirements to Ride Dollywood's Dragonflier?
---
Height Requirement:

This coaster does have height restrictions. The minimum height requirement for the Dragonflier coaster is 39 inches. Making it a great family friendly coaster. The maximum height is 81 inches. Kids under 48 inches have to be accompanied by a person at least 14 year old.
Personal Belongings:

Loose articles such as hats, sunglasses, and phones are not allowed on the Dragonflier due to safety reasons. They could fly off during the ride and become a danger to other riders. All of the rides that don't allow loose articles have cubbies where you can store them safely until you get back.
Health Conditions :

Pregnant mamas and Riders with certain health conditions such as heart problems, neck or back issues, or motion sickness may want to skip the Dragonflier.
Age Restrictions :

The Dragonflier does not have any specific age restrictions.
---
The Dragonflier is a fun family coaster, perfect for everyone to ride together. With top speeds of 43 mph and never going upside down, its a great coaster to introduce the bigger kids to a more thrilling coaster, or just for those who don't really like getting on the bigger coasters. Enjoy and make awesome memories together, have fun!.
---