Dolly Parton's Dollywood is a family friendly theme park in Pigeon Forge Tennessee full of Southern Charm!. They have more than 50 rides/attractions, different Festivals during the year and so much more to do and enjoy together!.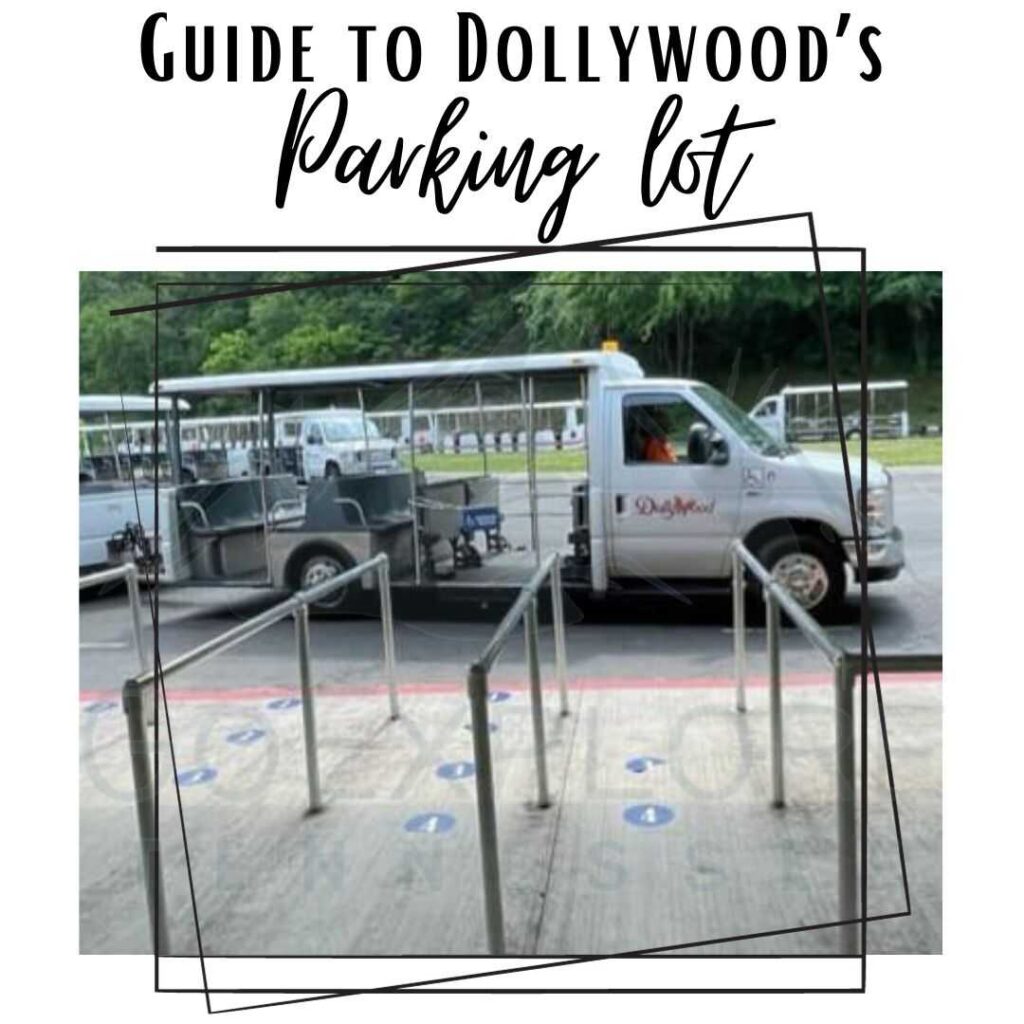 Before you even make it inside Dollywood, you have to navigate their parking system. Don't stress about it, we cover everything you may need to know before you get there!.
---
---
---
How Dollywood's Parking Lot Works
---
Parking Lot Opening Hours

Dollywood's parking lot opens two hours before the park's official opening time. This way you have plenty of time to find a spot and get ready for an exciting day!. If the park opens at 10 a.m., you can expect the parking lot attendants to start allowing cars in at 8 a.m.
Parking Lots Layout
– Lot A to Lot D –

Dollywood's parking area consists of several lots. Lot A is exclusively reserved for guests with disabilities. Lot B, open to all guests, is the closest possible to the park's entrance without paying for preferred parking.
As you may have guessed, Lot B fills up quickly, so if you want to park in this lot, you should plan on arriving early. In case Lot B is full, there are other lots to park in.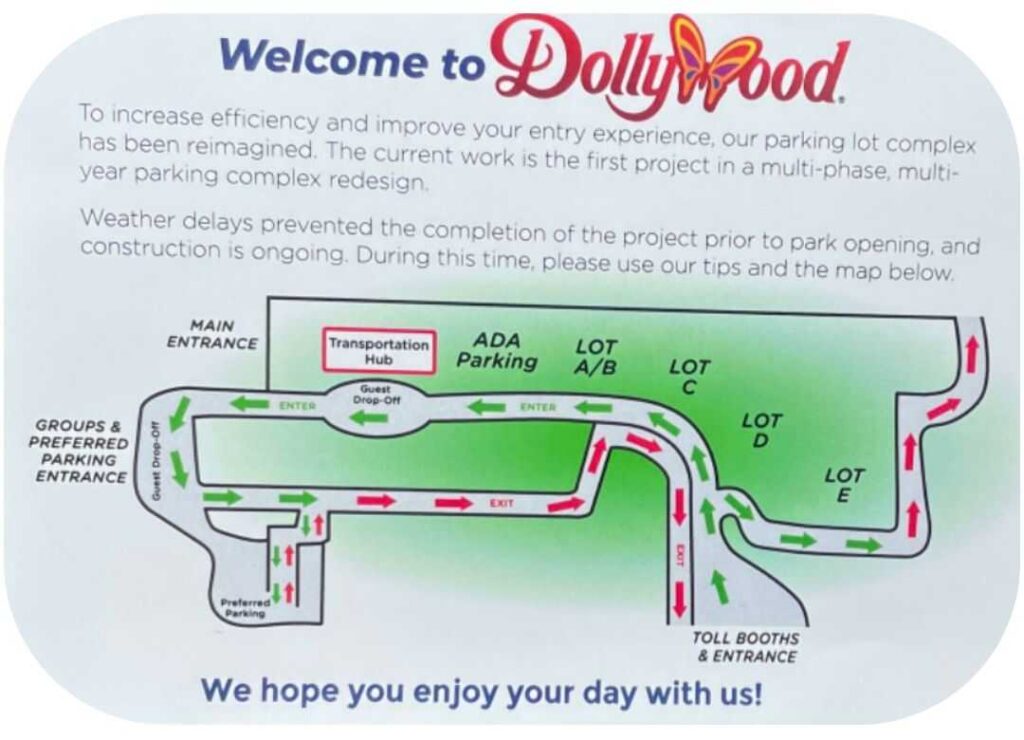 Tram Services and Potential Wait Times

If you find yourself having to park in a lot that is not close to the entrance, don't worry! – Dollywood's Parking Lot tram services take you to the park's entrance and back to your car whenever you are ready to go home.

The decision to ride the tram or take a walk might vary depending on where you parked. For instance, if you're parking in Lot B, which is the closest standard parking area to the entrance, it may be quicker to walk.

This is because the tram makes stops at other lots like Lots C and D before reaching the entrance. If you're parking in Lots C or D, which are a longer walk from the entrance, taking the tram is your best choice.
Dropping off Passengers Near the Gate

If you have little explorers with you that don't want to walk or wait for the tram, you could get dropped off directly at the park's entrance gate and wait there while the driver goes back and parks the car.
---
---
How much are Parking Fees at Dollywood?
---
---
| Type of Parking | Price |
| --- | --- |
| Standard Parking | $22.80 |
| RV and Oversized Vehicle Parking | $27.35 |
| Preferred Parking | $41.00 |
| Season Passholders | Free |
Standard Parking Price

Standard parking at Dollywood is priced at $22.80 for all standard length vehicles.
RV and Oversized Vehicle Parking Price

For RVs and oversize length vehicles, the parking fee is a little higher, costing $27.35.
This rate applies to vehicles like RVs and trailers, which require more parking space.
Pricing for Preferred Parking

Preferred parking is available for $41. Gold Passholders receive a $5 discount, and Diamond Passholders receive a $10 discount on this fee.
Season Passholders

Gold and Diamond Season Passholders have several benefits, and one of them is free standard parking.
---
---
Parking and Re-entry Policy – FAQ
---
---
Do You Have To Pay For The Parking Lot Each Day at Dollywood?

Yes, Dollywood charges parking fees for each day you visit the park.
( Unless you are a Gold or Diamond Pass Holder ).
Can You Leave Dollywood's Parking Lot and Come Back?

Dollywood's parking policy typically allows for same day re entry. This means that if you need to leave the parking lot for any reason during the day, you can return later without having to pay the parking fee again.

Just make sure to keep your parking receipt to show when you return. 

---
---
What are The Benefits Of The Preferred Parking
---
---
Preferred Parking at Dollywood is a premium parking option with some extra benefits:
Avoiding Tram Rides

With Preferred Parking you don't need to wait for tram rides to reach the front gate, you park right next to the entrance!.
Exclusive Entrance

One of the best benefits from paying extra for preferred Parking is that it has its own entrance.
Separate Ticket Window

Another great perk for Preferred Parking users is that they have a separate ticket booth where they can buy tickets and Season Passes. No waiting in long ticket lines!. 
Discounts for Gold and Diamond Passholders

Dollywood offers discounts for Gold and Diamond Passholders who choose Preferred Parking. Gold Passholders receive a $5 discount on the Preferred Parking fee, while Diamond Passholders receive an even larger discount of $10.
The Exclusive Entrance

One of the standout features of Preferred Parking is the exclusive entrance!.
This entrance is a lifesaver when you have excited kiddos ready to start the day or when the park is full during high seasons, since it lets you bypass the main entrance lines.
---
---
Alternative To Dollywood Parking Lot
---
---
If you want to avoid the hassle of parking in Dollywood's lot or want to save some money on parking, the Pigeon Forge trolley is an excellent and affordable alternative. For just a few dollars, you can be dropped off right at Dollywood or Dolly's Splash Country.
Depending on where you are staying, you might be within walking distance of a trolley pickup and drop-off site. If not, there's free parking available near Patriot Park.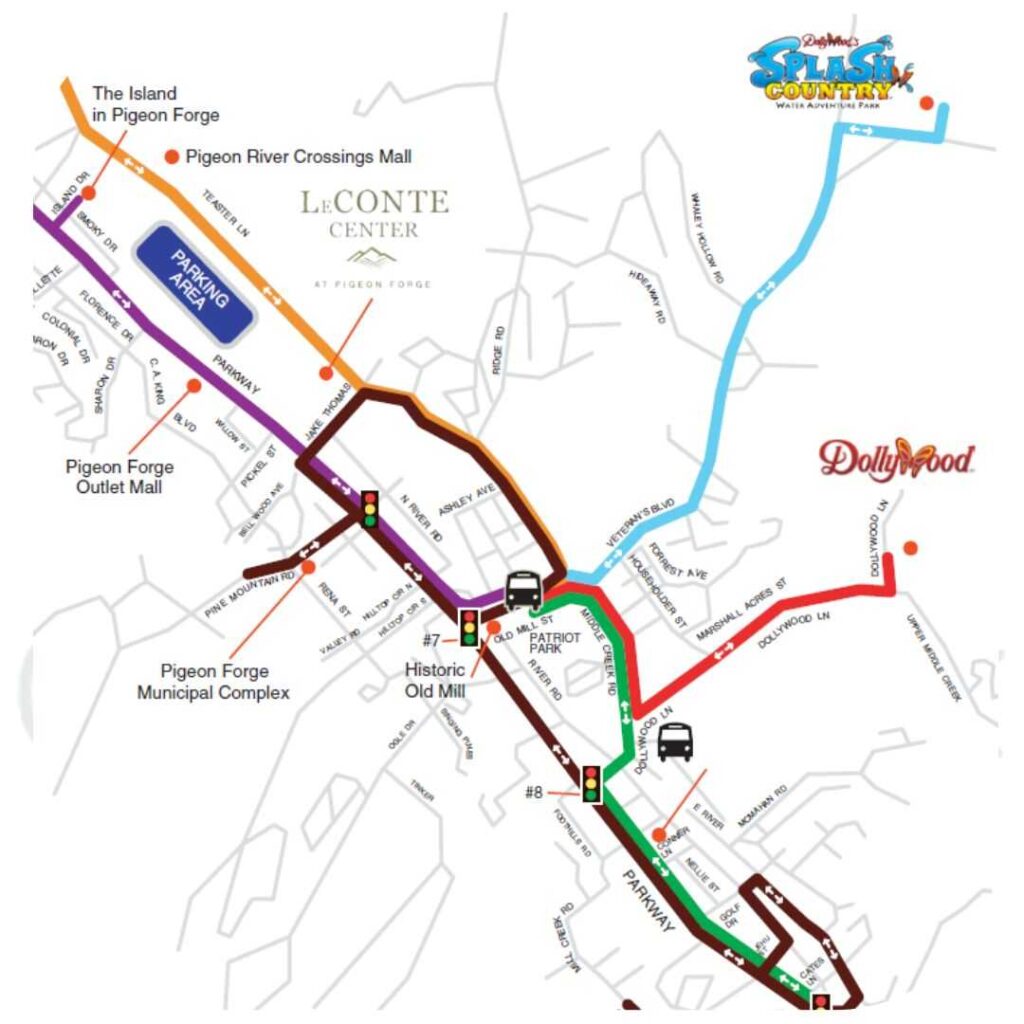 The trolley runs from 8 am to midnight during the summer season, so you won't need to worry about missing your ride if you plan on spending the entire day at Dollywood.
Patriot Park Departure To Dollywood
– Arrives every 15 minutes –

The Trolley travels continuously to and from Dollywood, starting 30 minutes before the park opens. After the park closes, the trolley transports guests until everyone has returned to Patriot Park.
Patriot Park Departure To Splash Country
– Arrives every 20 minutes –

The Pigeon Forge trolley also loops continuously between Patriot Park and Dollywood's Splash Country.
---
---
Tips for a Smooth Experience
---
---
Make Sure You Arrive Early

– Keep in mind that the parking lot opens two hours before the park's opening time.

– Arriving at Dollywood's parking lot at least an hour before the park opens can help you get a good parking spot and gives you time to get settled.

– Getting there Early gives you an opportunity to take family photos and enjoy the scenery, especially during events and festivals.

– When you arrive, you will go through the parking booths to pay the parking fee,
have your payment or passholder card ready!.

– Depending on where you park, you may need to take a tram to the front gate,
so follow the clearly marked tram stops.

– If you have a stroller and are taking the tram,
you will need to fold it up before you get in.
Choose Your Parking Option Based on Family Needs

– Consider your family's needs when selecting a parking option. If you have babies/toddlers or someone who can't walk long distances, preferred parking
may be a good choice for you since it is closer to the front gate.

– If you're looking to save money and don't mind a walk,
standard parking is the cheapest option.
Take Advantage of Resort Guest Benefits

– If you're staying at Dollywood's DreamMore Resort / HeartSong Resort or Smoky Mountain Cabins, enjoy the benefits of complimentary transportation, and priority park access.

– Resort guests also get free Dollywood TimeSaver passes! ( fast pass )
Plan For Seasonal/Special Events

– During special events or busy holiday seasons, arriving early is essential. Preferred parking can be a lifesaver during these times when even the parking lot is crowded.

– If you can, plan on visiting during weekdays, the park is usually less crowded than weekends.
Consider a Dollywood Season Pass

– If you plan to visit Dollywood more than once, consider a Dollywood Season Pass.

Gold and Diamond passholders get free standard parking and discounts on preferred parking, which can save you money in the long run.
---
We'd love to hear from you – Share your Dollywood Parking Tips!
If you have any questions or need more information, feel free to ask.
We will do our best to help you out.
Enjoy your visit to Dollywood and Have Fun!
---
---