If you're a fan of carnival and spinning rides, then the Dizzy Disk is an absolute must try. This is a thrilling ride that spins riders around in a circular motion while simultaneously tilting back and forth. Riders sit in a round saucer that has seats along its edge. The disk spins faster and faster, giving riders an exciting and dizzying experience!.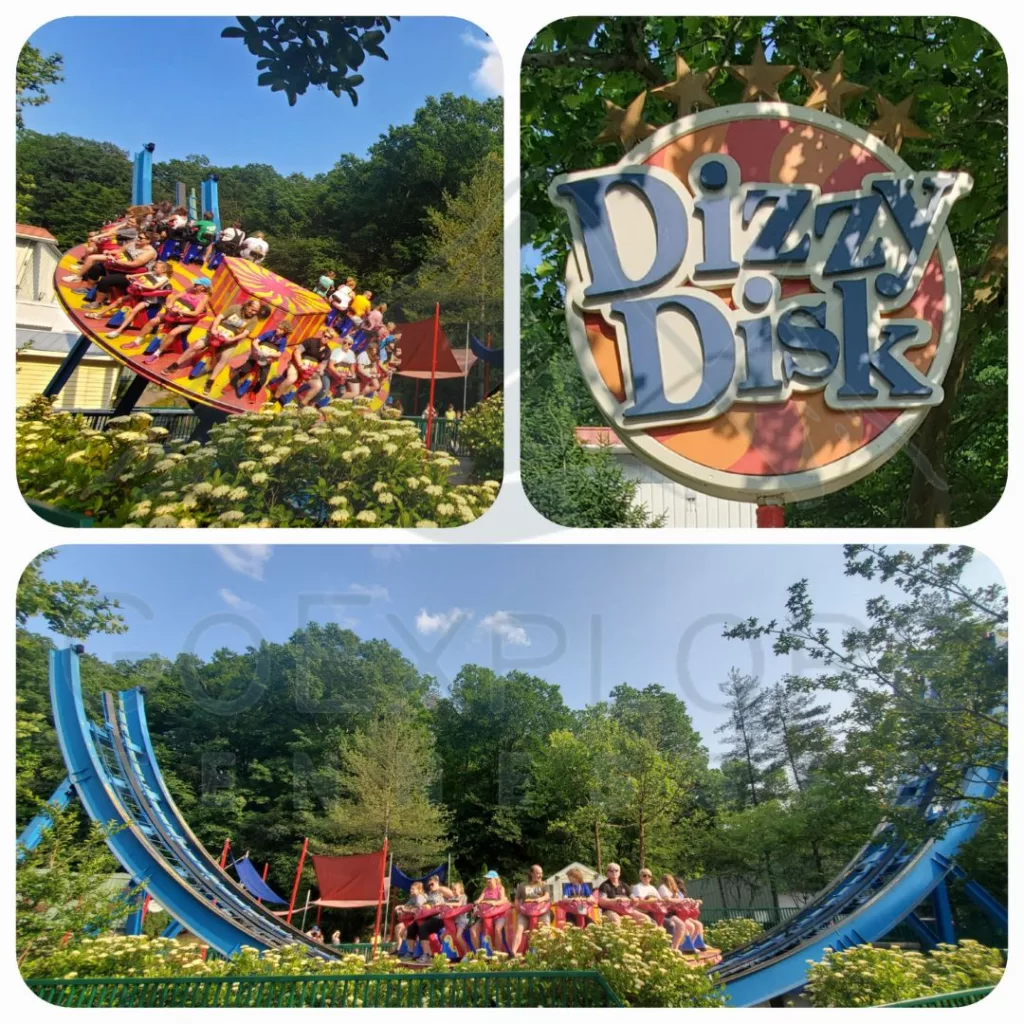 ---
---
What's it like to Ride Dollywood's Dizzy Disk? ( Review )
---
You can find Dizzy Disk in the Country Fair area of Dollywood. Its in between The Amazing Flying Elephants and Lemon Twist. As you board, you step onto the vibrant, round saucer that has seats all around the edge. You can sit in any of the seats and each seat offers the same sensation. You will lean against what resembles the "back" of a chair, while your back is facing outward.
Once everyone is seated, a secure bar is raised against your back, ensuring you don't fly off. You will be thankful for the snug fit once the spinning action kicks in!. The spinning starts immediately and as if that weren't enough, you'll also experience the saucer rolling up and down the half pipe track. This combination of movements creates a sensation of being both a frisbee and in a roller coaster ride. The result will leave you laughing and dizzy!.
---
How intense is Dizzy Disk at Dollywood?
---
This ride packs a punch in terms of spinning action, I would not recommend this ride for those who get motion sickness or get headaches easily. I also would not take the younger kiddos on this ride but that's my personal opinion.
---
What are the Requirements to Ride Dollywood's Dizzy Disk?
---
Height requirement

This ride does have height restrictions. The minimum height requirement for Dizzy Disk is 48 inches. This is because riders must be tall enough to safely secure the restraints. It does not have a maximum height.
Personal belongings

Loose articles such as hats, sunglasses, and phones are not allowed on Dizzy Disk due to safety reasons. They could fly off during the ride and become a danger to other riders.
Health conditions

Pregnant Mamas and Riders with certain health conditions such as heart problems, neck or back issues, or motion sickness may want to skip this ride. This is because Dizzy Disk could worsen pre existing conditions.

Age restrictions

There are no specific age restrictions for Dizzy Disk, but again, I don't recommend taking the younger kiddos on this ride.
---
Is Dizzy Disk Suitable For Everyone?
Dizzy Disk is an intense spinning ride, so it may not be suitable for everyone. If you're prone to motion sickness, it might be best to skip this one.
Are There Long Wait Times For Dizzy Disk?
Wait times for The Dizzy Disk can vary Depending on the Day and Season You are Visiting, But in average You Can Expect To Wait around 10 – 15 Minutes.
Can I Bring Personal Belongings On The Dizzy Disk?
I Wouldn't Recommend it. Loose articles Such as Bags, Hats, and Phones Should Stay With a Non Rider.
Can I use my Dollywood's TimeSaver Pass for Dizzy Disk?
Yes, Dollywood's TimeSaver Pass can be used for Dizzy Disk!.
---
Get ready to experience the joy, excitement, and pure magic of Dollywood.
Have you braved the Dizzy Disk at Dollywood? Share your experiences in the comments!.
---