Hey thrill seekers! As one of the fastest, tallest, and most thrilling roller coasters over at Dollywood Theme Park in Pigeon Forge, Tennessee, Lightning Rod gives you an experience like no other. Get ready to scream as you race through the twists, turns, and amazing drops!.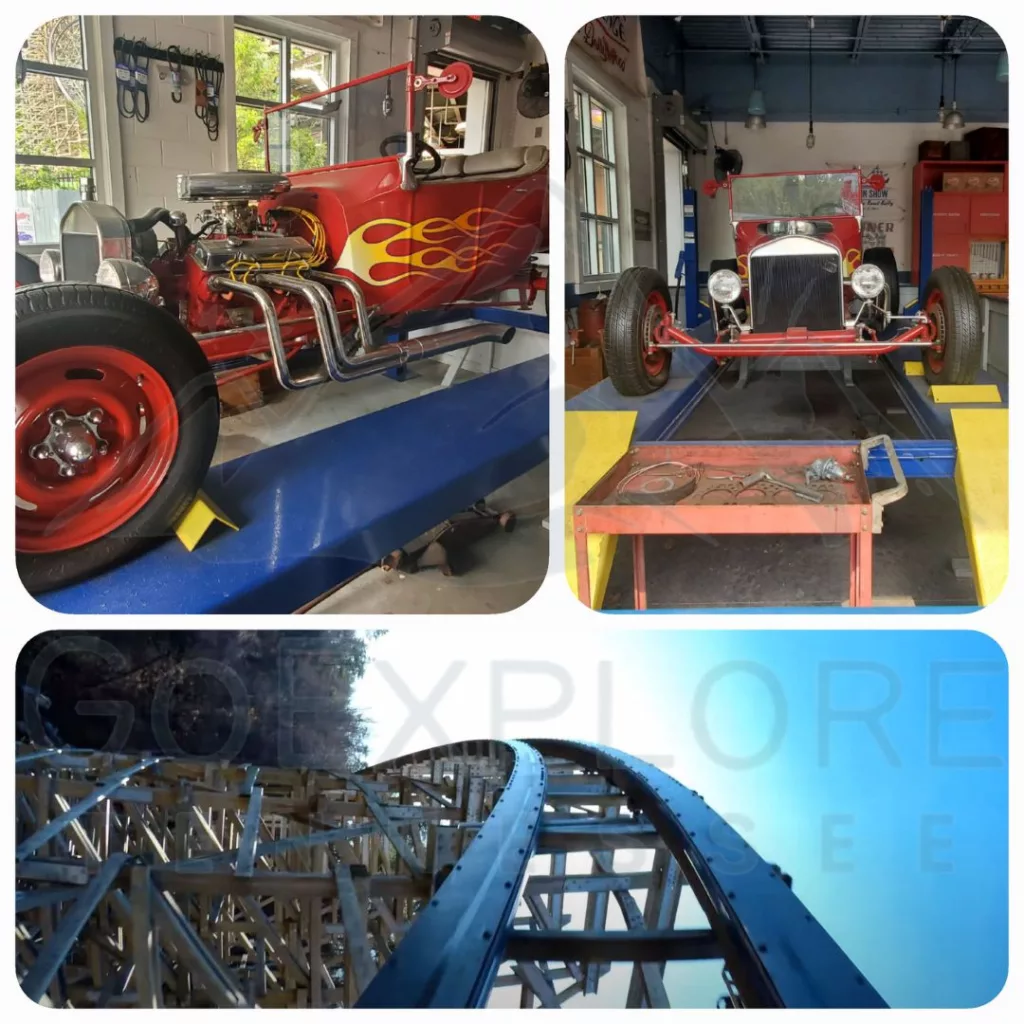 ---
---
Comparison Of The Lightning Rod To Other Dollywood Coasters.
---
| Rides | Height | Speed |
| --- | --- | --- |
| Lightning Rod | 48" | 73 |
| Tennessee Tornado | 48" | 70 |
| Wild Eagle | 50" | 60 |
| Thunderhead | 48" | 55 |
| Big Bear Mountain | 39" | 48 |
| Mystery Mine | 48" | 45 |
| Dragonflier | 48" | 43 |
| FireChaser Express | 39" | 35 |
| Blazing Fury | 42" | 22 |
| Whistle Punk Chaser | 36" | 16 |
---
What's it like to Ride Dollywood's Lightning Rod? (Review)
---
When Lightning Rod opened it was the first launch wooden roller coaster of its kind, but Lightning Rod was modified for the 2021 season, with over half of its wooden Track getting replaced with steel I-Box track. The modifications included replacing the high stress sections of the coasters wooden style Topper Track with all steel IBOX track. Making Lightning Rod a hybrid coaster, with both wooden and steel track. Now the roller coaster is classified as a steel coaster.
As you walk up to the ride, you will feel like you went back in time. This roller coaster is located in the Jukebox Junction section of the park. You will enter the 1950s era building to the queue. It follows the hot rod theme through the line. As you walk into the garage, you will see that it's filled with tires, spare parts, trophies, and even a full scale model of a hot rod. As you walk through, you will realize that you are about to experience a ride in a custom built racecar made to reach dangerous speeds that no racer has ever attempted. You will walk up stairs to the boarding station. Once you are boarding the cool looking hot rod train cars, you will sit 2 per row. Lightning Rod has 12 train cars, for a total of 24 people per train. Once everyone is checked for safety, you are off!.
The coaster makes a turn and you will launch up the hill from 0 to 45 mph in seconds, going up 20 stories. At the top of the hill, you will face twin summit airtime hills before the first drop. And then before you know it, you're racing down the 165 foot drop at 73 miles per hour and all through its 3,800 foot track, twisting & turning. You will definitely feel 3.5 times the force of gravity and even a negative G-force of 1.0. It's a great combination of speed, twists, and drops!.
It is an amazing coaster and one of our favorite roller coasters in the park!.
---
How Long Is Lightning Rod at Dollywood?

The lightning Rod ride time is about 3 minutes and it has a 3,800 foot roller coaster track.
---
How Fast Does Dollywood's Lightning Rod Go?
---
Lightning Rod launches you from a standstill to 45 mph in a matter of seconds, sending you soaring more than 20 stories high on its lift hill.
But the real thrill is coming up. Brace yourself as Lightning Rod takes you down a huge drop and through a series of twists and turns at an astonishing max speed of 73 miles per hour!
---
How Big is the Drop on the Lightning Rod at Dollywood?
---
The Lightning Rod's drop is pretty amazing… 165 feet!. It's definitely not for the faint of heart. As you reach the top of the lift hill, 20 stories high, at 45 miles per hour, you face twin summit air time hills before tackling the first drop. And then, in an instant, you're racing down the 165ft drop at 73 miles per hour!.
---
How Intense is the Lightning Rod Roller Coaster at Dollywood?
---
This coaster is intense! One of the standout features of the Lightning Rod Roller Coaster is the big drop that will have your stomach dropping too! The air time hills create moments of weightlessness, making you feel like you're flying. And with 3.5 times the G-force and 1.0 negative G's, you'll be pressed back into your seat, feeling the power of the ride!. This roller coaster does not go upside down at any moment.
Remember, The level of intensity experienced on Lightning Rod can vary from person to person. It depends on your Personal tolerance for speed, heights, and inversions.
This coaster is great for Teens and adults. I would not recommend taking younger kids.
Only you know your kiddos best, and it always depends on personal tolerance.
it also may not be a good idea for individuals who have a fear of heights, a history of motion sickness, or certain medical conditions.
---
What are the Requirements to Ride Dollywood's Lightning Rod?
---
Height Requirement :

This coaster does have height restrictions. The minimum height requirement for the Lightning Rod coaster is 48 inches tall. This is because the ride has high speeds and intense movements, and riders must be tall enough to safely secure the restraints.
Personal Belongings:

Loose articles such as hats, sunglasses, and phones are not allowed on Lightning Rod due to safety reasons. They could fly off during the ride and become a danger to other riders. All of the rides that don't allow loose articles have cubbies where you can store them safely until you get back.
Health Conditions :

Riders with certain health conditions such as heart problems, neck or back issues, or motion sickness may want to skip this coaster. This is because Lightning Rod has intense movements and high speeds, which could worsen pre existing conditions. Guests with casts may not ride.
Age Restrictions :

There are no specific age restrictions for Lightning Rod, but I don't recommend taking the little ones on this ride.
If you're planning a trip to Dollywood, make sure Lightning Rod is at the top of your must ride list. Since this is a very popular ride, the wait times are normally very long. If you don't want to spend some time waiting in line, you should probably plan to make this roller coaster the first thing you do in the morning. Enjoy, scream & laugh and make awesome memories. Have fun!.