In the heart of Pigeon Forge, Tennessee, over at Dollywood's Wildwood Grove area, an extraordinary adventure awaits! Imagine stepping into the world of a falling leaf during autumn. The Great Tree Swing, a seemingly familiar swinging ride, takes the seasonal theme to soaring heights.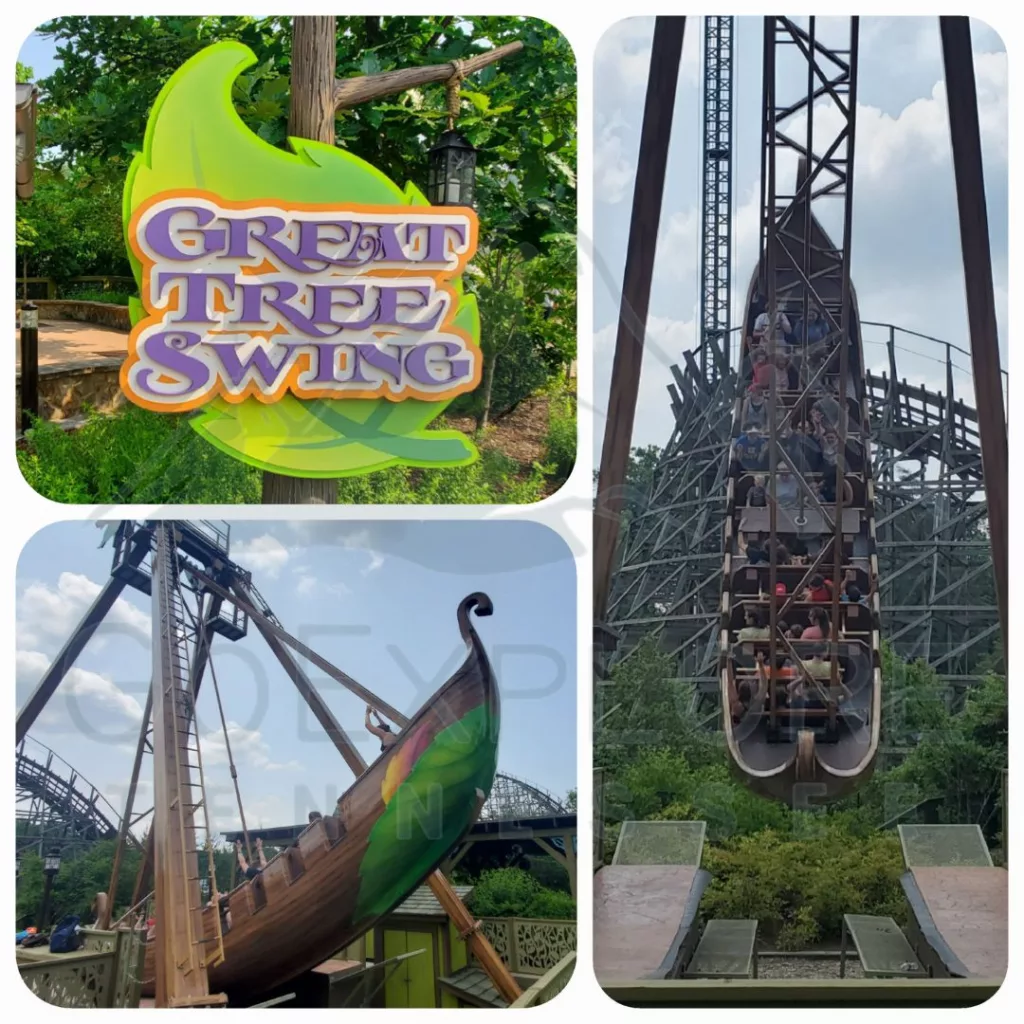 ---
---
What's it like to Ride Dollywood's Great Tree Swing?
---
As you walk up to this Giant tree swing, it might look like the typical pirate ship ride at the fair, but the Great Tree Swing, which was "fashioned from the massive leaves and vines of The Wildwood Tree," was made to mimic the journey that a leaf makes during the fall season as it travels from the branch of a tall tree to the floor. Wait times can get pretty long for this ride, so if this is a must ride try to do it as soon as you get in the park. After you board and the lap bar is engaged, they will check everyone for safety and then you are off. The ride starts off slowly but You will experience heights of up to 40 feet as the ride swings forward and backwards!. If you can keep your eyes open, you will get to see some nice views of Wildwood Grove and the Smoky Mountain.
---
How intense is Dollywood's Great Tree Swing?
---
It really depends on each visitor's personal tolerance. It is advertised as a family ride and I have seen parents with kiddos of different ages get on this ride.
I personally love fast, intense roller coasters but i can't get on these type of rides because I will get a terrible headache and stomachache.
---
Requirements to Ride Dollywood's Great Tree Swing?
---
Height requirement

This ride does have height restrictions. The minimum height requirement for the Great Tree Swing is 36 inches tall. This is because riders must be tall enough to safely secure the lap bar. If your kiddo is under 48 inches, they must be accompanied by a person at least 14 years old.
Personal Belongings

Loose articles such as hats, sunglasses, and phones are not allowed on the Great Tree Swing due to safety reasons. They could fly off during the ride and become a danger to other riders. Most of the rides that don't allow loose articles have cubbies where you can store them safely until you get back, or you can leave them with a non rider.
Age Restrictions

There are no age restrictions for the Great Tree Swing. I wouldn't recommend for the younger kiddos, but that's just my opinion.
Health Conditions

Pregnant mamas and Riders with certain health conditions such as heart problems, neck or back issues, or motion sickness may want to skip Great Tree Swing
Special Attraction Information:

The Great Tree Swing is subject to closures during inclement weather conditions including lightning, snow, extreme cold, or hot temperatures and high winds
Limb Requirements, Amputations & Prosthetics:

Riders with prosthesis are required to tell a Great Tree Swing Ride Host before boarding. Riders must have the ability to hold on with one functioning natural hand and be able to brace against the forces of the ride with one functioning, natural or prosthesis leg to include foot.
---
Frequently Asked Questions
---
How Long is The Great Tree Swing Experience?
The Great Tree Swing ride lasts almost 3 minutes.
Can I Ride Great Tree Swing If I Get Motion Sickness?
I wouldn't recommend getting on this ride if you get motion sickness. It Swings back and forth for a few minutes, going higher and faster each time.
What's The average Wait Time For The Great Tree Swing?
wait time for the Great Tree Swing at Dollywood can vary depending on the time of day, the day of the week, and the park's overall attendance.
Is The Great Tree Swing suitable for all ages?
This ride does not have age restrictions, but I wouldn't recommend taking the younger kiddos on this ride. It might scare them or make them sick. It all depends on your kiddos personal tolerance.
---
Get ready to experience the joy, excitement, and pure magic of Dollywood. Have Fun!
Did you and your family go on The Great Tree Swing? Share your experience in the comments.
---