If you are planning a trip to Pigeon Forge and are thinking about visiting Dolly Parton's Dollywood Theme Park, You might be asking yourself the same question millions of people ask themselves… "How many days should I spend at Dollywood?"
The answer to that question depends on the type of vacationer you personally are.
Some people can get everything done in one visit, while other people prefer to take it easy and go more than one day. I personally would say take at least 2 days to visit Dollywood.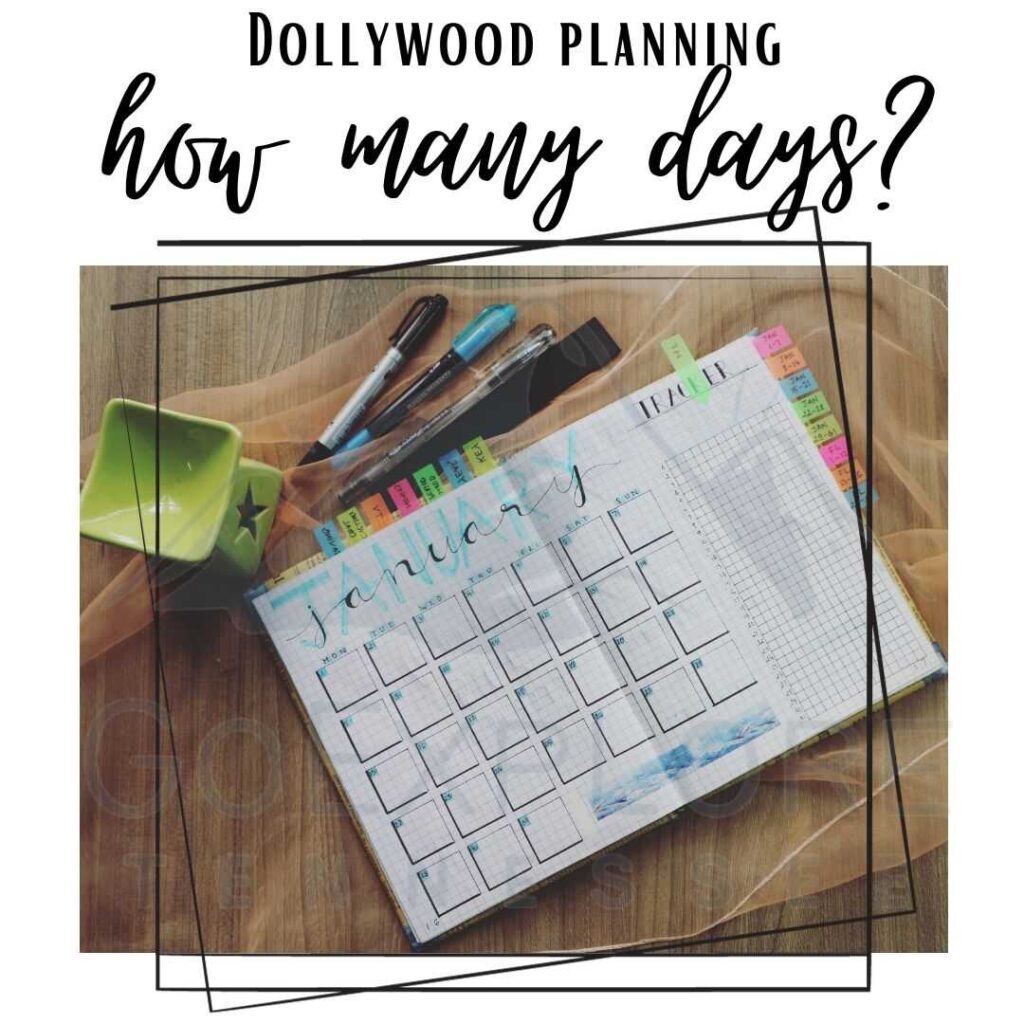 ---
A Single Day Visit
---
Reasons to Choose a Single Day Visit

A single day visit to Dollywood can be an excellent choice if you're looking for a quick and budget-friendly getaway. One Day Tickets for Dollywood cost $89 for Adults and $79 for Kids and Seniors. It's perfect for those within a short driving distance, who want to enjoy a day of fun at the park without the need for an overnight stay or if you have with a tight schedule.

Keep in mind that a single day may not give you enough time to explore everything at  Dollywood, and you might need to prioritize your "must do" rides/attractions.
---
Multi-Day Options
---
Reasons to Choose a Multi-Day Visit

If you want to experience everything Dollywood has to offer and have the time to explore at a more relaxed pace, you should consider a multi day visit. 

You have the option of buying a 2 day or 3 day ticket. 2 Day Tickets cost $119 for Adults and $109 for Kids and Seniors. 3 Day Tickets for Dollywood cost $129 for Adults and $119 for Kids and Seniors. If you end up buying 2 or 3 day tickets, you have to use the second and third day within a 5 day period after your first visit.

By getting multi day tickets, you can enjoy more and have fun, you will not be rushing and trying to do everything in a single visit. You can choose what you want to do and see each day.

You could take one day to ride all the rides and coasters, and another day to relax, try different foods like their famous Cinnamon Bread, see shows and enjoy the music. In my opinion, this is the best way to do it, especially if you have little explorers.
---
Things To Consider When Planning a Visit to Dollywood
---
Crowd Levels and Seasons

The number of people at Dollywood can vary a lot depending on the time of year, the day of the week, and the weather. If you can, plan your visit during Spring or Fall. Weekends and holidays are normally the busiest times, which means longer wait times for rides.

The least crowded day of the week to visit Dollywood is normally a weekday. These days will usually have less people than weekends/holidays since most people work during the week and kids are in school.

Check Out This Post If you want more info on crowd levels.
Special Events and Festivals

Dollywood has different special events and festivals throughout the year, each a unique and exciting experience like the Flower & Food Festival. If you are planning a visit to Dollywood during a specific festival, you might want to plan extra time to enjoy everything the festival has to offer. Keep in mind that sometimes crowds are bigger during festivals, especially during the weekends. 
Multi-Park Visit

If you're planning to visit both Dollywood and the water park, Splash Country, Dollywood sells Multi Park Tickets and they have one ,two or three day ticket options. You should plan at least 2 days, one for each park. That way you can enjoy each park for a full day.

Keep in mind though that a single day may not give you enough time to explore everything at Dollywood, and you might need to plan and prioritize your "must do" Rides and Attractions.
---
Tips
---
Plan Ahead

Don't forget to plan out your day. You should double check park hours and the weather on the days you plan on going. You should also buy the tickets in advance if you can. This helps you skip long lines at the ticket booth so you can get to your favorite rides faster!. Dollywood is a big park with a variety of rides, so it will help to make a list of the rides and attractions you and your family want to do the most.

I recommend downloading the Dollywood App before you head to the park. It has really helpful features like show schedules, current ride wait times and a park GPS that gives you directions to rides from where you are standing at the moment.
Time-Saver Pass
(Fast Pass)

If you're planning to spend just one day at Dollywood and don't mind paying extra, the Time-Saver Pass ( Fast Pass ) can be a game changer. This pass can be purchased as an add on to your regular ticket, and it lets you skip the regular lines at most popular attractions and gets you priority seating at shows. This is also really helpful during peak times when the park is crowded.

There are 3 options available: TimeSaver, TimeSaver Plus and TimeSaver Premium.
If you want to learn more about this add on option, check out our post about the TimeSaver Passes, with prices and all the info you need!
Be Flexible

Flexibility is key when visiting Dollywood, especially when you have little ones. It's important to know that things don't always go as planned, and unexpected things can happen. If you're traveling with kiddos who have never been to a theme park before, explain to them that they might not be able to go on every ride they want, and that they will probably have to wait in some lines. Some attractions may break down and close, or there may be longer wait times than expected. It can be frustrating, but it's important to stay calm and flexible.

Don't let small setbacks ruin your day at the park. If these things happen, explore other areas of the park, play games or watch one of their amazing shows.
---
Like always, please reach out to us if you have any questions, we are more than happy to help! Enjoy, make memories together and have fun!
---