In the Pigeon Forge area of Tennessee, You will find Dolly Parton's charming theme park, Dollywood!. If you're on the lookout for the perfect blend of thrilling adventures and heartwarming family moments, Dollywood is the place to be. They have top notch entertainment for visitors of all ages, warm Southern hospitality, delicious food, thrilling roller coasters and so many family friendly attractions.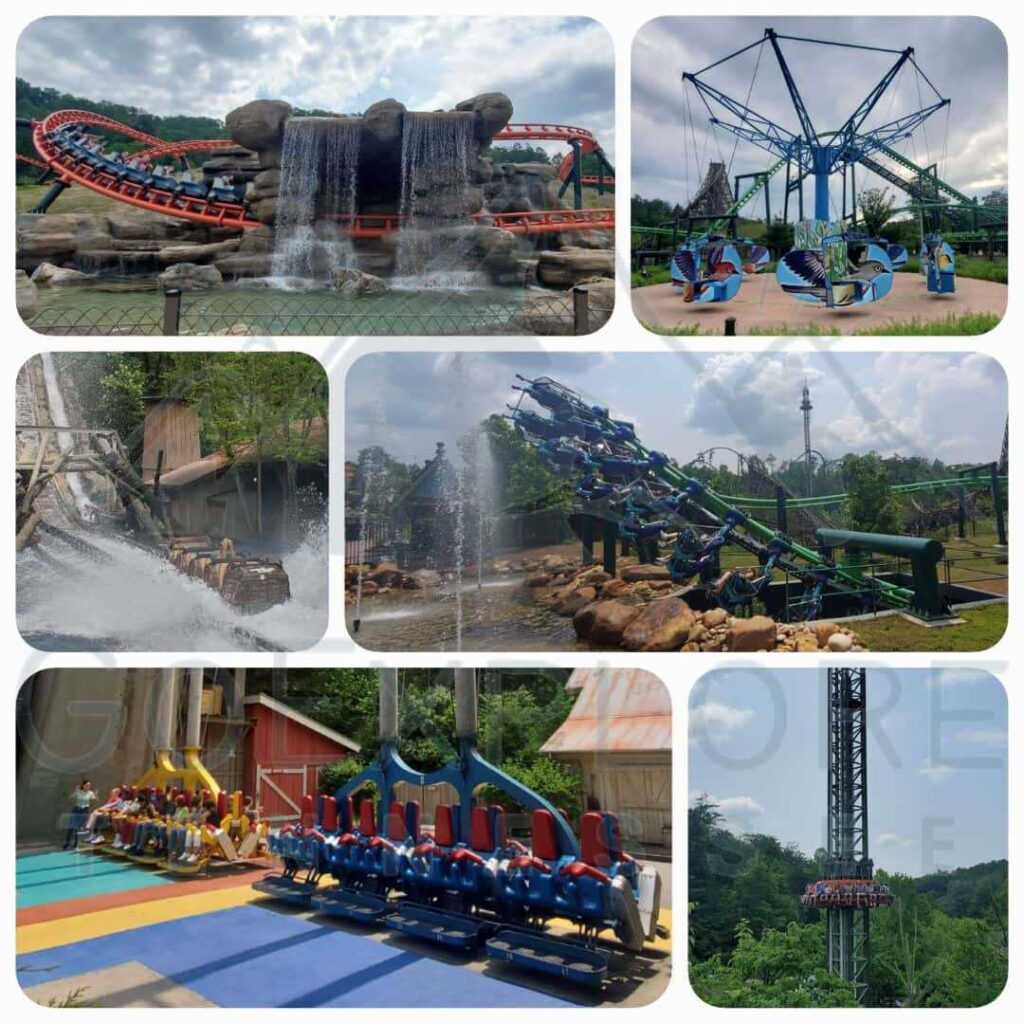 ---
---
---
This award winning park caters to families, making it the perfect destination for your upcoming adventure. On this post, We've got you covered with a complete guide to all the rides at Dollywood! We have divided the guide by Roller Coasters, Family Rides, Water Rides, Kids Rides and Thrill Rides. In each section, you will be able to dive deeper, see tips, awesome pictures, and personal experiences that will take you right into the front seat of the action.
---
Dollywood Roller Coasters
---
Let's talk roller coasters, they will not disappoint!. If you are looking to push your thrill seeking limits or simply looking for an unforgettable experience, Dollywood has a coaster for you. From the iconic wooden coaster to family friendly, Dollywood has 10 amazing coasters for you and your family to enjoy! Our top 2 personal favorite rides at Dollywood are Wild Eagle and Big Bear Mountain!.
---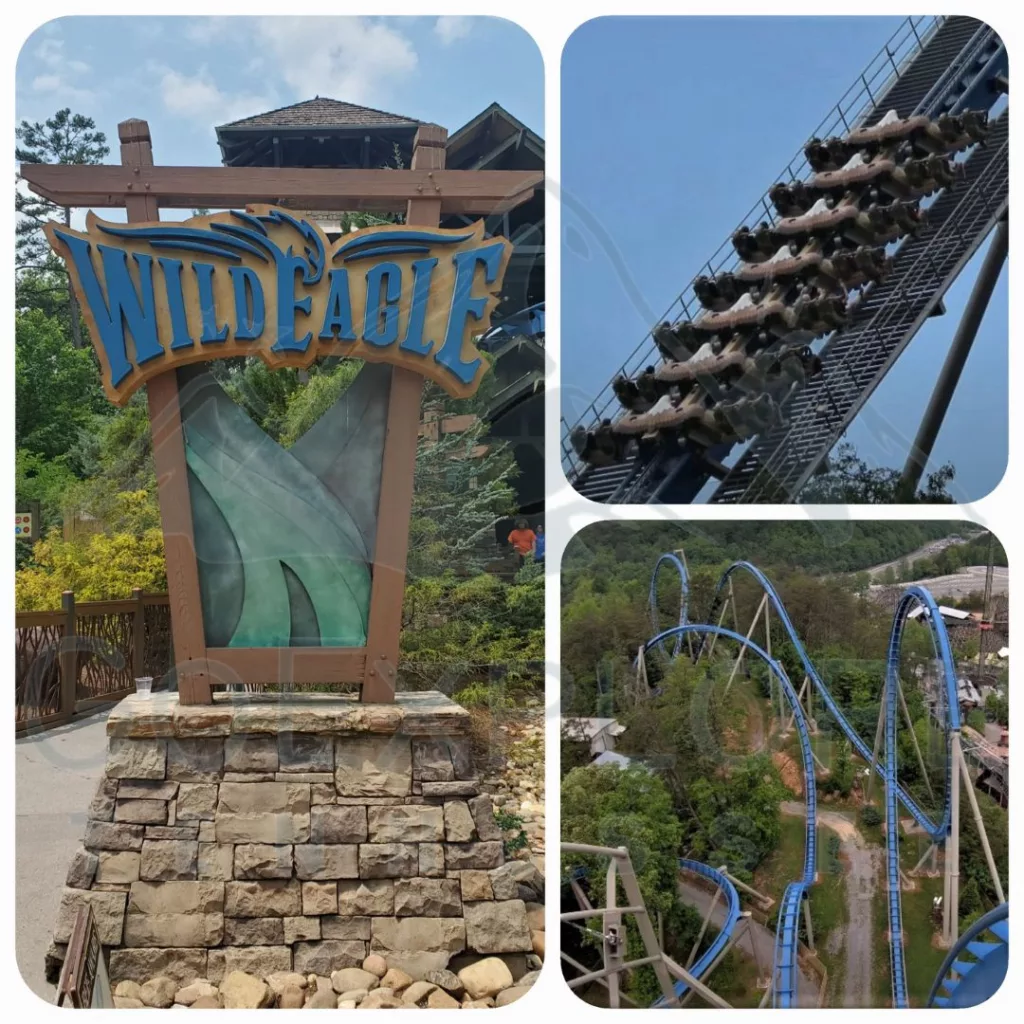 Wild Eagle

Wild Eagle is a fun and super fast steel roller coaster that gives you a flying sensation with a bird's eye view of the park. This coaster has an impressive height of 210 feet. You'll be seated in eagle themed trains, with your legs dangling in the air. The dips, drops, and twists will have your heart racing and leave you feeling like you're really flying or really dizzy!.
---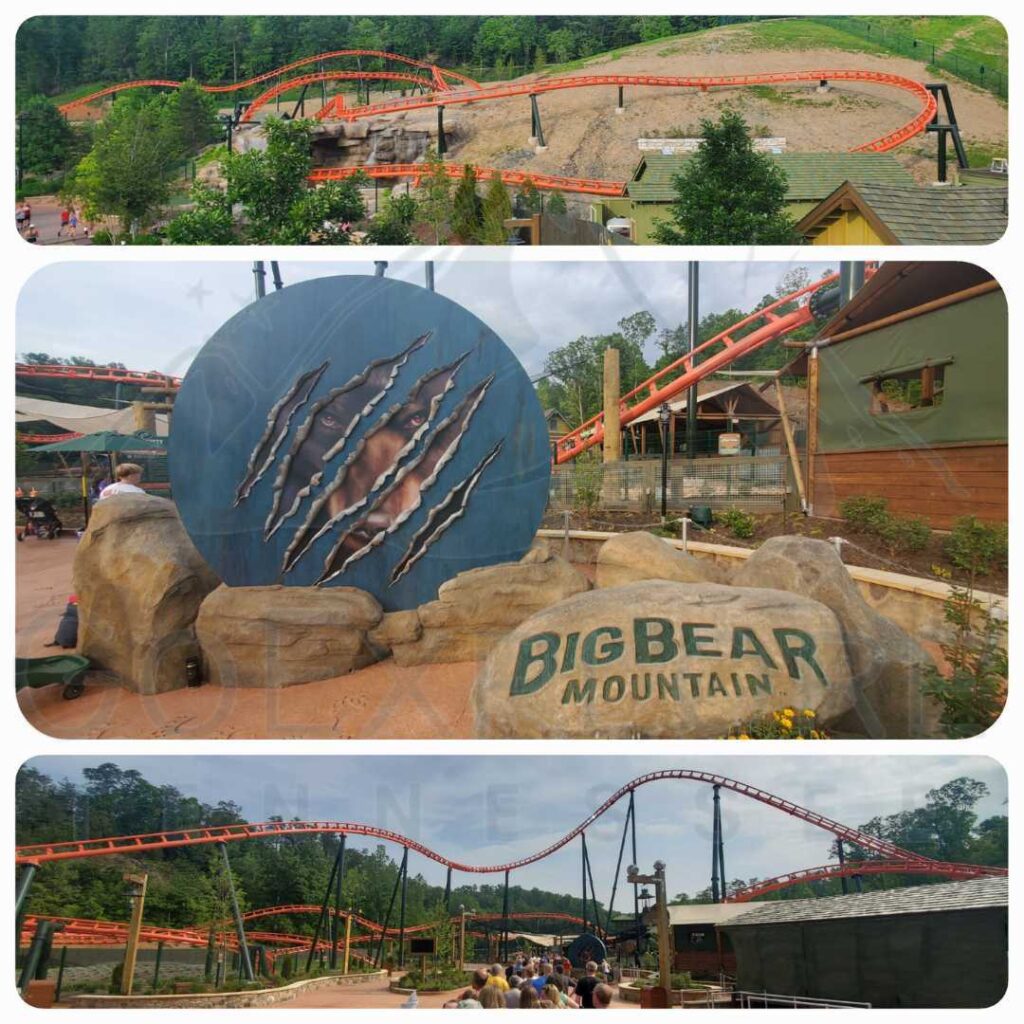 Big Bear Mountain

Big Bear Mountain is Dollywood's newest and longest addition. This Family Friendly coaster has moderate thrills that are perfect for families with kiddos of different ages. It is not too intense, it has max speeds of 48 miles per hour and the biggest track elevation is 66 ft. What sets Big Bear Mountain apart from other coasters is its immersive experience and the 3 separate launches. The onboard audio really brings the story to life, it feels like you are on a real adventure!.
---
If you want to dig deeper into the thrilling world of Dollywood's roller coasters and what makes each one unique, check out our  Complete Guide to Dollywood's Roller Coasters. 
---
Dollywood Family Rides
---
In my opinion, Dollywood is such a great option for a family vacation. They have fun entertainment for visitors of all ages and so many family friendly attractions to enjoy together!. If you have kiddos of different ages, you know how important it is to have things to do with the entire family. Some of our favorite fun rides at Dollywood are The FireChaser Express family coaster and and Demolition Derby.
---
FireChaser Express

FireChaser Express is the nation's first dual launch coaster the whole family can enjoy together, It blasts you forward and backwards!. This coaster stands out at Dollywood with its theming, inspired by the volunteer fire departments of the 1940s near the Great Smoky Mountains National Park. The ride starts with a short message from the Fire Chief and after the station's siren goes off, your adventure starts!. It reaches top speeds of 35 miles per hour and has a drop of 72 feet..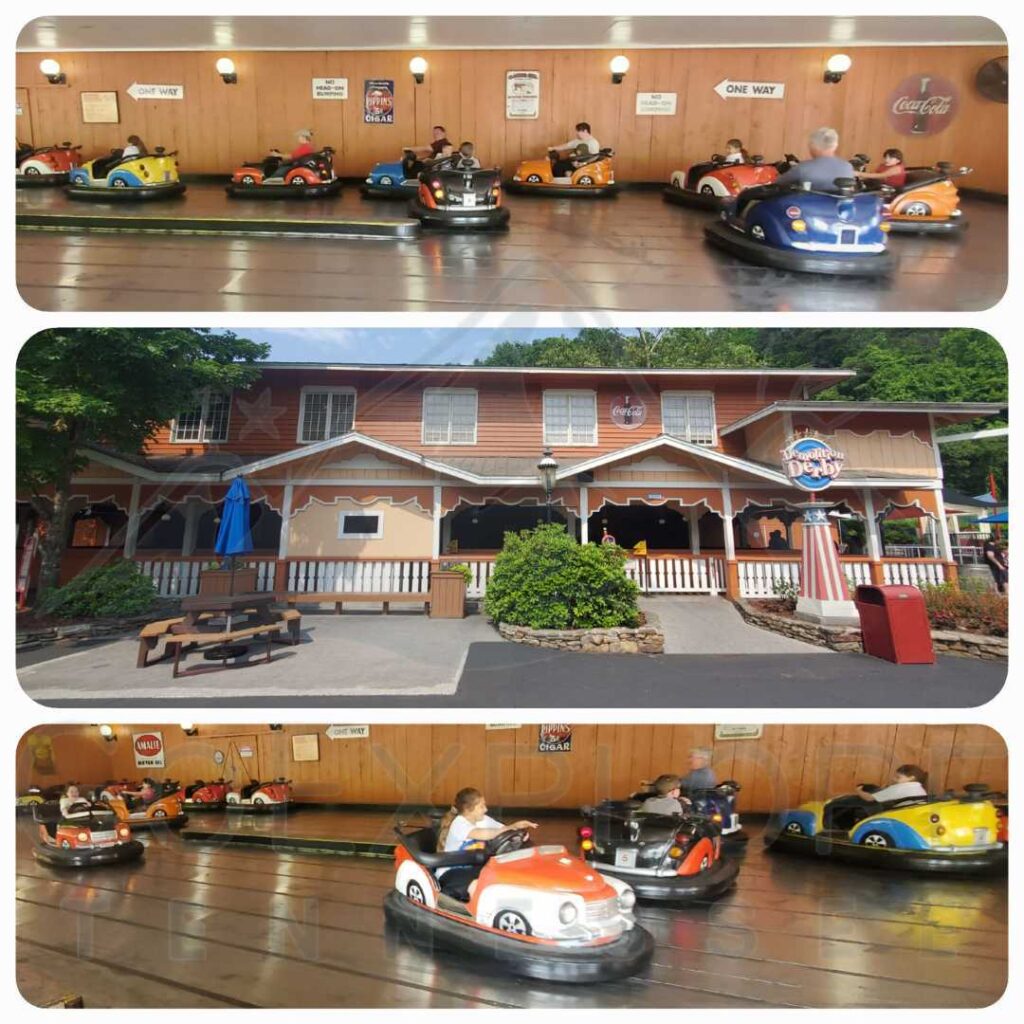 Demolition Derby

We love going on Demolition Derby for a little bumper car family competition!. Kids love this ride because they can actually bump people and not get in trouble. My kiddo loves this attraction, we probably go on it about 3 or 4 times in a row!. 2 people can ride per bumper car, so if you have a little adventurer joining, they can ride with you.
---
To See All The Family Friendly Rides at Dollywood, Check out our Complete Guide to Dollywood's Family-Friendly Rides to learn more.
---
Dollywood Water Rides
---
If you are visiting Dollywood during the Summer months, on a really hot day, there's nothing better than going on water rides to cool off. There are 2 water rides at Dollywood currently ( Not counting the ones at Dollywood's Water Park, Splash Country ) Daredevil Falls and Smoky Mountain River Rampage. They are both exciting, thrilling and so much fun!.
---
Daredevil Falls

Daredevil Falls is a thrilling log ride!. You go into an abandoned logging camp for a boat expedition gone wrong. You will make your way through some close calls and just when you think you are out of danger, your boat goes down a 60 foot drop at a heart racing 50 miles per hour! The cold water splashing you is really refreshing.
---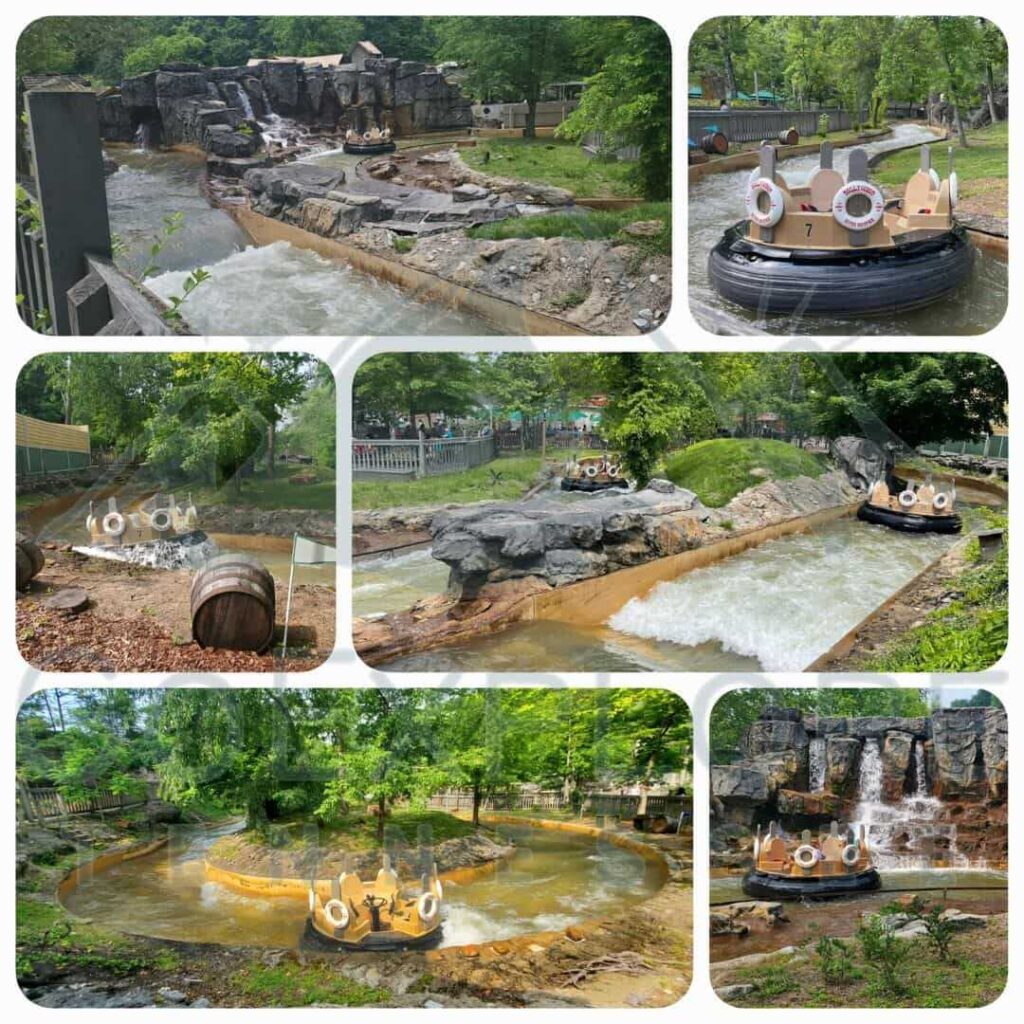 Smoky Mountain River Rampage

Smoky Mountain River Rampage is a wild white water rafting ride that will also cool everyone off since you will get soaked! You will get into a round river raft that can sit up to 6 people, so probably your entire group can ride together. Your raft will go with the river's flow, spinning + smashing against rapids and splashing everyone with cold water!
---
Learn everything about these rides in our Guide To Dollywood Park's Water Rides.
---
Dollywood's Kid Rides
---
The first time we visited Dollywood, we were pleasantly surprised at how much our 3 year old could do!. The park is made for families with kiddos of different ages. You literally have rides and attractions for every kiddo in your family. Have a toddler? Take them to the Country Fair area to ride 3 of the cutest rides made just for them. Have an older kiddo who is not ready for the big roller coasters yet but still wants to try a mild one? Take them over to Wildwood Grove to ride The Dragonflier!
---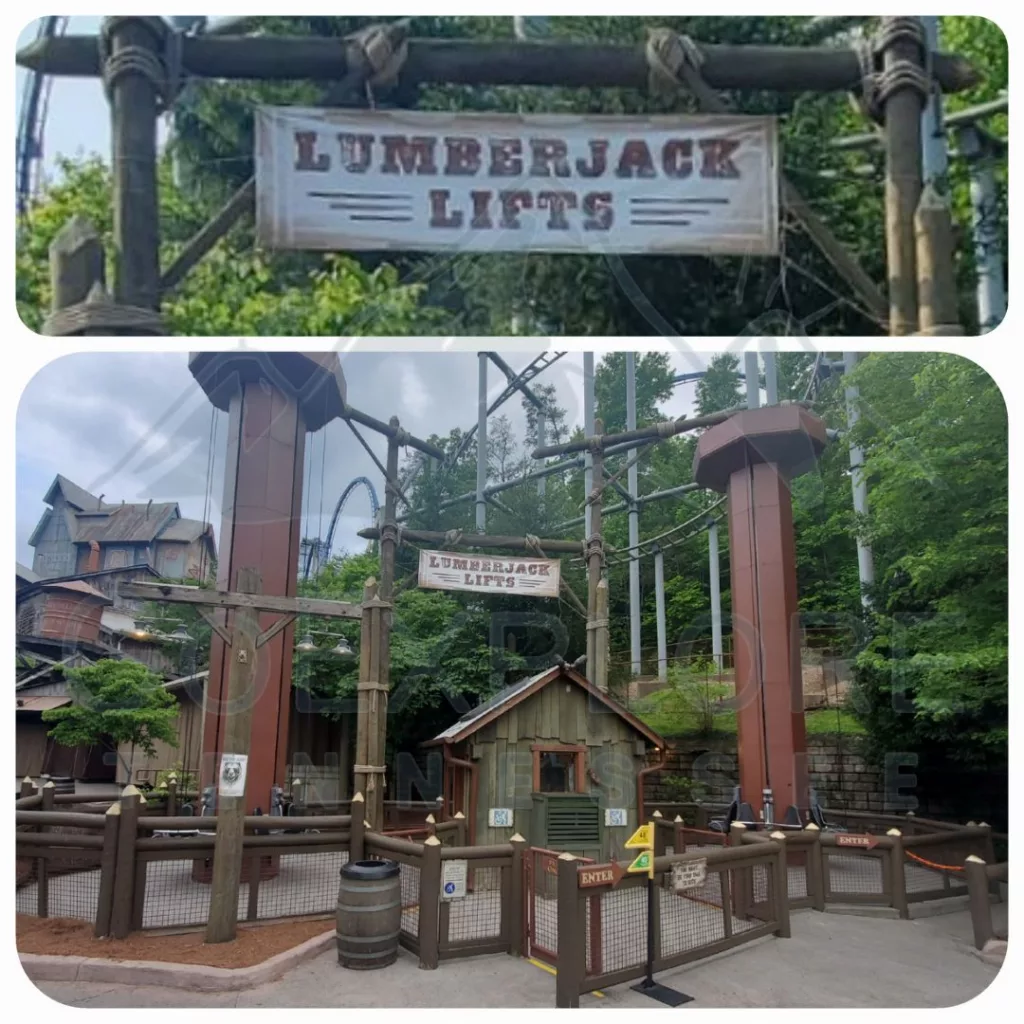 Lumberjack Lifts

One of my girls favorite thing to do together is Lumberjack Lifts. They have to work together but there's also a little competition going on. Its really fun to do!. This attraction challenges you to pull yourself 25 feet up a towering 30-foot structure using a rope pulley system. Who is the strongest one that can make it to the top first?.
---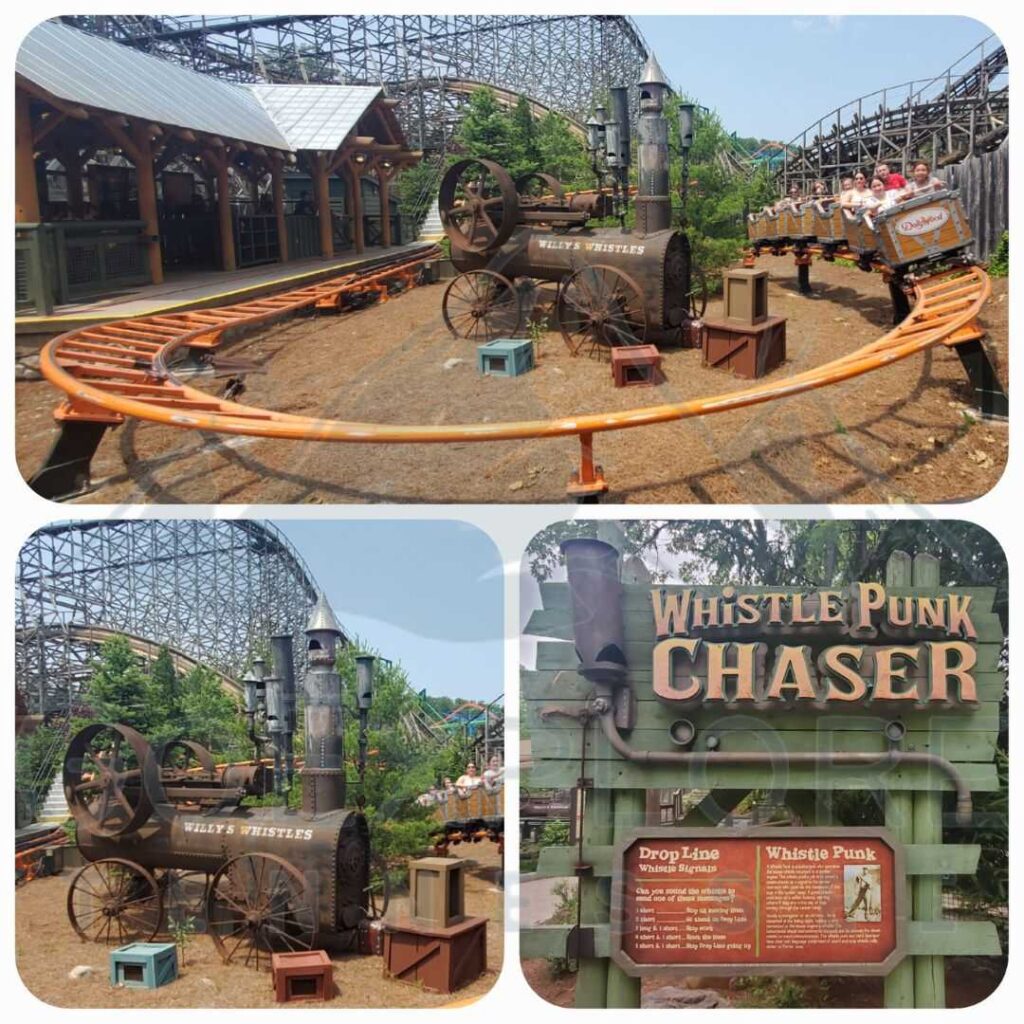 Whistle Punk Chaser

My youngest loves to go on the Whistle Punk Chaser kiddie coaster ( more than once in a row ). If you are looking for a coaster that your littlest thrill seeker can actually ride or if you are just introducing them to roller coasters, take them on the Whistle Punk Chaser. It's short with no drops or intense movements, and it only goes 16 mph.
---
You will find so many things to do at Dollywood with your kiddos,
check out our Parent's Guide to Dollywood's Rides to learn more!
---
Dollywood Thrill Rides
---
While Dollywood Theme Park is known for its family friendly charm, it has 11 awesome heart racing, gravity defying thrill rides. If you are looking to push your limits, Get ready to go on an exhilarating journey!.
---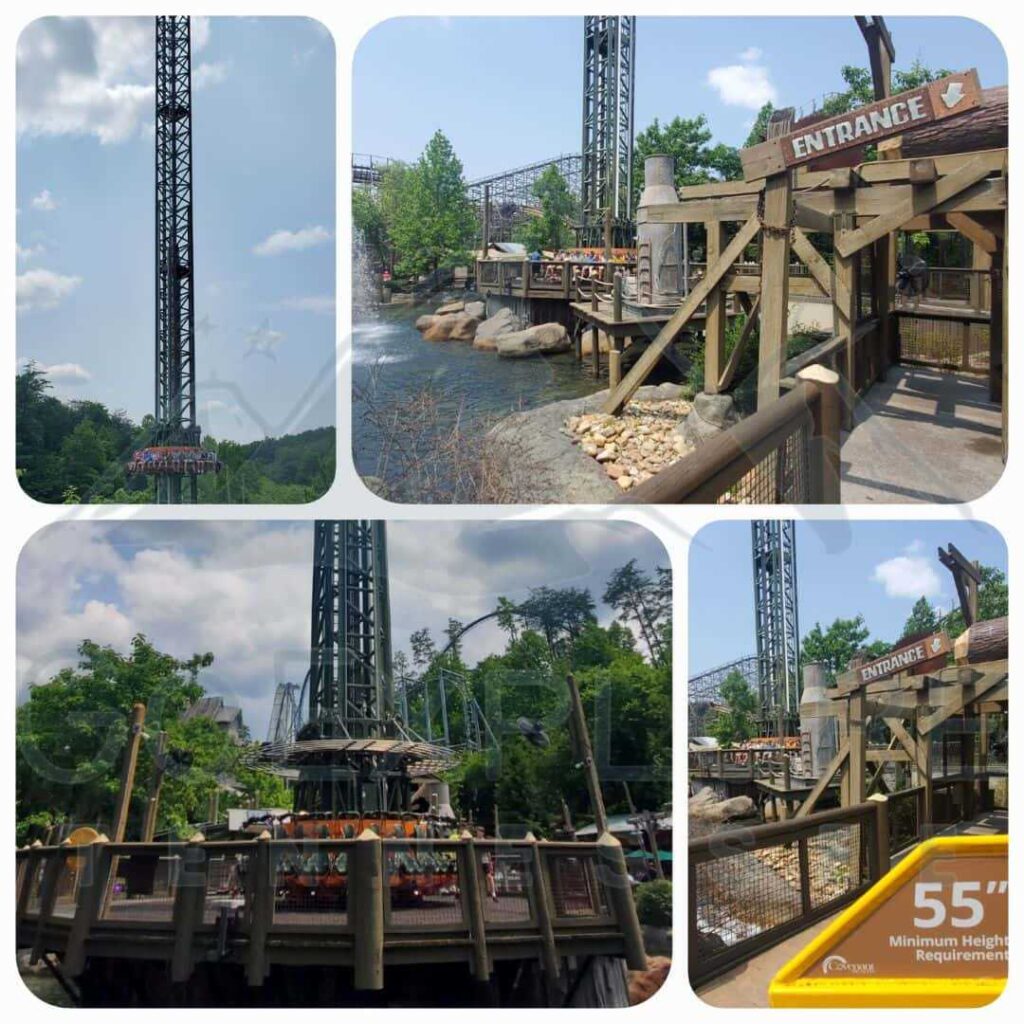 Drop Line

 One ride you shouldn't skip is Drop Line. This towering free fall ride is perfect if you want to push your  limits. Dollywood's Drop Line is one of the tallest drop towers in the nation, rising 200 feet above the ground, before plunging you back down at crazy speeds of 78 miles per hour!.

---
Tennessee Tornado

You should also go on Tennessee Tornado! it's an intense, fast triple-looping steel roller coaster that takes you on a dizzy journey. The Tennessee Tornado reaches speeds of 70 miles per hour and has a 128 foot drop.
---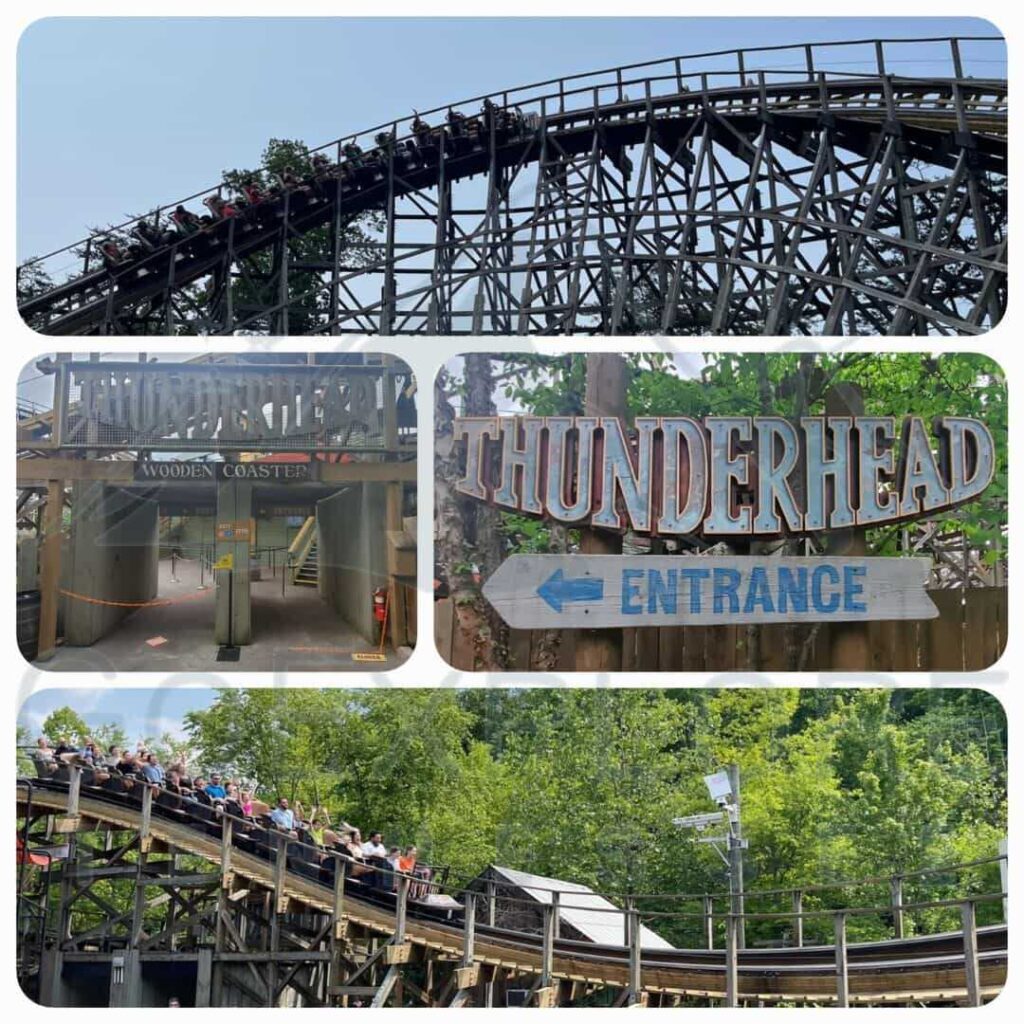 Thunderhead

If you want the nostalgic feeling of a classic wooden roller coaster, you can't skip Dollywood's Thunderhead. This coaster has top speeds of 55 miles per hour, a thrilling 100 foot drop, so many twists, turns and airtime hills!. Plus, Thunderhead doesn't slow down during the whole ride.
---
Learn about all of Dollywood's Thrilling Rides in our Complete Guide!. If you can, ride them all! 
---
Parent Swap Program
---
If you have a toddler or baby and older kids, you probably always have to sit out on roller coasters or rides the bigger kiddos go on. Dollywood has this awesome program called "Parent Swap".
The entire family goes in the line for the ride together, but one parent waits with the kiddo that is not riding, while the other parent rides. Then you switch and ride without having to wait in line again. Before you board the ride, you need to tell the ride host that you will be using Parent Swap and they will tell you what to do from there.
To learn more about the program, check out our Parent Swap post.
---
TimeSaver Tickets.
---
If you want to make the most out of your day at Dollywood without having to wait in long lines, you should consider buying a TimeSaver pass. ( it's not included in the Price of admission)
With this add on ticket You get Priority Access to select rides. You go on a different queue which is shorter than the normal line and you get to ride faster. You also get prime seating at shows in participating theaters. There are currently 3 pass options to choose from; TimeSaver, TimeSaver Plus and TimeSaver Premium.
To learn more about each pass option, what they each include and cost, which rides use the TimeSaver and more, check out our complete TimeSaver post.
---
Frequently Asked Questions
---
---
Get ready to experience the joy, excitement, and pure magic of Dollywood. Have Fun!.

Have questions or need help? Let us know and we will try our best to help out!
---