The first time my family and I went to Pigeon Forge, TN and visited Dolly Parton's Dollywood, we were pleasantly surprised at how much our then 3 year old and the entire family could do together!. I can tell you that Dollywood is the perfect family friendly theme park. The park is made for families with kids of different ages, there is a ride for everyone! If you are one of those families, you know how important that is.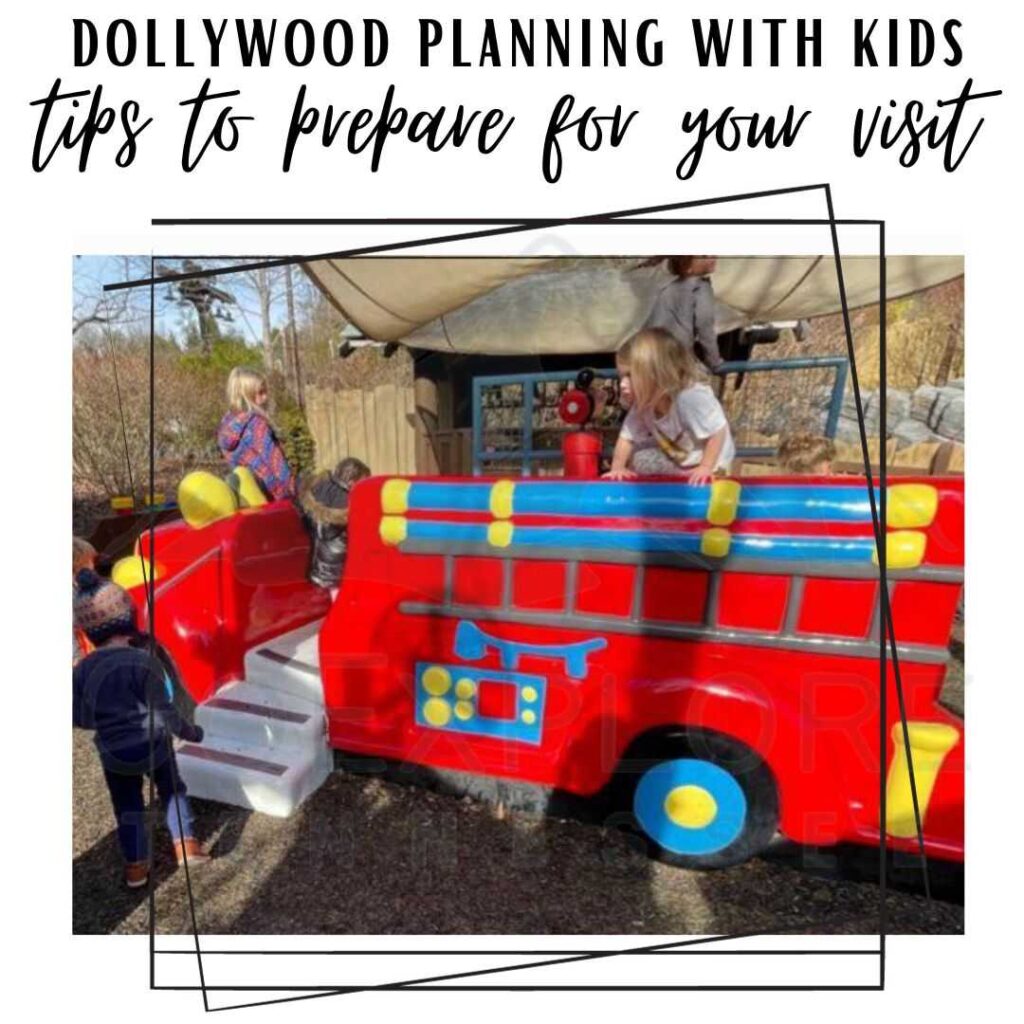 Even though Dollywood is super family friendly, it can still be a challenge tackling the park with your kiddos. To minimize your stress levels and kid meltdowns, It's better to prepare before so you can have the awesome trip you're dreaming of, complete with lots of amazing memories.
---
Here Are Some Tips To Help You Prepare For Your Visit To Dollywood!.
---
---
Plan Your Visit in Advance
---
The not so fun part of vacation, planning! It's important to plan before your visit.
You should double-check park hours and the weather on the days you plan on going. You should also buy the tickets in advance. If your little ones are like mine, they do not want to stand and wait in line to buy tickets, they just want to go, go, go!. By buying the tickets online before you actually head to the park, you can avoid a meltdown early in the morning and get to the rides faster!.
Don't forget to plan out your day too. Dollywood is a big park with a variety of rides, so it will help to make a list of the rides and attractions you and your kiddos want to do the most. I recommend downloading the Dollywood App before you head to the park. It has really helpful features like live wait times and a park GPS that gives you directions to rides from where you are standing at the moment.

A great way to do park research is to watch YouTube videos of the parks rides and attractions.
You know better than anyone what may scare them, it can help you choose appropriate rides for your kids. If you have a child with autism or sensory needs, they can prepare themselves for a new ride by watching videos of that ride. Knowing what to expect can help to reduce anxiety about trying something new.
It's always a good idea to have a plan in place for unexpected situations. When you are in a big theme park, its really easy for anyone to get lost or separated from the rest of the group. Have a meeting spot if someone gets lost, and make sure everyone in your group knows what to do in case of an emergency.
---
Check the Height Requirements Beforehand.
---
I really recommend checking out the Height Restrictions on the rides the kiddos want to do before you visit. That way, you can avoid disappointment. You don't want them excited for a ride, only to find out that they are not tall enough to ride.
If You have toddlers, you will probably spend most of your time at the Country Fair area of Dollywood. They have many toddler rides with no height requirements made especially for them!.
---
Be Prepared By Packing For The Day
---
Always pack for the day. Having a well packed backpack can make a huge difference in how smoothly your day goes. The obvious – Make sure you bring plenty of water bottles, especially during those hot summer months. Snacks are another essential item to pack. Packing some granola bars, chips, or trail mix will keep your kiddos fueled up and ready for more adventures.
Accidents happen, especially with the littlest adventurers. It's always a good idea to pack a change of clothes for them. Dollywood has water play areas, and they will not want to be walking around in wet clothes after. Pack a spare shirt, shorts/pants and shoes for each child, and you'll be ready for whatever comes your way.
For more tips on what to pack for a day at Dollywood with kids,
Check out our post on essential items to bring.
---
Bring / Rent a Stroller
---
If you are going to Dollywood with a baby or toddler, take their stroller!. If your kiddo is a little older, you'll need to take in consideration how much they can be on their feet. If you do not regularly take your kiddos on hiking adventures, from early morning to evening, you'll probably need a stroller.
Strollers are great for napping, to be used as changing stations, and they also provide a safe barrier between your toddler/baby and the rest of the world. If you are keeping track of a few kiddos, a stroller keeps the little ones from wandering off.
Another plus of taking the stroller is the underneath storage! With water bottles, extra clothes, snacks, souvenirs, sunscreen, umbrellas and more, our backpacks can weigh us down. You can place your backpack under the stroller. Just remember not to leave any valuables, cameras or phones on your stroller while you go on rides or unattended. You could use something like a fanny pack or a smaller bag to keep your phone and important items with you.

We have both, a stroller and a stroller wagon. I highly recommend having a stroller wagon, especially if you have more than one kiddo.. We have the MUV by Baby Trend Expedition 2-in-1 Stroller Wagon Pro, Equinox. We got it 4 years ago and we still absolutely love it!.
If you can't fit a huge stroller wagon like the one we have in your car, you can get this stroller wagon which folds up tiny, or a normal stroller (this is the stroller we have).
---
Bring Entertainment
---
Waiting in long lines is super boring for the kiddos. Bringing some entertainment is a great way to keep them happy and occupied while you are waiting in line. One of the best ways to keep your kids entertained while waiting in line is by Playing simple games like "Would You Rather" or "I Spy" .
Let your kiddo use the phone/tablet to take photos, make silly videos, play games or watch their favorite show. If you don't do tablets or phones with your kids, you can pack some Activity books or Sticker books. They are a great alternative to phones/tablets and another fun way for kids to pass the time.
You can always bring some snacks to munch on while waiting in line. We also find it helpful to talk with our kids in advance about wait times, being patient, and learning to be ok with having to wait.
---
Get To The Park Before It Opens.
---
We always go to amusement parks early in the morning. We personally like to get there an hour or so before the actual park opens. Everyone is well rested, happy and ready to go! Dollywood's parking lot opens 2 hours before park opening each day.
Getting there early is also the best way to beat crowds and do your must ride attractions without having to wait in lines for a long time.
---
Use The Centralized Measuring Station ( Height Bracelet ).
---
Once inside of the theme park, if you have little kids you should head over to Dollywood's Centralized Measuring station. You can find it between the Ride Accessibility Center and Rental Services on Showstreet ( after they scan your ticket, go to the left ). A host will measure your kiddo and they will be given a color coded wristband which helps you see which rides they are tall enough to ride. The coded wristbands match the color coded information displayed on the signs at each ride in the Park.
---
Take Advantage Of Dollywood's Parent Swap Program.
---
If you have babies or toddlers, you probably always have to sit out on roller coasters or rides the bigger kiddos go on. Dollywood has this awesome program called " Parent Swap ". You all go in the line for the ride together, but one parent waits with the kiddo that is not riding, while the other parent rides, then you switch without having to wait in line again. Before you board the ride, you need to tell the ride host that you will be using Parent Swap and they will tell you what to do from there.
---
Take Breaks Throughout
---
Dollywood can be such a fun place to visit, but it can also be pretty tiring, especially for the littlest adventurers. There are plenty of shaded areas to take a break. So if you or your kids are feeling tired or overheated, find a shady spot and take a breather.

Dollywood has different playgrounds through the park. Like the Lil' Pilots Playground in the Owens Farm area where You can find a huge 16-foot wooden Bi Plane or the Firehouse Fun Yard in the Wilderness Pass area, which has a Firetruck your little ones can climb, slide down and shoot water. You can even find an indoor playground, Hidden Hollow in the WildWood Grove area, so the kiddos can play safely while you sit and relax under a/c or heat!
If you need more than just a quick break, you can grab a meal or snack to refuel. There are so many delicious options at Dollywood, or you can enjoy the food or snacks you packed. It's a great way to recharge and get ready for more fun.

You Can always go watch a show in one of the theaters. That is another great way to take a break from the crowds, rides and sit down for a little bit.
---
Manage Expectations
---
Even tough Dollywood has something for everyone, it doesn't mean everyone is going to be able to ride every ride that the theme park has to offer or do everything that was planned ahead, so it's important to manage expectations. While the park is amazing, remember that things may not always go as planned.
If you're traveling with kiddos who have never been to a theme park before, explain to them that they might not be able to ride every ride they want, that they will probably have to wait in some lines, and that's ok! They will still have an amazing day.
Some attractions may break down and close, or there may be longer wait times than expected. It can be frustrating, but it's important to stay calm and flexible. Don't let small setbacks ruin your day at the park. Take the opportunity to explore other areas of the park, play games or watch some of the amazing shows.
---
Hopefully These Tips Help And You Can Have An Amazing Time!.
Do You Have Other Helpful Tips? Share Them With Us In The Comments.
---