Hey there! As im sure you heard, Dollywood keeps getting bigger and as part of their expansion plans they recently opened their newest roller coaster addition, Big Bear Mountain!. The coaster is located in the Wildwood Grove's area of the theme park, which is also one of the newest areas, right next to the Dragonflier. Big Bear Mountain is not only the longest roller coaster at Dollywood Park, but it also has moderate thrills that are perfect for families with kiddos of different ages. This triple launching family coaster is one of our favorites in the park, and im sure you will love it too!.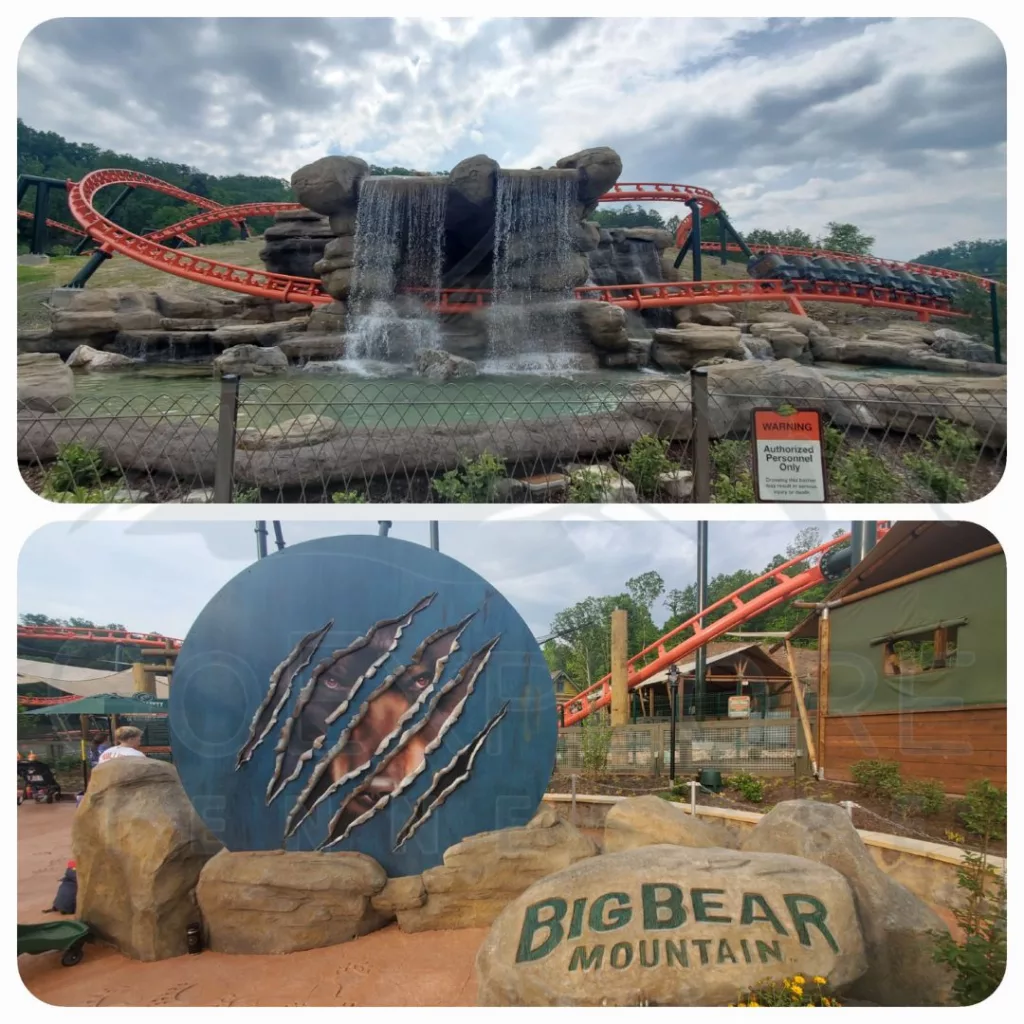 ---
---
Comparison Of The Big Bear Mountain To Other Dollywood Coasters.
---
| Rides | Height | Speed |
| --- | --- | --- |
| Lightning Rod | 48" | 73 |
| Tennessee Tornado | 48" | 70 |
| Wild Eagle | 50" | 60 |
| Thunderhead | 48" | 55 |
| Big Bear Mountain | 39" | 48 |
| Mystery Mine | 48" | 45 |
| Dragonflier | 48" | 43 |
| FireChaser Express | 39" | 35 |
| Blazing Fury | 42" | 22 |
| Whistle Punk Chaser | 36" | 16 |
---
Dollywood's Big Bear Mountain Ride review
---
As you are walking to the coaster, you are able to see the orange tracks way before you even get close to the entrance, this is because it is Dollywood's longest roller coaster at the moment. Ride time is about 2 minutes. After you pass the Dragonflier coaster and make a left, you will see the Big Bear Mountain sign and entrance!
We love all the details they have as you wait in line. Most of it is covered and made to feel as if you are going inside of Explorers tents. As you walk trough the queue, you can see the black bear posters, camping gear, it really feels like you are part of it and getting ready to go on an adventure as well. They really did a great job with the queue.
As you get closer to boarding, you will see the ride vehicles also match the theme of the queue and coaster, they look like four wheel drive SUVs. On this ride you sit 2 people per row, it has 10 rows for a total of 20 riders per train. After everyone is checked for safety, you are off on your Big Bear Adventure!.
As the ride takes off, it speeds up right away, the G-forces make you feel weightless one moment and pressed back into your seat the next. What sets Big Bear Mountain apart from other coasters is its immersive experience and the 3 separate launches. The onboard audio brings the story to life. With Ned Oakley's voice guiding you through the expedition in search of the legendary big bear!. It felt like a real adventure. The audio really enhanced every twist and drop!.
For my family, the best part of Big Bear Mountain was that its family friendly. With three kids of different ages, we are normally splitting up to go to different rides. With Big Bear Mountain we can all ride together since it is not too intense, it has max speeds of 48 mph and the biggest track elevation is 66 ft.
My 13 year old loved the speed and twists. My 9 year old loved that its so smooth and it doesn't have big drops or go upside down. Even my 4 year old, who just reached the height requirement, had a great time. I'm not going to lie, I was a little worried he was going to be scared and not want to go on any others ride after, but he had a blast!.
---
How Fast Does Dollywood's Big Bear Mountain Roller Coaster Go?

Big Bear Mountain was made to be a family coaster, so it reaches top speeds of 48 mph. Even though there are faster coasters in Dollywood, you combine the speed with the audio story and twists + turns, and you have a great roller coaster the whole family can enjoy.
How Big is the Drop on the Big Bear Mountain Roller Coaster at Dollywood?

The Big Bear Mountain coaster does not have a big drop, but it more than makes up for it with other features. It has a maximum track height of 66 feet, which makes it a great coaster for the kids too.
How Long Is the Big Bear Mountain Roller Coaster at Dollywood?

This coaster stretches an impressive 3,990 feet, making it one of the largest coaster in Dollywood and giving you a longer ride experience!. The ride lasts about 2 minutes, but don't worry because it is not a scary ride at all.
How Intense is the Big Bear Mountain Roller Coaster at Dollywood?

The Big Bear Mountain coaster is not an intense ride. It does go 48 mph and has twists and turns, but it is not intense or scary because it was made to be part of Dollywood's family friendly rides.
---
How Does Technology enhance the Experience?
---
Technology plays a big role in enhancing the ride experience on Big Bear Mountain. One unique feature this coaster has is the on-board audio, which immerses you in the story of the ride.
You'll hear music and announcements from Ned Oakley, the resident wilderness explorer of Wildwood Grove and caretaker of Benjamin Bear. He will guide you on your quest to find the Big Bear. With each twist and turn, the audio keeps you engaged in the story, making it feel like you're part of an adventure.
---
What are the Requirements to Ride Dollywood's Big Bear Mountain Coaster?
---
Height Requirement :

This coaster does have height restrictions. The minimum height requirement for the Big Bear Mountain coaster is 39 inches tall. This is because riders must be tall enough to safely secure the restraints. If your kiddo is under 48 inches, they must be accompanied by a person at least 14 years old.
Personal Belongings:

Loose articles such as hats, sunglasses, and phones are not allowed on the Big Bear Mountain due to safety reasons. They could fly off during the ride and become a danger to other riders. All of the rides that don't allow loose articles have cubbies where you can store them safely until you get back.
Health Conditions :

Pregnant Mamas and Riders with certain health conditions such as heart problems, neck or back issues, or motion sickness may want to skip this coaster. It could worsen pre existing conditions.
Age Restrictions :

 There are no specific age restrictions for the Big Bear Mountain roller coaster.
---
Big Bear Mountain Roller Coaster is a must try for thrill seekers and families looking for an unforgettable family friendly expedition. Get ready to scream, laugh, and create memories, have fun!.
---