This is one ride at Dollywood you can't skip if you have young kiddos, they get to drive their own car down a scenic country road!. This classic car ride is a time machine that transports you back to an era of iconic thunderbirds, corvettes, and the unmistakable tunes of rock 'n' roll. This attraction is another one of Dollywood's most family friendly rides and Everyone in the family will enjoy it!.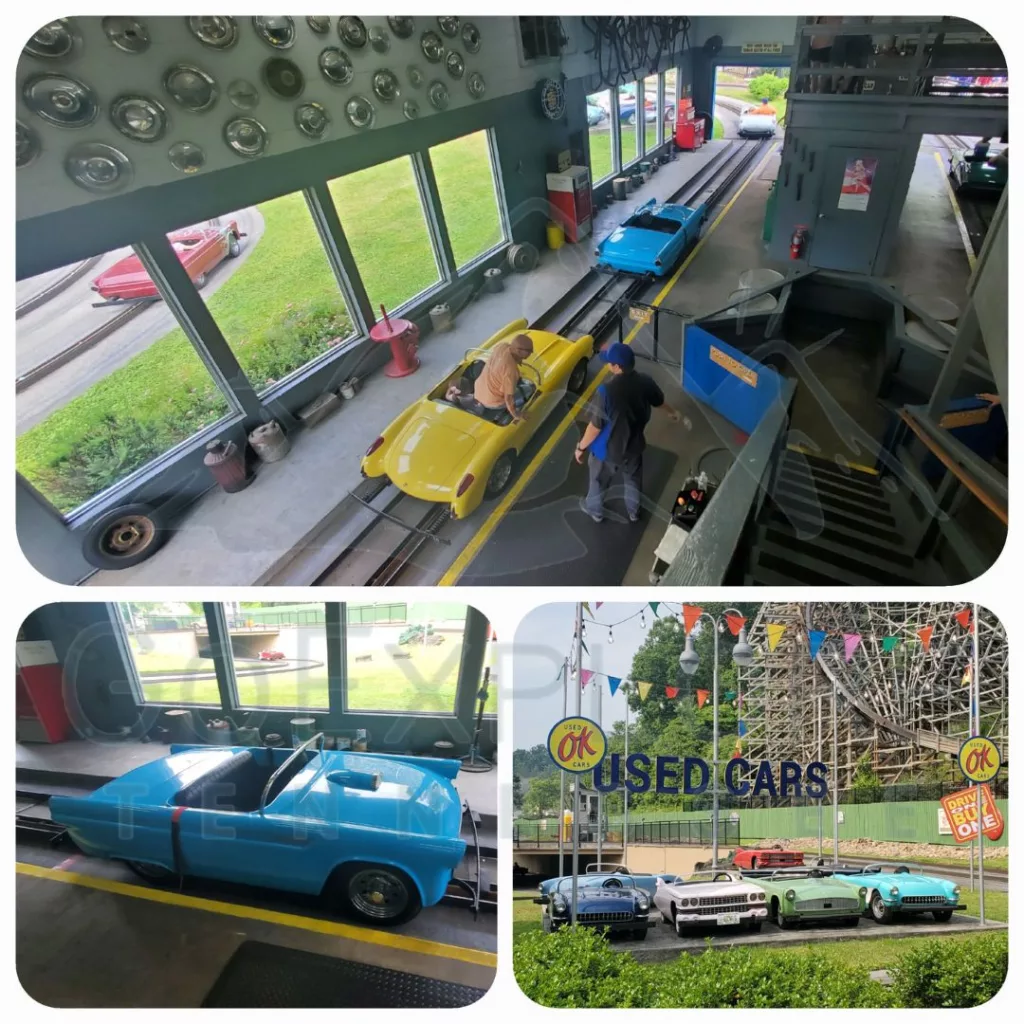 ---
---
What's it Like to Ride Dollywood's Rockin' Roadway? (Review)
---
From the moment you step into the Jukebox Junction area of Dollywood, you will instantly be transported back in time to the era that celebrated chrome accented cars, neon lights, and the sound of classic tunes. You can find Rockin Roadway in the middle of Jukebox Junction, right next to Lightning Rod coaster.
As you get ready to board, you're greeted by the iconic design that characterized the 50s. Older Kids can get on their own cars. Younger Kiddos can still get in the drivers seat since the car drives itself!. The controlled track system is there to make sure everyone has a safe and smooth experience. Once you are buckled up and checked for safety, you are off.
The track itself is made to make you feel like you are driving down a 1950s-Era Country Road , from the road signs and billboards to the surroundings. And then there's the music — the melodies of the 50s coming from the car's stereo system. Wave to fellow riders, family & friends and honk your horn under tunnels!.
---
What are the Requirements to Ride Rockin' Roadway?
---
Height Requirement

This ride does not have minimum height requirements, but if your kiddo is under 42 inches, they must be accompanied by a person at least 14 years old.
Personal Belongings

It is recommended that you leave your personal belongings with a non rider.
Health Conditions

Riders with certain health conditions such as neck or back issues, or casts may want to skip Rockin' Roadway.

Accessibility

Due to the ride design, Guests must be able to load and unload quickly. Riders may need companion assistance transferring to the ride vehicle
Age Restrictions

There are no Age Restrictions for Rockin' Roadway since this is a super relaxing ride.
---
Frequently Asked Questions
---
How Long is Dollywood's Rockin' Roadway Ride?
The Rockin' Roadway ride Lasts round 3 Minutes.
Can adults Ride with Their Children On Rockin' Roadway?
Absolutely! Adults Can ride with their kiddos On Rockin' Roadway.
It's a Ride That The Entire Family Can Enjoy Together.
Where Can I Find Dollywood's Rockin' Roadway?
Rockin' Roadway in The Heart of Jukebox Junction, Right Next To The Lightning Rod Coaster.
Does Rockin' Roadway Feature any Interactive
Elements During The Ride?
Rockin' Roadway has Interactive Features like the Car Horn and 1950s Music.
---
Enjoy and make awesome memories together, have fun!. Did your family love this attraction? Tell us your story in the comments!
---