If you're looking for thrill and excitement in Pigeon Forge Tn, Dolly Parton's theme park Dollywood has a classic fair and carnival ride that's sure to leave you dizzy!. The Scrambler will toss you back and forth while you're seated on a chair connected to a rotating claw!.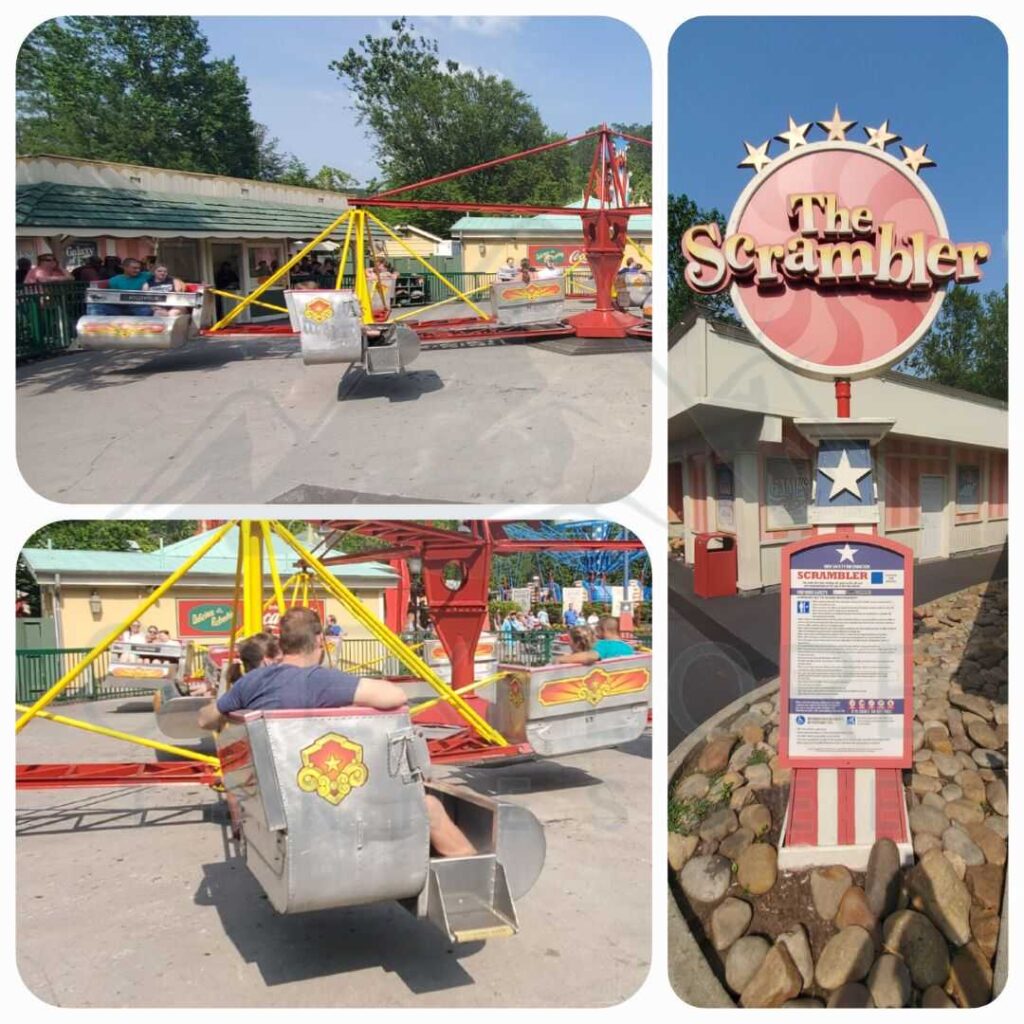 ---
---
What's it Like to Ride Dollywood's Scrambler? (Review)
---
You can find The Scrambler in the Country Fair area of Dollywood. Once its your turn to board, you will take your seat on the red chair and buckle up. You will notice that all the chairs are connected to a central claw. After everyone is checked for safety, you are off on your dizzying adventure!
As the ride starts, your chair will start spinning in circles while the claw also spins in a larger circle. You'll start going faster and faster! If you are sitting with your friends or family, you will end up being slung together. It's an adrenaline pumping experience that has made the Scrambler a favorite at Dollywood.
---
How Intense Is The Scrambler Ride at Dollywood?
---
While it's not as extreme as some of the park's roller coasters, it is still a thrilling experience. The combination of spinning plus being tossed back and forth can be intense for some riders. I would not recommend riding if you get motion sickness, or taking small kiddos on this ride.
---
What are The Requirements to Ride Dollywood's Scrambler?
---
Height requirement

This ride does have height restrictions. The minimum height requirement for The Scrambler is 36 inches. If your kiddo is Under 48 inches they must be accompanied by a person at least 14 years old.
Personal Belongings

It is recommended that you leave your personal belongings with a non rider. They might fly off and hurt someone.
Health Conditions

Pregnant mamas and Riders with certain health conditions such as heart problems, neck or back issues, or motion sickness may want to skip The Scrambler.
Age Restrictions

There are no specific Age Restrictions for The Scrambler, but I wouldn't recommend taking young kiddos on this ride. It might be too intense for them.
Accessibility

Riders may need companion assistance transferring to the ride vehicle. Due to the ride design, the ride vehicle may move while loading and unloading the Scrambler.
---
Frequently Asked Questions
---
Is The Scrambler Suitable For Young Children?
In my opinion, this ride could be too intense for young kiddos. Every kid is different, so if you think your kiddo can take the ride, go for it!.
Can I Ride The Scrambler If I'm Prone To Motion Sickness?
The Scrambler will spin you around every direction really fast, so if you get motion sickness or have a weak stomach, I would not recommend getting on this ride.
How Long Does The Scrambler Ride Last?
The Scrambler ride lasts around 2-3 minutes.
Is There a Best Time To Ride The Scrambler To avoid Long Lines?
If you want to avoid long wait times, your best bet is to ride early in the morning or late in the afternoon before the park closes.
---
Enjoy and Make Awesome Memories Together at Dollywood! Have Fun.
Were you brave enough to try this ride? Tell us your story in the comments!
---