If you are in the Pigeon Forge area of Tennessee and are heading to Dolly Parton's Dollywood theme park for some family fun, then you should go on the Lemon Twist !. This Family friendly spinning ride is a must try for those seeking a little bit of excitement and a whole lot of fun.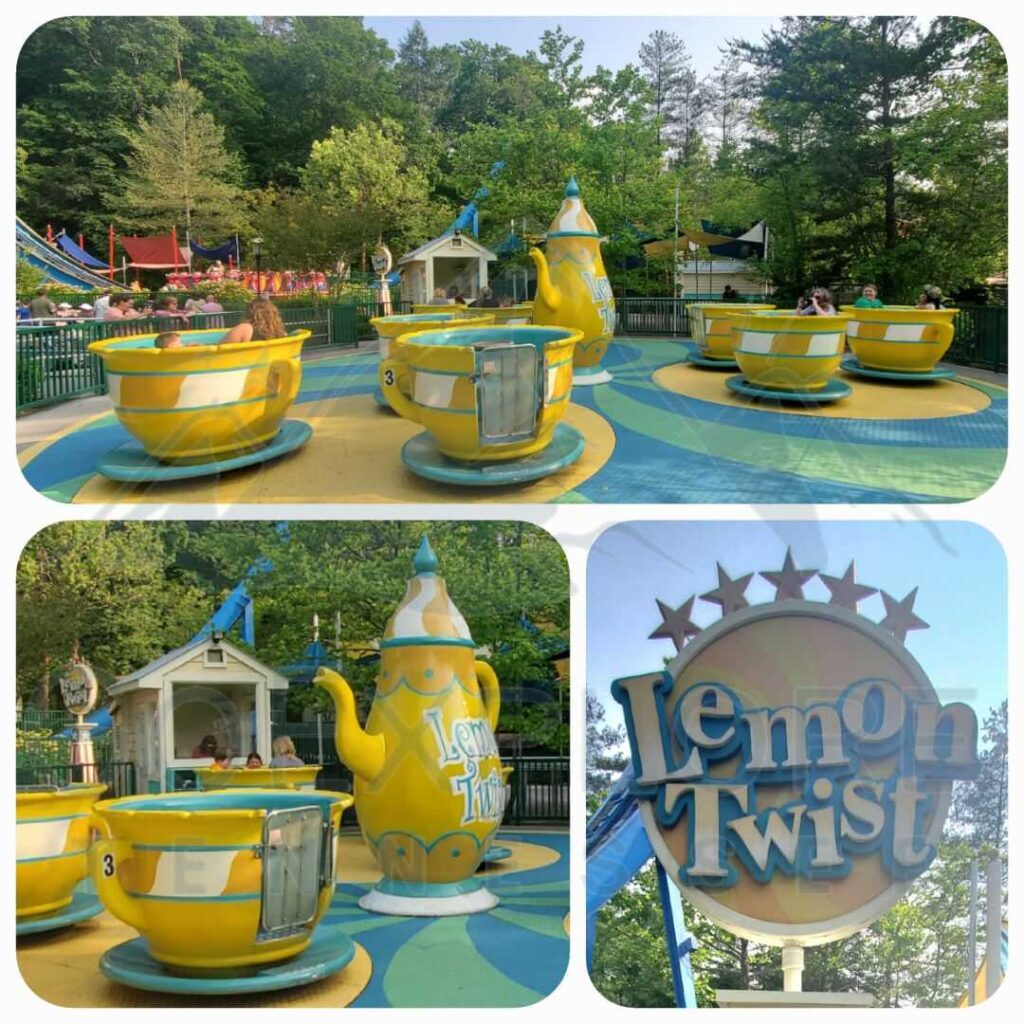 ---
---
What's it Like to Ride Dollywood's Lemon Twist? (Review)
---
You can find this dizzying ride in the Country Fair area of Dollywood. It's right in front of The Amazing Flying Elephants. Don't worry, you won't miss the giant pitcher of lemonade!. Once it's your turn to board, You will be seated inside a big yellow cup, surrounded by eight others. All the cups are mounted on a spinning saucer. After everyone is checked for safety, the fun begins! The cups and saucers will slowly start spinning. The cool thing about this ride and what makes it fun for the entire family is that you get to control how fast your cup spins. If you want your cup to spin faster, you can with the silver wheel in the middle of your cup. If you get too dizzy and want a more relaxed ride leave it alone, Your cup will spin gently on its own. While your cup and saucer are in a spin, the entire platform is also in motion!.
---
What Are the Requirements to Ride Dollywood's Lemon Twist?
---
Height requirement

There is no Minimum Height Requirement for this fun ride, but if your Kiddo is Under 48 inches, they must be accompanied by a person at least 14 years old. 
Health Conditions

Pregnant mamas and Riders with certain health conditions such as heart problems, neck/back issues, or motion sickness may want to skip Lemon Twist.
Age Restrictions

There are no age restrictions for Lemon Twist. This makes it a great choice for families looking to have a blast together.
Wheelchair Accessibility

Riders who may need help transferring to the ride vehicle, such as individuals in wheelchairs, can still ride Lemon Twist. Riders may need companion assistance transferring to the ride vehicle.
---
Frequently Asked Questions
---
What is the Duration Of The Lemon Twist Ride?
The Lemon Twist ride lasts about 2-3 minutes.
Is The Lemon Twist a Ride Safe For all ages?
Yes but even though Lemon Twist is a Family Friendly ride, I wouldn't recommend it for those who get motion sickness.
Can I Ride The Lemon Twist if I Get Motion Sickness?
I would not recommend riding the Lemon Twist if you easily get motion sick.
Where is Lemon Twist located in Dollywood?
You can find Lemon Twist in the Country Fair area of Dollywood. Specifically, you'll find it right in front of The Amazing Flying Elephants attraction.
---
Enjoy and make awesome memories together, have fun!.
Did your kiddo love this dizzy ride? Tell us your story in the comments!
---