Dollywood's Playgrounds and interactive play areas are full of endless opportunities for fun and excitement. As a mama myself, I can tell you that Dollywood is an amazing place for kids with plenty of rides and fun activities to keep them happy and entertained!.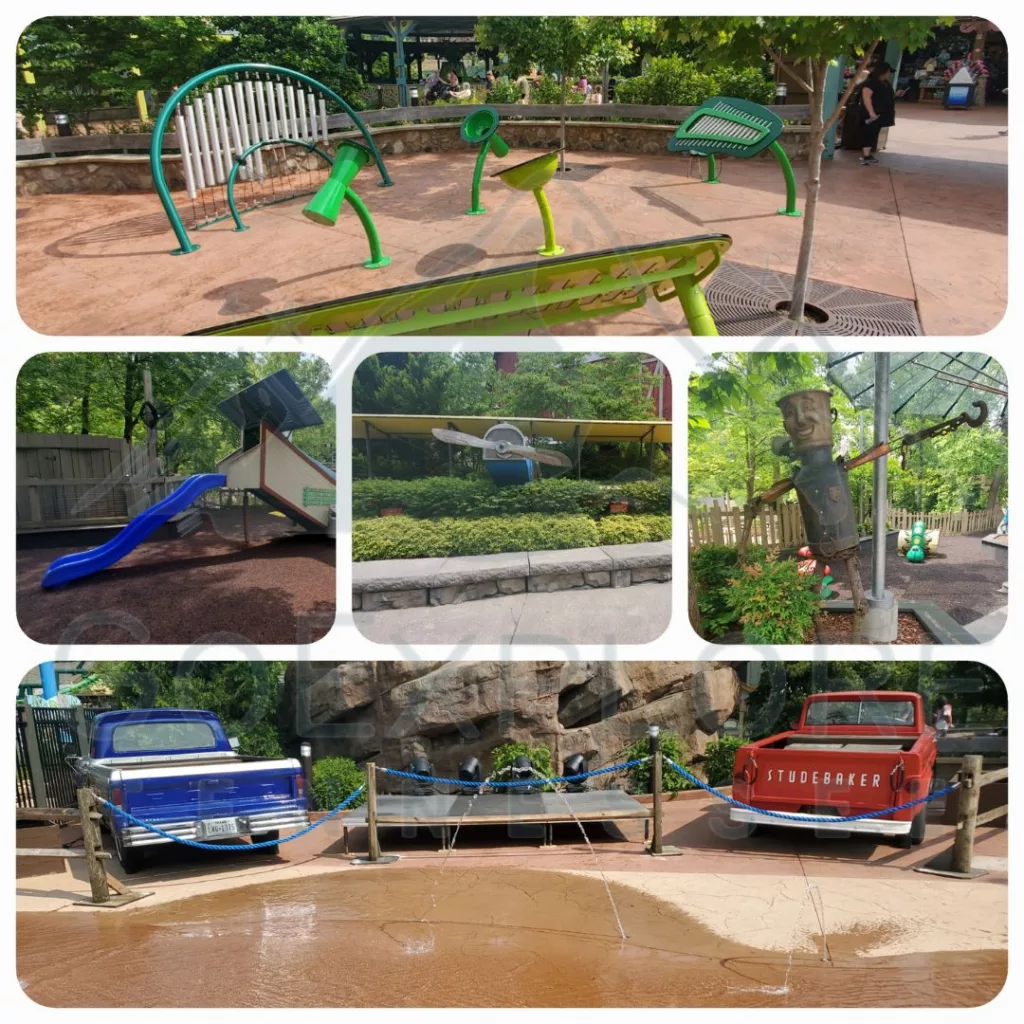 ---
Here's a Rundown of the Interactive Play areas at the Park:
---
Hidden Hollow
(Wildwood Grove)

This indoor playground is perfect for kids who love to explore and play, and parents can relax and watch their kids play in a safe & secure environment.

Since it is in a large, climate controlled building, Hidden Hollow is the perfect place to stay dry when it rains, cool off in the summer, or warm up on a cold day.

Hidden Hollow has different levels of play for kids to explore. They have slides, nets, climbing structures and more. Toddlers can stay safe in their own dedicated play space.
Wildwood Creek
(Wildwood Grove)

Wildwood Creek is another fun play area in Wildwood Grove, by the Wildwood Tree that has a little creek, water features, and play structures.

Your kiddos can splash around in the water on a hot day to cool off ( remember to bring extra clothes and shoes ). Next to the creek, there are musical instruments waiting for your kids to make some beats!
Lumberjack Jam Band
(Timber Canyon)

Lumberjack Jam Band is a small but fun play area located in Timber Canyon. This area has pots and pans for drumming, including a giant cast iron skillet!. kids can play music and perform for their friends and family.
Firehouse Fun Yard
(Wilderness Pass)

At Firehouse Fun Yard, Your little one can climb on a firetruck, slide down the truck's back, and even shoot water ( during the warmer months ).

This soft play area is designed especially for the smallest visitors. The fire truck is located in the splash zone ( remember to bring extra shoes and a change of clothes ) . During the summer, your little one can avoid the water if they want by playing with the large blocks and chalkboard wall.

This playground is located below Fire Chaser Express roller coaster, its a great place to bring your little ones while older kids enjoy the roller coasters nearby.
Granny's Garden
(Owens Farm)

Granny's Garden is a peaceful and natural-looking play area located in Owens Farm. This space is perfect for toddlers. it has small slides, tunnels, and play structures. Granny's Garden is near Barnstormer and across the walkway from Lil' Pilots Playground.
Lil' Pilots Playground
(Owens Farm)

This playground has a 16 foot wooden bi-plane and other aviation themed play areas, including a slide!. it's perfect for kids who love planes and want to explore the skies. Lil' Pilots Playground is located near Barnstormer.
---
What age Range are These Interactive Play Areas Best Suited For?
---
Dollywood has different play areas that are great for all ages. Here are some play areas and the age ranges they're best suited for:
| Interactive Play Area | Age Range |
| --- | --- |
| Hidden Hollow | Toddlers |
| Wildwood Creek | Kids (4-12 years old) |
| Lumberjack Jam Band | All Ages |
| Firehouse Fun Yard | All Ages |
| Granny's Garden | Kids (4-12 years old) |
| Lil' Pilots Playground | Kids (4-12 years old) |
Dollywood Interactive Play areas Sorted by age Range
---
How are the Interactive Play areas Maintained and Cleaned Throughout the Day?
---
Having little ones of my own and asking myself the same question, I'm sure you want to know how Dollywood takes care of its interactive play areas, how they keep them safe, and clean for all visitors. Dollywood takes the maintenance and cleanliness of its play areas, and the whole park in general, very seriously. With so many kids running around, playing, and touching every single little thing they're hands can get on, it's very important to make sure the areas are clean, sanitized, and free of any safety hazards.
The play areas are cleaned and sanitized regularly throughout the day, to prevent the spread of germs and make sure that all surfaces are safe for kids to play on. The staff uses a combination of high quality cleaning solutions and sanitizers to keep the areas clean and germ free. They especially pay close attention to areas that are frequently touched, like handrails, slides and other equipment.
Besides regular cleaning, Dollywood also has routine maintenance checks on all its interactive play areas. This includes checking the equipment for any signs of wear and tear and making repairs if needed. The staff inspects the play areas regularly to make sure that they are in good condition and free of any hazards. For example, They check the equipment's stability and make sure that it is firmly attached to the ground. To make sure there are no sharp edges or other potential dangers, they also check the play area surfaces like the rubber mats.
Another way they maintain the interactive play areas is by monitoring how kids play in them. Dollywood staff keep an eye on the play areas during busy times to make sure that kids are playing safely and following the rules. If a child is playing too rough or breaking any rules, the staff will let you know, to make sure there are no accidents or injuries.
They have also installed safety signs around the play areas to remind kids and their parents of the rules. If there is an accident or someone gets hurt, they have a system for reporting any incidents that happen in the play areas. This helps the staff to respond quickly to any issues that may happen.
---
Dollywood is know for its kid friendly zones, playgrounds and activities that are great for the little explorers in the family. These areas are made for kiddos to play and have fun, while also giving you a chance to relax for a little bit. Have fun and make awesome memories together!.
---