If you have a toddler or older kiddo who loves a little bit of thrill, you should take them on Dollywood's Frogs & Fireflies. Frogs & Fireflies is an enchanting roundabout ride made for little adventurers and it is a step up from Busy Bees. Kids will love riding these friendly frogs up and down as they chase each other around the lily pad trying to catch the fireflies!.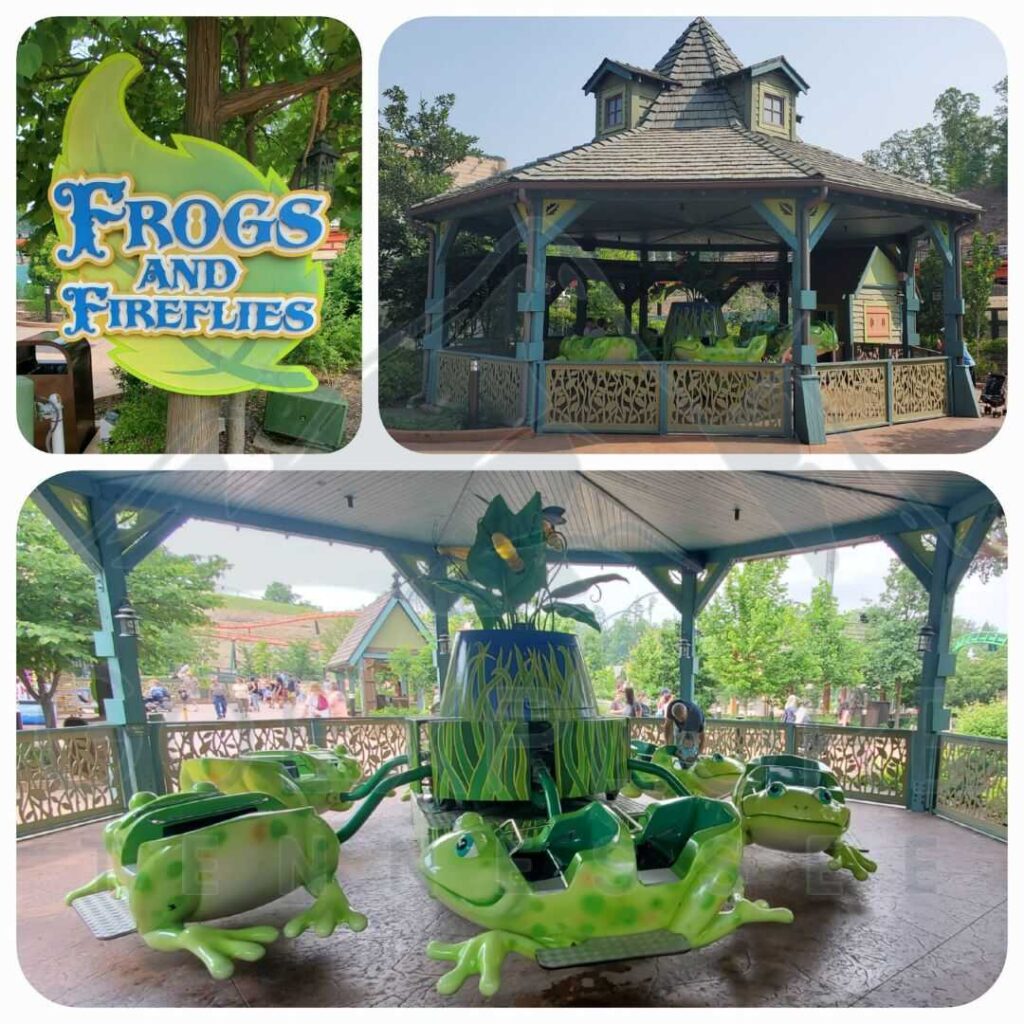 ---
---
What's it Like to Ride Dollywood's Frogs & Fireflies? (Review)
---
You can find this fun ride in the Wildwood Grove's area of Dollywood Theme Park. Near the Wildwood Creek. As you walk up to the ride and wait in the line, you will see their adorable frog shaped cars. If your little explorer gets motion sickness, they might want to skip this one.
Once its your kiddo's turn to board, you will help them get on their seat and buckle up their safety belt. After that you can either walk towards the exit and wait there until the ride is over, or you can hop in with your kiddo. The ride host will check everyone for safety and then they are off on their hopping adventure.
As the ride starts, the frogs raise slightly and start their journey. The frogs go around in a circle AND bounce up and down, trying to catch the fireflies! The bouncing starts gently but quickly picks up pace. After about a minute of bouncing excitement, the ride gradually slows down, and finally drops back to its original position.
After the ride is over, parents can go back in through the exit doors and help their kiddos off the frogs ( and head back to the line to ride it again, if they are not too dizzy! )
---
What are the Requirements to Ride Dollywood's Frogs & Fireflies?
---
Height requirement

Even though Frogs & Fireflies does not have a specific height requirement, if your kiddo is Under 36′ inches they must be accompanied by someone 14 or older.
Age Restrictions

Frogs & Fireflies is a super family friendly ride, so there are no Age Restrictions. But Riders must have the ability to sit upright independently during the ride. Riders must have control of upper torso, head and neck.
Accessibility

Riders may need companion assistance transferring to the ride vehicle
---
Frequently Asked Questions
---
Can Adults Ride With Their Children On Frogs & Fireflies?
Yes! You can choose to ride with your kiddo or wait at the exit.
How Long Does The Frogs & Fireflies Ride Last?
The Frogs & Fireflies ride lasts 2 minutes.
Is the Frogs & Fireflies Ride Scary For Young Children?
It really depends on each kiddo. Some might think its scary because it bounces, others might have a blast on it.
---
Enjoy and make awesome memories together, have fun!.
Did your kiddo absolutely love this ride? Tell us your story in the comments!
---