With its classic charm and graceful movements, The Waltzing Swinger at Dolly Parton's Dollywood Theme Park takes you to dizzying heights as you soar through the air at 25 feet above Country Fair. This Family Friendly ride has seats that are made so your younger kiddos can ride with you. The Waltzing Swinger moves at the same tempo as a waltz. The entire family will love this ride!.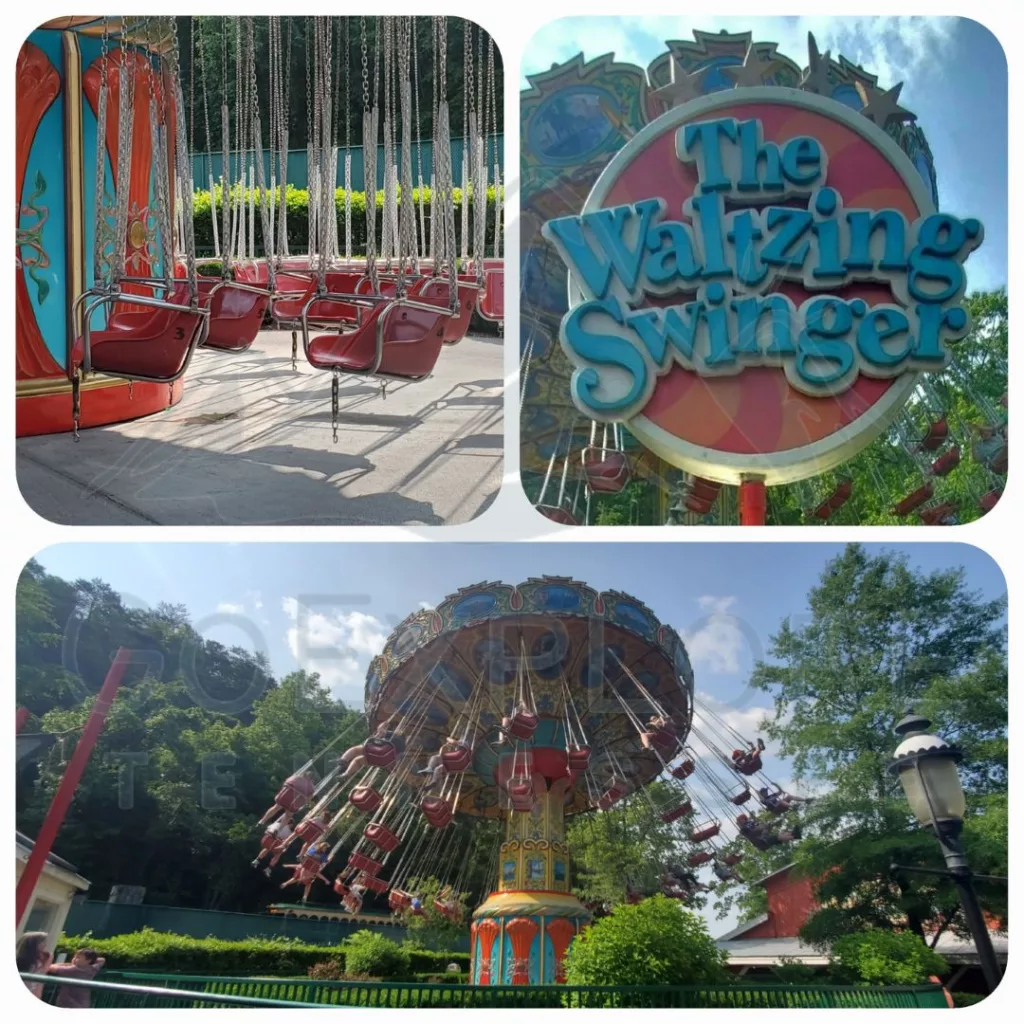 ---
---
What's it like to Ride Dollywood's Waltzing Swinger? (Review)
---
You can find this classic ride in the Country Fair area of the park, and you won't miss it with the red chairs going around and around in the air!.
Once its your turn to board the ride, you'll find yourself in one of the iconic red bucket chairs. If you have a younger kiddo that wants to sit with you, there are double chairs specifically for that. As you are boarding, you will see that the swing itself has beautiful decorations like paintings, that you can see as you are spinning around.
Once you are strapped in with your lap bar and checked for safety, you are off to your dance in the sky. The ride starts slowly and as it starts spinning faster to the waltz, your seat tilts a little. It might feel like you are about to fly off but don't worry you won't, that's what the lap bar is there for!.

For your safety and your kiddos, once the ride is over, remember not to remove the lap bar before the ride touches the ground again and the host says its ok to do so.
---
How intense is Dollywood's Waltzing Swinger?
---
If you want a more relaxed ride, the Waltzing Swinger is the perfect option. This ride is not meant to be intense, but that also depends on personal tolerance. Some people may get dizzy, especially those with motion sickness. If you have a problem with heights, this might not be for you.
---
What are the Requirements to Ride The Waltzing Swinger?
---
Height requirement

This ride does have height restrictions. The minimum height requirement for the Waltzing Swinger is 42 inches. This is to ensure safety and proper restraint. Kiddos who are Under 48 inches must be accompanied by a person at least 14 years old. There is no maximum height restriction.
Personal Belongings:

Loose articles such as hats, sunglasses, and phones are not allowed on the Waltzing Swinger due to safety reasons. They could fly off during the ride and become a danger to other riders.
Health Conditions

Riders with certain health conditions such as motion sickness, heart problems, neck or back issues may want to skip this ride.
Age Restriction

There is no age restrictions for the Waltzing Swinger.
Accessibility

 Due to the ride design, the ride vehicle may move while loading and unloading the Waltzing Swinger. Riders may need companion assistance transferring to the ride vehicle
Limb Requirements, Amputations & Prosthetics:

Riders with prosthesis are required to tell a Waltzing Swinger Ride Host before boarding. Riders with one amputated leg above the knee, with or without prosthesis, may ride provided they have the ability to hold on with two functioning hands. Riders with one or two amputated legs below the knee may ride provided they have the ability to hold on with two functioning hands. Riders with one amputated arm or hand, with or without prosthesis, may ride provided they have the ability to hold on with one functioning hand and to brace themselves with two functioning legs.
---
Frequently Asked Questions
---
How Long Does The Waltzing Swinger Ride Last?
The Ride Lasts around  1-2 Minutes. Just Enough To Not Be Overwhelming For The Youngest Riders.
What's The Average Wait Time For The Waltzing Swinger?
The average Wait Time For The Waltzing Swinger Can Vary By Season and Time of Day But You Can Expect To Wait around 10-15 Minutes.
Can Younger Kids Ride With Parents On The Waltzing Swinger?
Yes, absolutely! The Ride Has Double Chairs Designed Specifically For Parents To Ride With Their Younger Kiddos.
Where can I find The Waltzing Swinger at Dollywood?
You can Find The Waltzing Swinger In The Country Fair area of the park. Just look for the red chairs Going around and around in The air – You Won't Miss It!
---
Enjoy Every Moment, Make Awesome Memories and Have fun!.
Did you ride The Waltzing Swinger on your trip to Dollywood? Let Us know how it went in the comments.
---