If you are visiting Dollywood with your entire family and are taking a lot of stuff with you into the park or you are planning on staying the whole day, renting a locker can be a great option. You won't be walking around the park all day with heavy backpacks or worried about losing something important.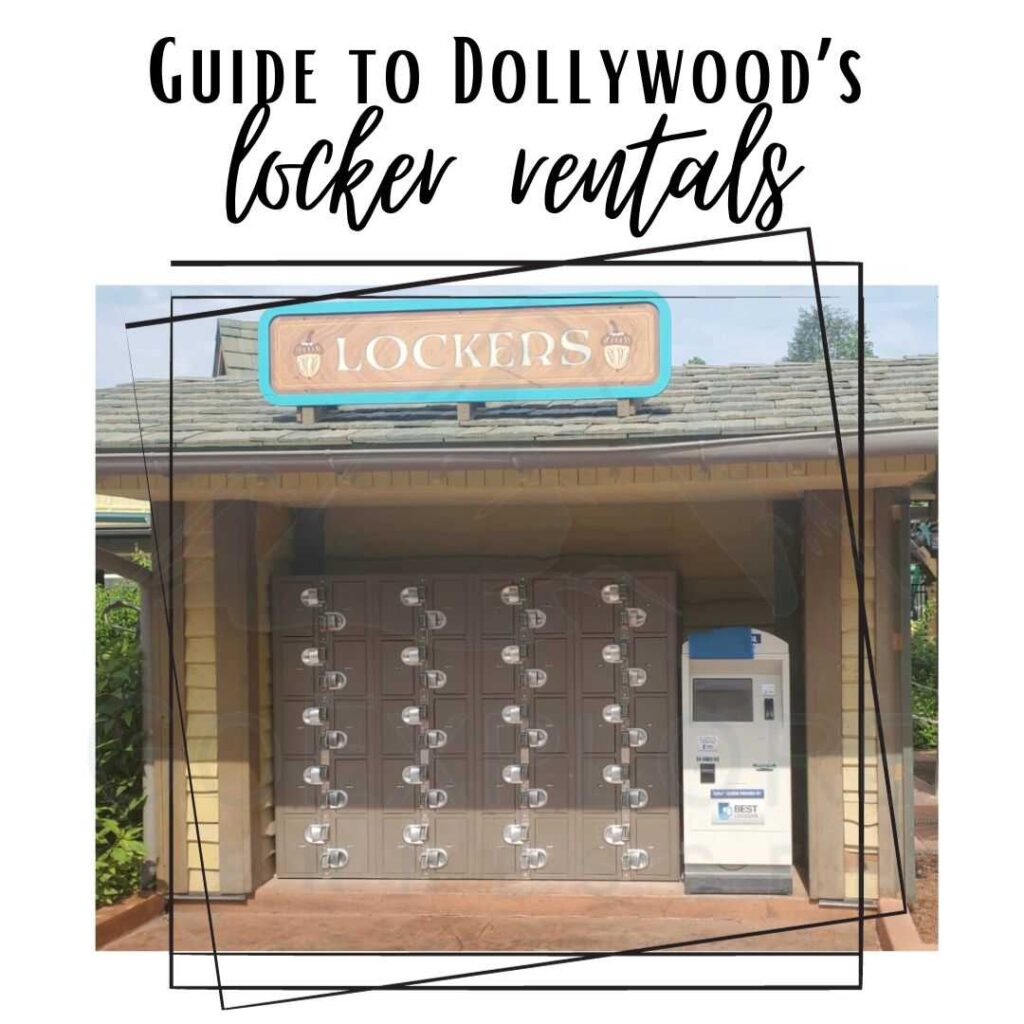 ---
---
There are 2 locker options at Dollywood, All Day Lockers and Floating Lockers. Let's go over each one, how the system works and how much it costs to rent.
Showstreet Palace Theater Lockers – All Day Lockers.

These will probably be the first set of lockers that you see as soon as you walk into the park. These are bigger lockers and they work differently than the rest around Dollywood. If you rent a locker here, your stuff will stay in the same locker your entire park day. You can't move it to a different spot later. These lockers are first come, first serve basis.
How Much Do All Day Lockers Cost?

The price for these lockers are $15 for the whole day. Prices can change at any time so always check Dollywood's website for the most up to date prices.
Dollywood's Floating Locker System.

In my opinion, if you are going to rent a locker this is the way to go.
Dollywood's floating locker system is genius!.
---
What Is The Floating Locker System?
---

Short and simple – your locker rental can be moved from one set of lockers to another set of lockers, meaning you only pay once and get to use the lockers all around Dollywood ( except the Showstreet Palace lockers ).
---
How Does Floating Locker System Work?
---
Next to the floating lockers, you will find an ATM looking machine. On the screen you will see a few options. If its your first time getting a locker for the day, you will choose "Rent A Multi Use Ride Locker That Can Move To Other Rides". Once you are done using the locker at that location and want to move to another locker, you just take your things and find another locker location. On that machine, you will choose the option that says "Move My Multi Use Ride Locker To This Ride Location". And you can keep doing that all through the park, all day, at no extra charge!.
---
Where Can I Find The Floating Lockers?
---

You can find floating locker rentals close to Wild Eagle, Mystery Mine, FireChaser Express, Daredevil Falls, Barnstormer, River Rampage, Tennessee Tornado, Country Fair, & Lightning Rod.
---
How Much Do Floating Lockers Cost?

The price for these lockers are $10 for the whole day.
---
If you have any questions remember, we are here to help!
Send us a message or leave it here in the comments and we will gladly help.
---