If you're heading to Dollywood with your littlest explorers, you won't want to skip Piggy Parade! This ride is perfect for babies and toddlers. Its really gentle and it doesn't move up and down like the busy bees ride. In this post, we'll take you on a virtual tour of what it's like to ride Dollywood's Piggy Parade.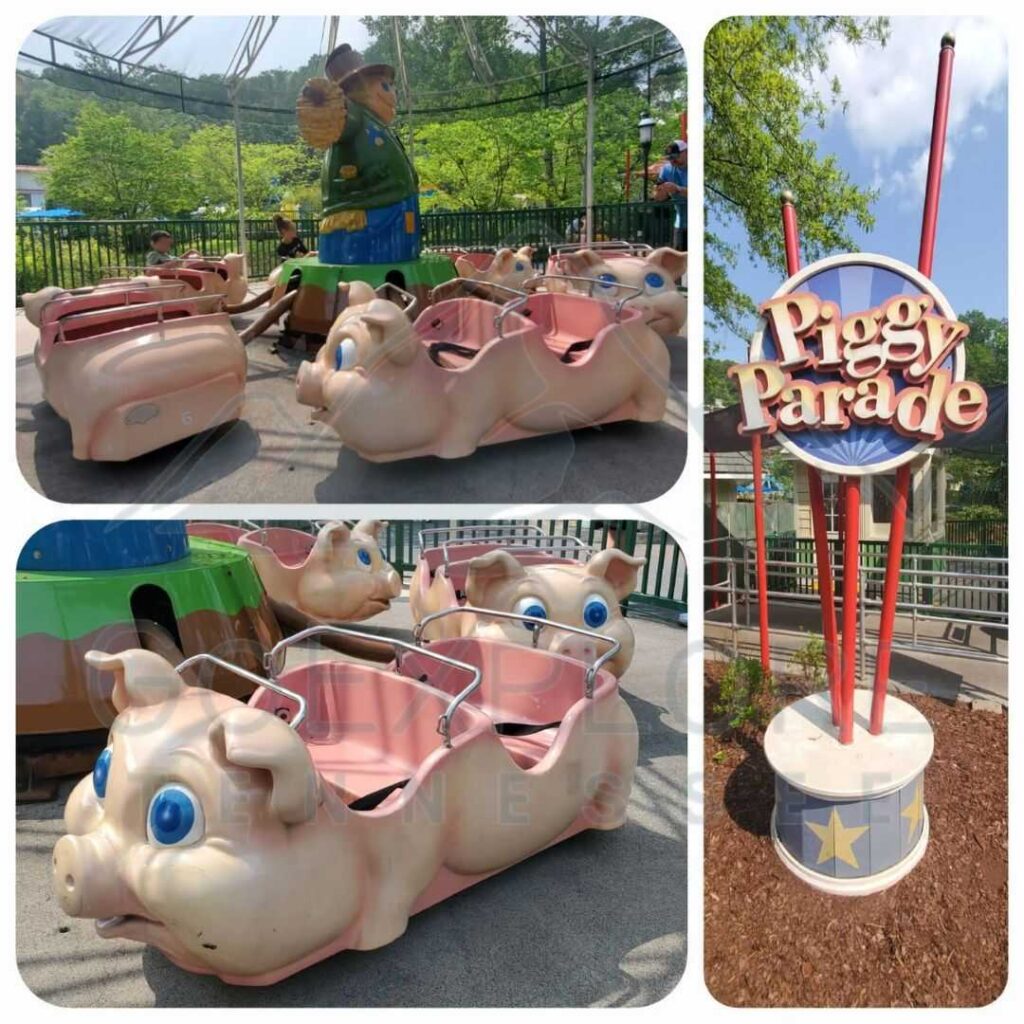 ---
---
What's it Like to Ride Dollywood's Piggy Parade? (Review)
---
You can find The Piggy Parade at the Country Fair area in Dollywood. Its right next to Busy Bees and Lucky Ducky. The line before boarding is really short and wait times for this ride is usually less than 5 minutes (perfect when you have little ones who just want to get on the ride). Once its your kiddo's turn to board, you will help them get on their piggy and buckle them up with their safety belt. After you are done putting their safety belt on you walk towards the exit and wait there until the ride is over. The ride host will check everyone for safety and then the ride starts!.
The ride is super simple, they go around and around on their piggies but the kiddos love it. You can get some cute pictures while they wave and smile. It's a short ride so they don't get overwhelmed. After the ride is over, parents can go back in through the exit doors and help their kiddos off the piggy. ( and you will normally head back to the line a few times to ride it again! )
---
What are the Requirements to Ride Dollywood's Piggy Parade?
---
Height Requirement

There is no height requirement for the Piggy Parade.
Age Restrictions

Piggy Parade does not have Age Restrictions.
---
Frequently Asked Questions
---
Can Parents Ride With Their Children On Piggy Parade?
If Your Kiddo Is Scared To Go alone and You are able To Fit in The Tiny Seat, You can ride with them.
How Long Does The Piggy Parade Ride Last?
The Ride is around 2 Minutes.
Just The Right amount Of Excitement Without Being Too Overwhelming.
What's The average Wait Time For The Piggy Parade?
The average Wait Time For Dollywood's Piggy Parade Ride is Usually around less Than 5 Minutes. This Short Wait Time is Perfect, Especially If You Have Little Ones Who are Eager to ride.
---
Enjoy and make awesome memories together, have fun!.
Did your kiddo fall in love with this adorable parade? Share your story with us in the comments.
---