If you love water thrill rides, this one is for you!. Go on a ride into an abandoned logging camp for a boat expedition gone wrong. After you navigate your way through some close calls and think you are out of danger, your boat goes down a 60 foot drop at a heart racing 50 miles per hour. You will get wet!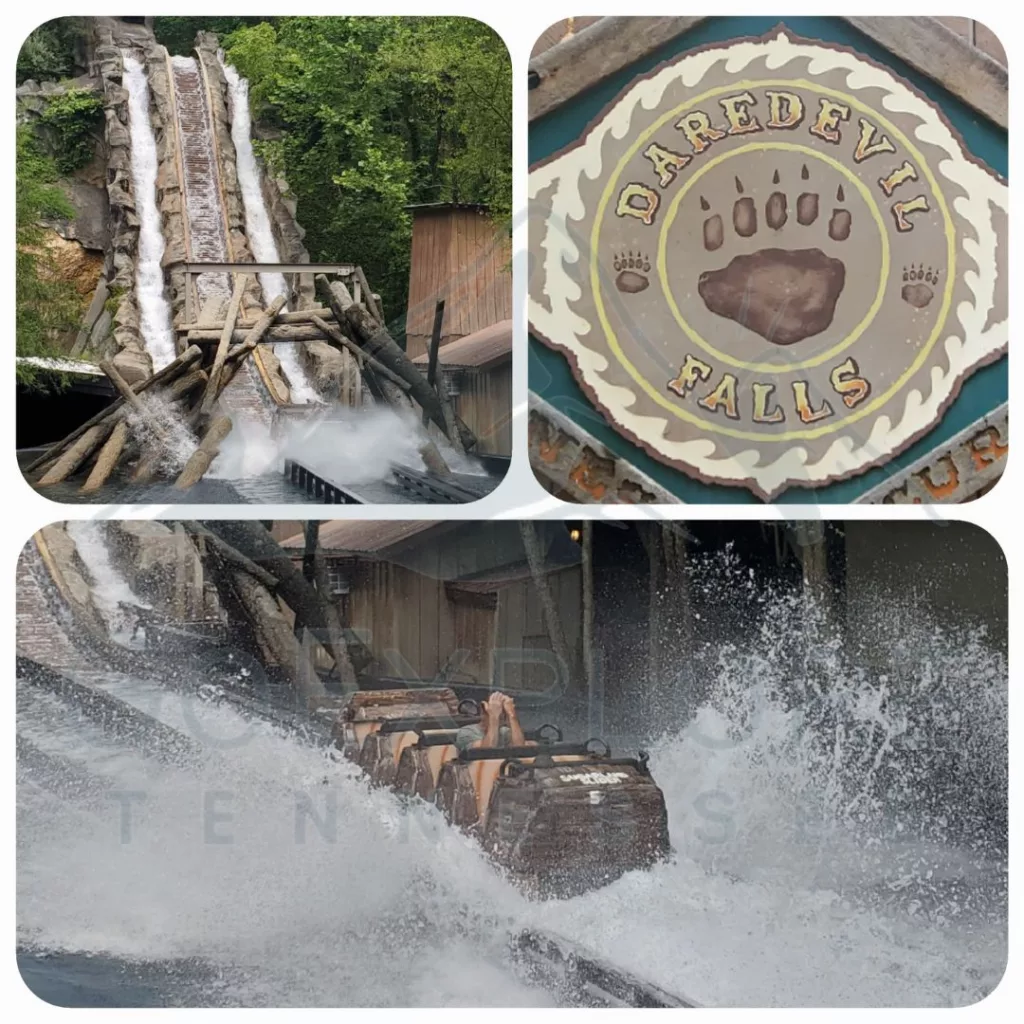 ---
---
What's it like to Ride Dollywood's Daredevil Falls? ( Review )
---
This boat ride is perfect to go on in a hot day because you will get wet and cool off!. You can find Daredevil Falls in the Craftsman's Valley area of Dollywood.
Step inside your log quickly because they don't stop and prepare yourself for the journey ahead!. The log can seat up to 8 people, 2 per row and does not have seat restraint devices. You'll start out by entering a dark cave and your log will make its way through all kinds of twists and turns as you float down the river.
Feel the cold water as it splashes inside the log and on you, the boat floats smoothly through the winding river, surrounding you in the heart of nature as it takes you through a portion of mountains. You'll soon be traveling up a 60 foot hill and with only one way to go, Remember to hold on as you quick drop down to the bottom at 50 miles per hour, making an explosion of water around you!.
If you don't want to ride but still want to cool off and get soaked, you can just stand on the bridge and get splashed as the rafts come down the hill!
---
How intense is Dollywood's Daredevil Falls?
---
How intense a ride is can vary from person to person. Dollywood's Daredevil Falls could be intense for the younger riders because of the 60 foot drop. It might be a little scary if they have never experienced anything like that before.
---
What are the Requirements to Ride the Dollywood Daredevil Falls?
---
Height requirement

This ride does have height restrictions. The minimum height requirement for Daredevil falls is 42 inches.  No maximum height requirement.
Personal belongings

Loose articles such as hats, sunglasses, and phones are not allowed on Daredevil Falls due to safety reasons. All of the rides that don't allow loose articles have cubbies where you can store them safely until you get back.
Health conditions

Riders with certain health conditions such as heart problems, neck or back issues, or motion sickness may want to skip this ride. This is because it could worsen pre existing conditions.
Age restrictions

Daredevil Falls does not have an age restriction.
Limb Requirements, Amputations & Prosthetics:

Riders with prosthesis are required to tell a Daredevil falls host before boarding the ride. One functioning leg (may be prosthesis) is required to brace self against downward force of the ride. Riders with one amputated arm or hand, with or without prosthesis, may ride provided they have the ability to hold on with one functioning hand (may be prosthesis) and to brace themselves with two functioning legs (may be prosthesis).
---
Frequently Asked Questions
---
Is Daredevil Falls suitable for all ages?
Daredevil Falls might be a little intense for the younger kiddos because of the 60 foot drop. You know them best and It really depends on your kids personal tolerance. 
How intense is the drop on Daredevil Falls?
The 60 foot drop on Daredevil Falls gives you a heart pounding moment of excitement at a speed of 50 miles per hour. It might be too intense for some riders, but it all depends on each person.
Will I get wet on Daredevil Falls?
Absolutely! Daredevil Falls is a water ride, and you can expect to experience splashes and water effects throughout the journey.
Is Daredevil Falls open during colder months?
Since Daredevil Falls is a water based attraction, Daredevil Falls might be closed during cold months and inclement weather for safety reasons. It's a good idea to check the park's schedule when you are visiting for ride availability.
---
Get ready to experience the joy, excitement, and pure magic of Dollywood. Have fun!
Have you experienced Daredevil Falls? Share your story with us in the comments.
---