If you are visiting Dollywood in Pigeon Forge, Tennessee and your kiddo has been wanting to try a free fall ride, take them on this junior version, The Shooting Star!. the Shooting Star stands tall, promising kids an adrenaline rush. With its 25 foot drop and bouncing adventure, this attraction guarantees to keep your kiddo's heart racing. But don't worry, this ride's drop is designed to be kid friendly.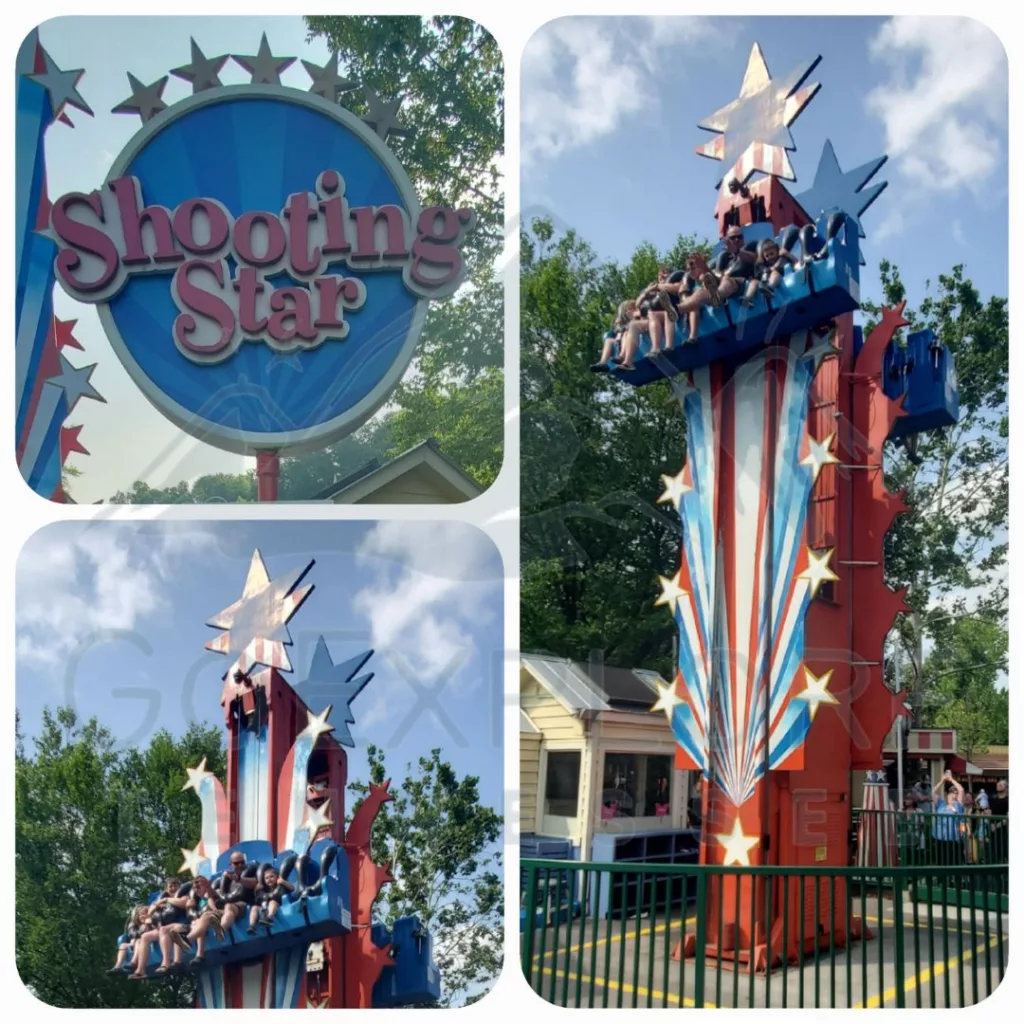 ---
---
What's it Like to Ride Dollywood's Shooting Star? (Review)
---
You can find Shooting Star in the middle of the Country Fair area of Dollywood. This ride doesn't have a themed queue, you are just waiting in a line. After they Securely fasten the shoulder bar over you, you are ready to go!. With your feet and legs dangling over the edge of your seat, you slowly start going up. After you get to the top, you have a few seconds before your first drop and bounce! Then you slowly go up again and again. Your kiddo will be laughing, screaming and having a great time!.
---
How Intense Is The The Shooting Star at Dollywood?
---
The Shooting Star strikes the perfect balance for young adventurers. The plunge is exciting without being overwhelming.
---
Requirements To Ride Dollywood's Shooting Star
---
Height Requirement

Riders must meet a height requirement of at least 36 inches to ride the Shooting Star.
Health Conditions

Pregnant Mamas and Riders with certain health conditions such as heart problems, neck or back issues, casts or motion sickness may want to skip this ride.
Age Restrictions

The Shooting Star Has no Age restriction making it a great ride for families but Kiddos under 42 inches must ride with someone at least 14 years old.
---
Frequently Asked Questions.
---
Can Parents accompany Their Kids on the Shooting Star?
The Shooting Star is Made For Kids, But Parents Can Ride Too!.
Where can I find the Shooting Star in Dollywood?
You can Find the Shooting Star in the Middle of the Country Fair area.
What's the Average Wait Time For the Shooting Star?
Even Though it Can Vary, Expect around 10 – 15 Minutes.
Consider Visiting Early or on Weekdays To Reduce Wait Times.
How Long is The Shooting Star Experience?
The Shooting Star Ride Lasts around 2 Minutes, Ensuring an Exciting adventure For Your Kiddos Without Overwhelming Them.
---
Get ready to scream, laugh, and create memories, have fun!. Have you and your kiddo taken the plunge on the Shooting Star? Share your stories with us in the comments below.
---