If you're seeking an adventure that guarantees to soak you and your family , then head over to Dollywood's wild white water rafting ride, the Smoky Mountain River Rampage!.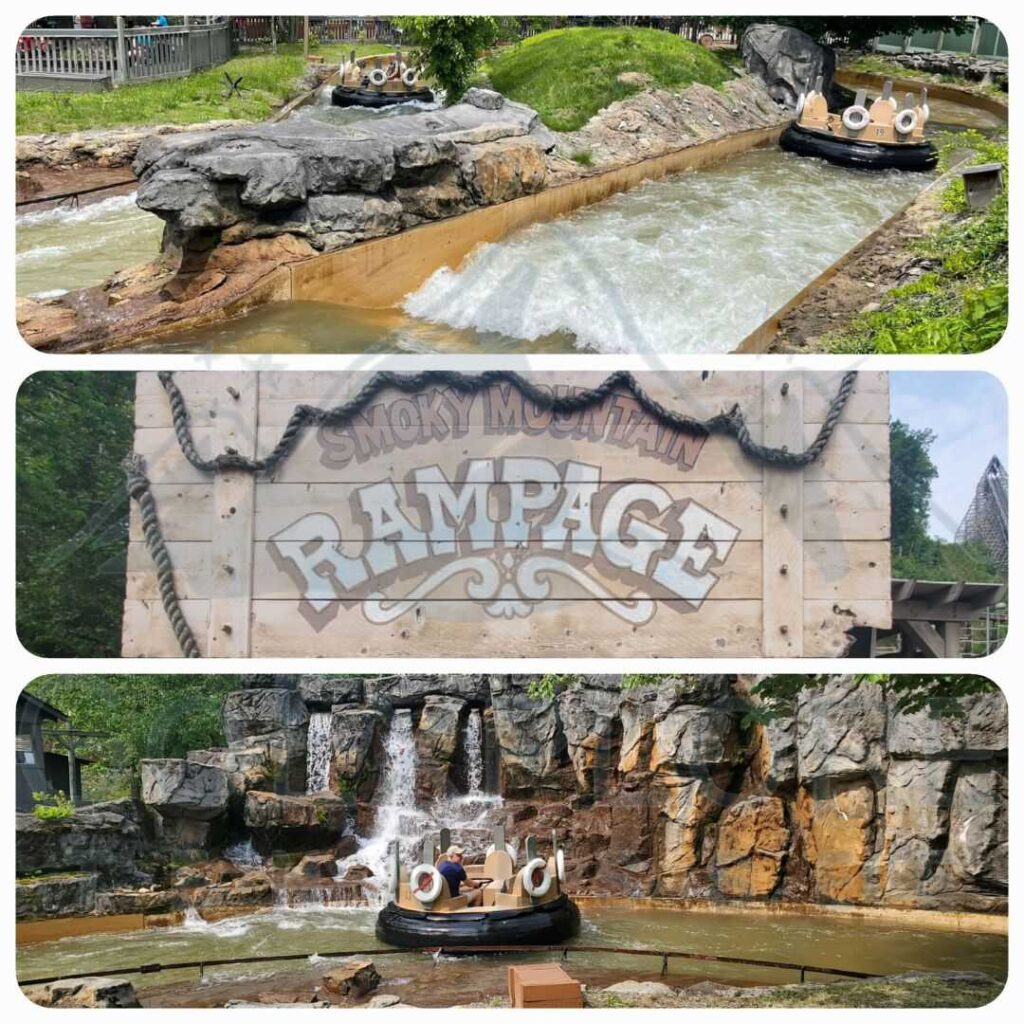 ---
---
What's it Like to Ride Dollywood's Smoky Mountain River Rampage? (Review)
---
You can find Smoky Mountain River Rampage in the Rivertown Junction area of Dollywood. Once its your turn to board, you will get into a round river raft that can sit up to 6 people. Your seat will probably be wet but don't worry, you'll get soaked soon enough!.
The journey starts by going up a hill. Once you reach the peak, prepare for a splashdown! From that point on, it's a wild ride through rushing rapids. Your raft will go with the river's flow, smashing against rapids and splashing everyone with cold water. By the time the ride ends, everyone is guaranteed to be wet. Its a nice water ride to go on when its really hot out.
---
Requirements to Ride the Smoky Mountain River Rampage?
---
Height requirement

This ride does have height restrictions. The minimum height requirement for Smoky Mountain River Rampage is 36 inches. If your kiddo is Under 48 inches they must be accompanied by a person at least 14 years old. No maximum height requirement.
Special Attraction Information

Smoky Mountain River Rampage is a seasonal ride. subject to closures during inclement weather conditions, including lightning, snow, extreme cold, or hot temperatures and high winds
Health Conditions

Riders with certain health conditions such as heart problems, neck or back issues, or are in a cast may want to skip this ride. This is because it could worsen pre existing conditions.
Age Restrictions

Smoky Mountain River Rampage does not have an Age Restriction.
Accessibility

Riders may need companion assistance transferring to the ride vehicle.
---
Frequently Asked Questions
---
How Long is The Smoky Mountain River Rampage Ride?
The Smoky Mountain River Rampage lasts around 3-4 minutes.
Can I Bring Personal Belongings On The Smoky Mountain River Rampage?
It's best to leave personal belongings like phones, wallets, and cameras in a secure location or with a non-rider. Dollywood normally has storage bins or lockers in the ride for this purpose.
Is The Rapids On The Smoky Mountain River Rampage Intense ?
This ride is not too intense. It does have some parts where it speeds up, and it does spin. It depends on your personal tolerance.
Can I Bring My Phone On The Ride To Take Pictures?
It's generally not recommended to bring electronics on the ride, since there is a high chance they will get wet or damaged. If you plan on taking your phone, you should consider buying a water proof phone case. This is the one we use. Our phones have always stayed nice and dry.  
---
Get ready to experience the joy, excitement, and pure magic of Dollywood. Have fun!
Have you been on this fun Family raft ride? Share your story with us in the comments.
---