Hey there! Lets talk about another great roller coaster at Dolly Parton's awesome theme park, Dollywood in Pigeon Forge, TN. The Tennessee Tornado!. With top speeds of 70 mph and 128 ft drop, This triple-looping steel roller coaster is a thrill ride guaranteed to leave you dizzy.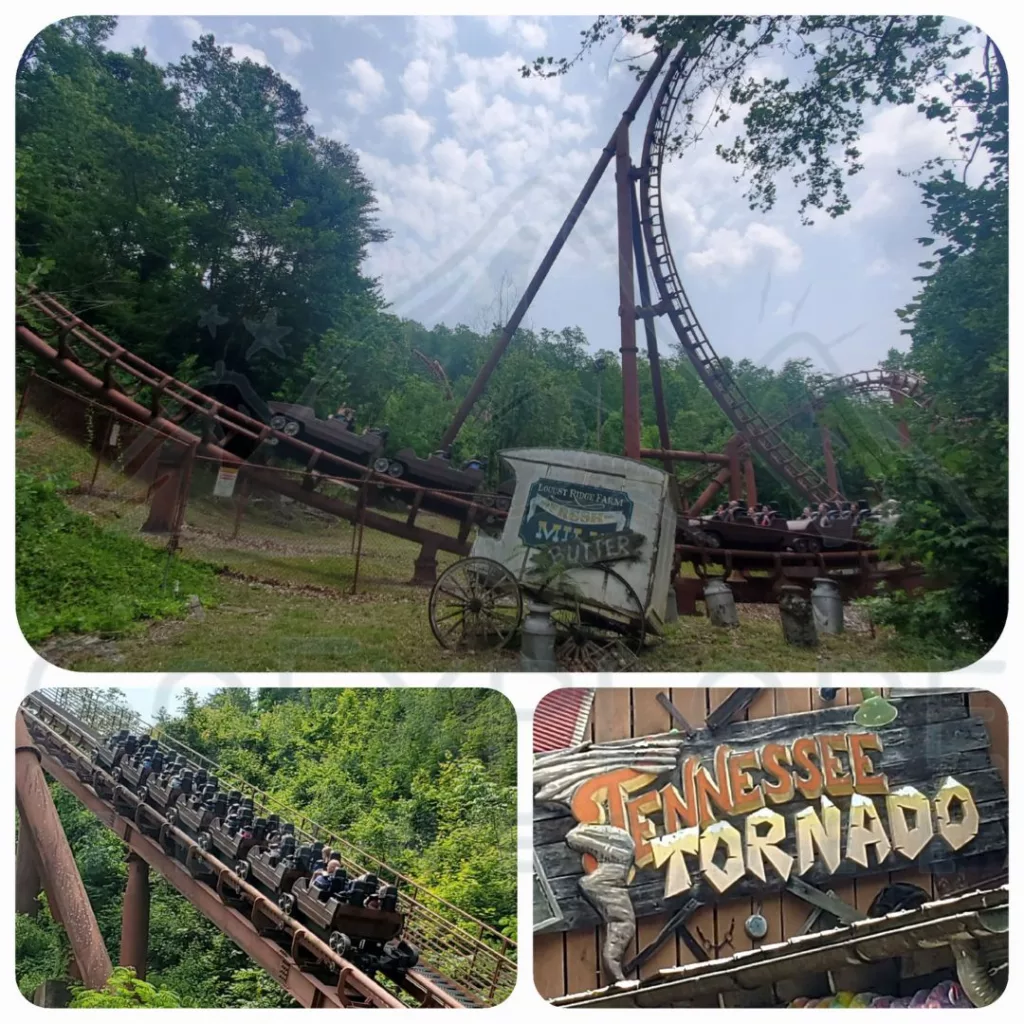 ---
---
comparison of the Tennessee tornado to other Dollywood coasters
---
| Rides | Height | Speed |
| --- | --- | --- |
| Lightning Rod | 48" | 73 |
| Tennessee Tornado | 48" | 70 |
| Wild Eagle | 50" | 60 |
| Thunderhead | 48" | 55 |
| Big Bear Mountain | 39" | 48 |
| Mystery Mine | 48" | 45 |
| Dragonflier | 48" | 43 |
| FireChaser Express | 39" | 35 |
| Blazing Fury | 42" | 22 |
| Whistle Punk Chaser | 36" | 16 |
---
What's it like to Ride Dollywood's Tennessee tornado?
(Review)
---
This coaster is a park favorite and it's not hard to see why. Even though its popular, The line for this coaster is normally always 5-10 mins!
As you walk up to the Tennessee Tornado, you'll see the huge loops, and probably start wondering if you should go on it… but you have to try it, at least once!. The coaster stands tall against the backdrop of the stunning Smoky Mountains.
The line usually moves fast and you will be boarding in no time. Once you board the Tennessee Tornado, the excitement builds as you buckle up and prepare for the ride ahead. In this coaster you are seated 2 people per row ( There are 7 cars per train with 4 seats each, and a total of 28 riders per train.)The ride starts with a turn and a slow climb to the top, giving you a moment to take in the views before the real excitement begins.
Then its straight into action as you go into a tunnel and come out to your first loop, and another, and another! The G-forces will make you feel like you're defying gravity, keeping you on the edge of your seat. Its a fast ride, but the track is really smooth. The ride lasts about 2 minutes.
The combination of speed, inversions, and beautiful views of the mountains makes the Tennessee Tornado an unforgettable, dizzy but super fun experience.
---
How Fast Does Dollywood's Tennessee tornado Go?
---
This is a fast one! The Tennessee Tornado reaches impressive speeds of 70 mph as it races along its steel track. Combine the speed with all the loops, and you have a great roller coaster. You wont forget this one.
---
How Big is the Drop on the Tennessee tornado at Dollywood?
---
This is another thrilling part of the ride. This roller coaster has a 128 foot drop that will leave you breathless! As you race down, you'll experience the rush of adrenaline for sure.
---
How Intense is the Tennessee tornado Roller Coaster at Dollywood?
---
This coaster is definitely not for those with weak stomachs. I would say its intense, because of the three inversions, which means you'll be turned upside down not once, not twice, but three times during the ride! If you look closely, you can see that the loops from the steel track makes an iron butterfly. Then you have G-force. When you ride the Tennessee Tornado, get ready to experience a 3x G-force. What does that mean exactly? It means you'll feel the force of three times your body weight pushing against you, making every twist and turn even more intense and thrilling.

I wouldn't recommend going on this coaster after eating. I also don't think this is a coaster for the younger kids, but it's just my opinion. You should make those decisions with your family. My 13 year old rode it and said she got a little headache but liked it. I would not take my 9 year old on it yet though. It also depends on personal tolerance.
---
What are the Requirements to Ride Dollywood's Tennessee tornado?
---
Height Requirement :

This coaster does have height restrictions. The minimum height requirement for the Tennessee Tornado coaster is 48 inches. This is because the ride has high speeds and intense movements, and riders must be tall enough to ride safely and secure the restraints. No maximum height for this one.
Personal Belongings:

Loose articles such as hats, sunglasses, and phones are not allowed on the Tennessee Tornado due to safety reasons. They could fly off during the ride and become a danger to other riders. All of the rides that don't allow loose articles have cubbies where you can store them safely until you get back.
Health Conditions :

Riders with certain health conditions such as motion sickness, heart problems, neck or back issues  may want to skip this coaster. This is because the Tennessee Tornado has intense movements and high speeds, which could worsen pre existing conditions.
Age Restrictions :

There is no age restrictions for the Tennessee Tornado. With it being an intense and fast coaster, I would not recommend taking the younger kids on this one just yet. In the end, you know your kids best.
---
You will not forget riding Dollywood's Tennessee tornado!.
Its a great roller coaster for thrill seekers, and for those who want to push it and try something new. Remember to hold on tight, scream your heart out, and enjoy every moment, Have fun!.
---