Wildwood Grove at Dolly Parton's Dollywood is one of the newer area additions and largest expansion yet. It's known for its family friendly attractions where parents and their kiddos can ride together. But what about the littlest adventurers who might find the bigger rides overwhelming? Take them on the Black Bear Trail!. This is a gentle and relaxing kiddie ride. You'll be guided by a friendly bear, making your journey through the Grove's path.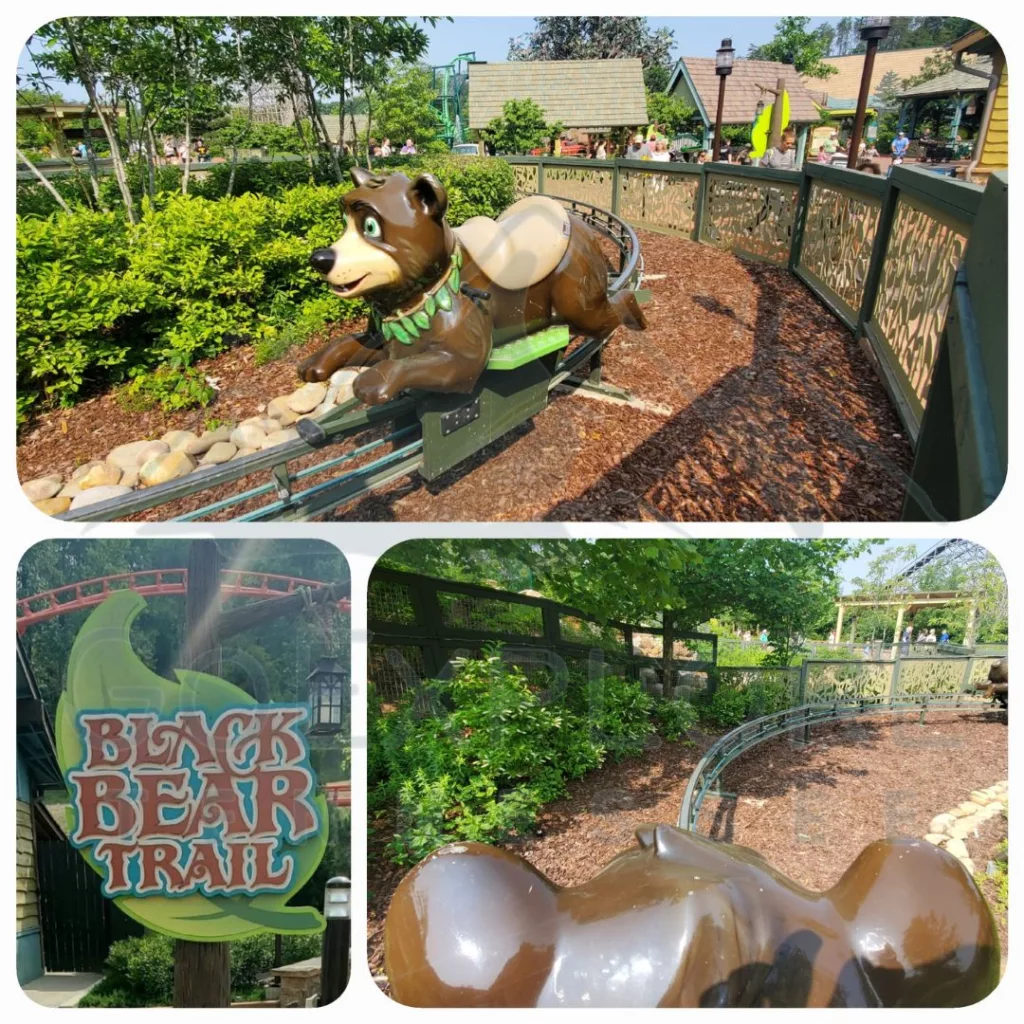 ---
---
What's it Like to Ride Dollywood's Black Bear Trail? (Review)
---
You can find this ride on the Wildwood Grove area and you won't miss it as you walk by. Its a good idea to do this ride as soon as the park opens because the wait time in line can get pretty long. Once its your turn to get on your friendly bear, you hop on, with your kiddo if they are too small to ride on their own, and the friendly host will help you get your safety belt on. After they check you for safety, you are off on your adventure. This is a gentle, slow and peaceful ride but it can feel kind of bumpy because it does have a little bit of a bounce as you ride along the track. Your kiddos will definitely love this cute ride and you should be prepared to go on this ride with them more than once!.
---
What are the Requirements to Ride Black Bear Trail?
---
Height requirement

This ride does have height restrictions. The minimum height requirement for Black Bear Trail is 36 inches tall. If your kiddo is under 42 inches, they must be accompanied by a person at least 14 years old.
Personal Belongings

It is recommended that you leave your personal belongings with a non rider.
Health Conditions

Pregnant mamas and Riders with certain health conditions such as heart problems, neck or back issues, or motion sickness may want to skip Black Bear Trail.
Age Restrictions

There are no Age Restrictions for Black Bear Trail since this is a super Family Friendly Ride.

---
Frequently asked questions.
---
How long is the Black Bear Trail experience?
The Black Bear Trail experience takes about 2 minutes from start to finish.
Is the Black Bear Trail suitable for all ages?
Absolutely! This attraction is designed with families in mind, making it suitable for adventurers of all ages.
Is Black Bear Trail scary or intense?
Black Bear Trail is not intense at all and it is perfect for the littlest explorers. The gentle bouncing and galloping of the bear adds a touch of excitement for the kiddos without being overwhelming.
Where is Black Bear Trail located in Dollywood?
You can find Black Bear Trail in the Wildwood Grove area of Dollywood.
---
Enjoy and make awesome memories together, have fun!.
Did your kiddo absolutely love this ride? Tell us your story in the comments!
---