Heroes come in all sizes on The FireChaser Express! The nation's first dual launch coaster the whole family can enjoy, it blasts riders forward and backward. This fun roller coaster stands out with its theming, inspired by the volunteer based fire departments of the 1940s near the Great Smoky Mountains National Park. If you have a fire truck lover, they will definitely enjoy this one.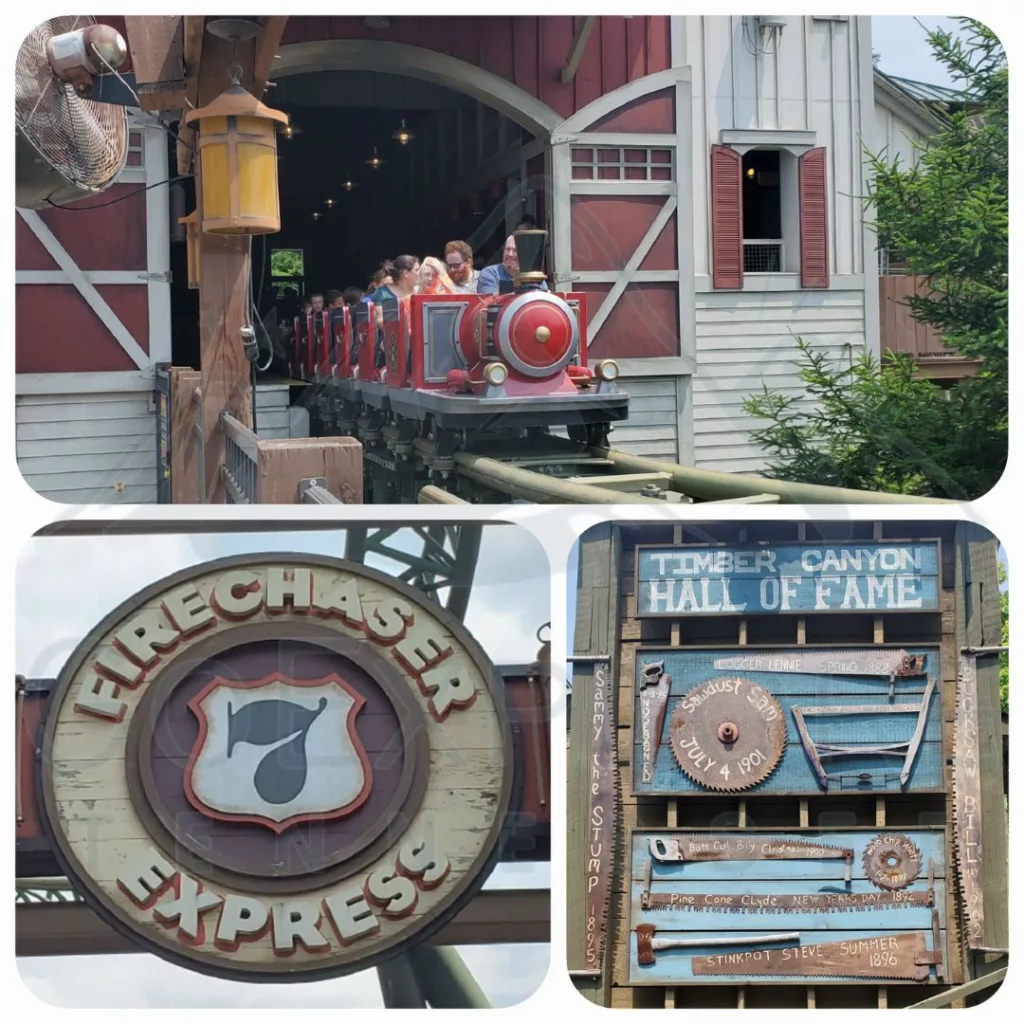 ---
---
comparison of the Firechaser Express to other Dollywood coasters
---
| Rides | Height | Speed |
| --- | --- | --- |
| Lightning Rod | 48" | 73 |
| Tennessee Tornado | 48" | 70 |
| Wild Eagle | 50" | 60 |
| Thunderhead | 48" | 55 |
| Big Bear Mountain | 39" | 48 |
| Mystery Mine | 48" | 45 |
| Dragonflier | 48" | 43 |
| FireChaser Express | 39" | 35 |
| Blazing Fury | 42" | 22 |
| Whistle Punk Chaser | 36" | 16 |
---
What's it like to Ride Dollywood's Firechaser Express?
(Review)
---
As you walk up the hill to go into the ride queue, you will see a really cool firetruck. You can take some nice pictures with it!. The queue itself is part of the fire station number 7. The kids will love looking at all the details!.
If you want to use parent swap, you can tell a cast member before you board and they will tell you what to do.  When you board the ride, you are seated 2 people per row ( There are 7 cars per train, and a total of 14 riders per train.) After you are seated and they have checked and cleared everyone for safety, The ride starts with a short message from the Fire Chief, and off you go!. As the station's siren goes off, signaling the start of your journey, you can't help but feel the excitement!.
This coaster takes you through curves, drops, even a tower and its all so much fun! After you pass the tower, you will enter "Crazy" Charlie Cherribaum's Gas Station and Fireworks Emporium. There's a little scene and You will see smoke and even fire as the coaster takes you backwards fast to get you out of there! Don't worry if going backwards freaks you out, its not long or uncomfortable.
After that, you are back inside the Fire station and the ride is over.
The kids will probably want to ride it again, and who can blame them!
Sometimes the lines can get long for this coaster, especially during the months when kids are off school or weekends. You usually find shorter wait times in the morning. If you are waiting for the wait time to go down, make sure to keep an eye on the Dollywood app to see the current wait times.
---
How Big is the Drop on the Firechaser Express at Dollywood?

The drop on the Firechaser Express is definitely one of the thrilling highlights of the ride. This coaster has a drop of 72 feet. But don't worry, its not straight down or as scary as it sounds, its made for families.
How Fast Does Dollywood's Firechaser Express Go?

Since The Firechaser express is a family coaster, it doesn't go scary fast. It reaches top speeds of 35 mph. Its fast enough to have a really fun time with your kiddos. Remember that besides the speed, twists and drop, this coaster also has a short backward section, which adds to the excitement!
---
How Intense is the Firechaser Express Roller Coaster at Dollywood?
---
I wouldn't say this coaster is intense, since it is advertised as a Family coaster. How intense a ride is can vary from person to person because everyone tolerates differently.
I wouldn't take a toddler on this, but that's my personal mama opinion. I have seen younger kids have a blast, or come off the ride crying. You know your babies best! The older kiddos always love it.
---
What are the Requirements to Ride Dollywood's Firechaser Express?
---
Height Requirement:

Even though its a Family coaster, it does have height restrictions. The minimum height requirement for the FireChaser Express coaster is 39 inches. It doesn't have maximum height requirement. If your kiddo is under 48 in. They must be accompanied by someone ages 14 or older.
Personal Belongings:

Loose articles such as hats, sunglasses, and phones are not allowed on the FireChaser Express due to safety reasons. They could fly off during the ride and become a danger to other riders. All of the rides that don't allow loose articles have cubbies where you can store them safely until you get back.
Health Conditions :

Pregnant Mamas and Riders with certain health conditions such as heart problems, neck or back issues, or motion sickness may want to skip this coaster. It could worsen pre existing conditions.
Age Restrictions :

There are no specific age restrictions for the FireChaser Express.
The FireChaser Express is a fun family coaster. It is not too intense and its a great roller coaster for the bigger kids to try/experience when they feel like they are ready to go beyond kiddie coasters. If you have a kiddo who loves anything Fire Truck related, you can't skip this one!. It really is great for the whole family. Have fun!