Hey roller coaster lovers! Let's talk about the awesome coaster at Dollywood, The Wild Eagle. It's a fun, fast steel roller coaster that gives you a flying sensation with a bird's eye view of the park since at its highest point the coaster reaches a height of 210 (ft). Introduced in 2012, it has become a must ride attraction at the popular theme park, Dollywood in Pigeon Forge, Tennessee.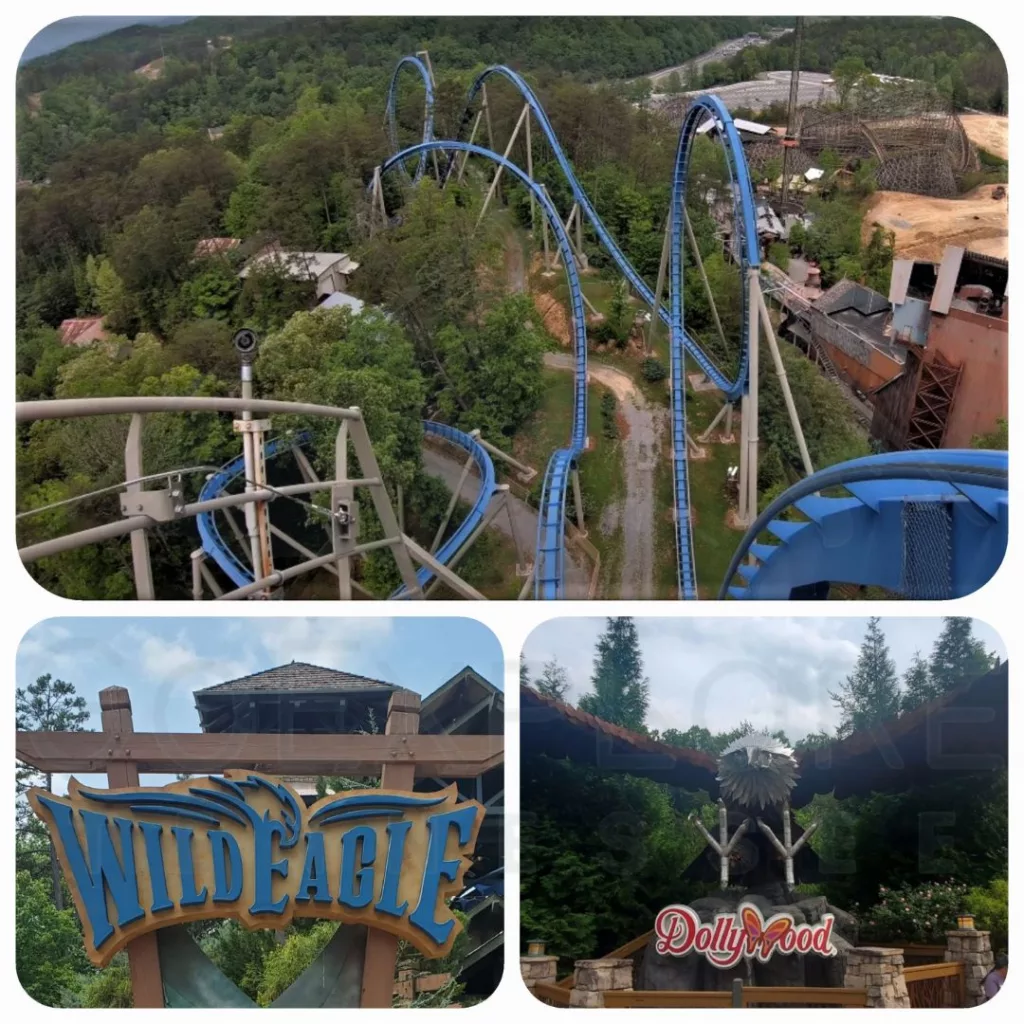 ---
---
comparison of the Wild Eagle to other Dollywood coasters.
---
| Ride | Height | Speed |
| --- | --- | --- |
| Lightning Rod | 48" | 73 |
| Tennessee Tornado | 48" | 70 |
| Wild Eagle | 50" | 60 |
| Thunderhead | 48" | 55 |
| Big Bear Mountain | 39" | 48 |
| Mystery Mine | 48" | 45 |
| Dragonflier | 48" | 43 |
| FireChaser Express | 39" | 35 |
| Blazing Fury | 42" | 22 |
| Whistle Punk Chaser | 36" | 16 |
---
What's it like to Ride Dollywood's Wild Eagle?
(Review)
---
This is actually one of my 14 year old's favorite coaster. You'll be seated in eagle-themed trains, with your legs dangling in the air. Once you are securely strapped in, they double check every rider before they give the OK to go. The gates swing open and you take a turn to the hill. The ride on this wing coaster starts with a slow climb up to the top, which gives you a moment to take in the beautiful views, and freak out a little.
When you get to the top, you stop for a few seconds and then it's straight into the action. You get a feeling of weightlessness as you race down the first hill and through a series of intense drops, loops, and turns. As you make your way through the twists and turns of the ride, you'll definitely feel the adrenaline rush !.
The dips, drops, and twists will have your heart racing and leave you feeling like you're really flying! ( or in my case, really dizzy ). I really love how smooth the coaster is. In terms of safety, The ride is regularly checked and maintained to ensure that you have the safest experience possible.
---
How Fast Does Dollywood's Wild Eagle Go?

Wild Eagle is a pretty fast roller coaster, which makes it so much fun!.  During the ride, you'll be speeding through the air, drops, loops, and turns at up to 60 miles per hour.
How Big is the Drop on the Wild Eagle at Dollywood?

One of the most exciting part of any roller coaster is the drop, and I'm happy to say that the Wild Eagle does not disappoint! This coaster has an impressive height of 210 feet.
---
How Intense is the Wild Eagle Roller Coaster at Dollywood?
---
The Wild Eagle Roller Coaster is an impressive coaster and can be pretty intense. You might get dizzy, I wouldn't recommend going right after eating.
The level of intensity experienced on the Wild Eagle can vary from person to person. It depends on your Personal tolerance for speed, heights, and inversions. This coaster is great for Teens and adults.
I would not recommend taking younger kids. Only you know your kiddos best, again it depends on personal tolerance. it also may not be a good idea for individuals who have a fear of heights, a history of motion sickness, or certain medical conditions.
---
What are the Requirements to Ride the Dollywood's Wild Eagle Coaster?
---
Height Requirement:

This coaster does have height restrictions. The minimum height requirement for the Wild Eagle coaster is 50 inches. This is because the ride has high speeds and intense movements, and riders must be tall enough to safely secure the restraints. The maximum height is 78 inches.
Personal Belongings:

Loose articles such as hats, sunglasses, and phones are not allowed on the Wild Eagle due to safety reasons. They could fly off during the ride and become a danger to other riders. All of the rides that don't allow loose articles have cubbies where you can store them safely until you get back.
Health Conditions :

Riders with certain health conditions such as heart problems, neck or back issues, or motion sickness may want to skip this coaster. This is because the Wild Eagle has intense movements and high speeds, which could worsen pre existing conditions.
Age Restrictions :

There are no specific age restrictions for the Wild Eagle, but again, I don't recommend taking the little ones on this ride. Even if you have a bigger kid, it might be too intense. 
---
Riding The Wild Eagle is an amazing experience. if you or your teen are a roller coaster enthusiast, this is a must ride! Its a great roller coaster for thrill seekers, and you get to see beautiful, breathtaking views ( if you can keep your eyes open ). Have fun!.
---