If you want to pilot your own plane, then head to Dollywood Theme Park's exciting plane ride, The Sky Rider!. This Flying Ride lets you take the reins as a pilot, you and your co pilot fly 70 feet above the park! You can even control your plane's movements with a flight joystick.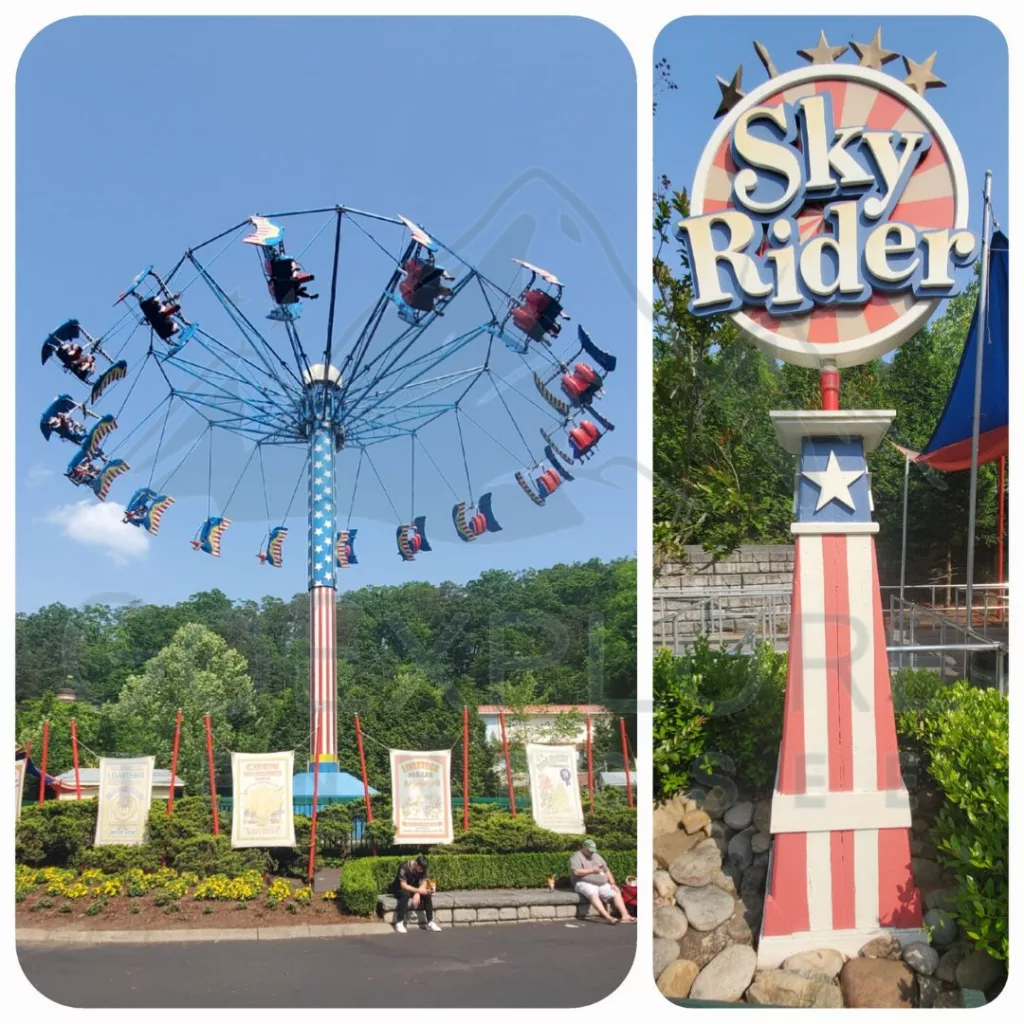 ---
---
What's it Like to Ride Dollywood's Sky Rider? (Review)
---
You can find this fun ride in the Country Fair area of Dollywood, right before The Amazing Flying Elephants. Once its your turn to board, you step into your personal plane. The first thing you'll notice is the flight joystick between you and your co-pilot's seats. This joystick is your control center, it lets you change the position of your plane's wings. An over-the-shoulder restraint keeps you nice and safe on your flight. Once you are checked for safety, you are off!.
As the ride takes off, you gently start to spin. The higher you go, the more you are able to see around the park!. When your plane reaches 70 feet in the air, you will feel like you can touch the clouds!.
---
How Intense is Dollywood's Sky Rider?
---
The Sky Rider is meant to be a Family ride. But – It does go 70 feet in the air so if you don't like heights, this might not be for you. It also might not be good for those who get motion sickness since it does go in circles.
---
What are the Requirements to Ride Dollywood's Sky Rider?
---
Height Requirement

The Sky Rider has a minimum height requirement of 42 inches. This is to ensure that all riders can securely fasten the restraints and reach the interactive controls. If your kiddo is under 48 inches they must be accompanied by a person at east 14 years old. There is no maximum height restriction.
Personal Belongings

Loose articles such as hats, sunglasses, and phones are not allowed on the Sky Rider. They could fly off during the ride and become a danger to other riders. Most of the rides that don't allow loose articles have cubbies where you can store them safely until you get back.
Health Conditions

Riders with certain health conditions such as motion sickness, heart problems, neck or back issues may want to skip this coaster.
Age Restrictions

There is no age restrictions for the Sky Rider. It might be a little scary for the younger kiddos.
---
Frequently Asked Questions
---
How Long Is The Typical Wait Time For The Sky Rider?
The wait time for the Sky Rider can vary, especially during busy times. Usually wait times are shorter as soon as the park opens. You can always check the Dollywood App when you are in the park to see live wait times.
How long Is The Sky Rider Experience?
The Sky Rider attraction lasts around 2 minutes.
What Is The Maximum Capacity of Passengers On Each Plane?
Sky Rider planes can accommodate up to two passengers –
The Pilot and a Co-Pilot.
How Fast Does The Sky Rider Plane Spin During The Ride?
The actual speed is unknown, but it starts gently and gradually increases as the ride goes higher.
---
Enjoy every moment, make great memories and Have fun!.
Did you pilot your own plane? Share your experience with us in the comments.
---