Step into the heart-pounding excitement of Drop Line at Dolly Parton's Dollywood. This towering free fall ride is perfect for those who love to push their limits. Drop Line captivates with its design and breathtaking views while rising 200 feet above the ground, before plunging you back down at speeds of up to 78 miles per hour. This is an insane thrill ride you do not want to skip!.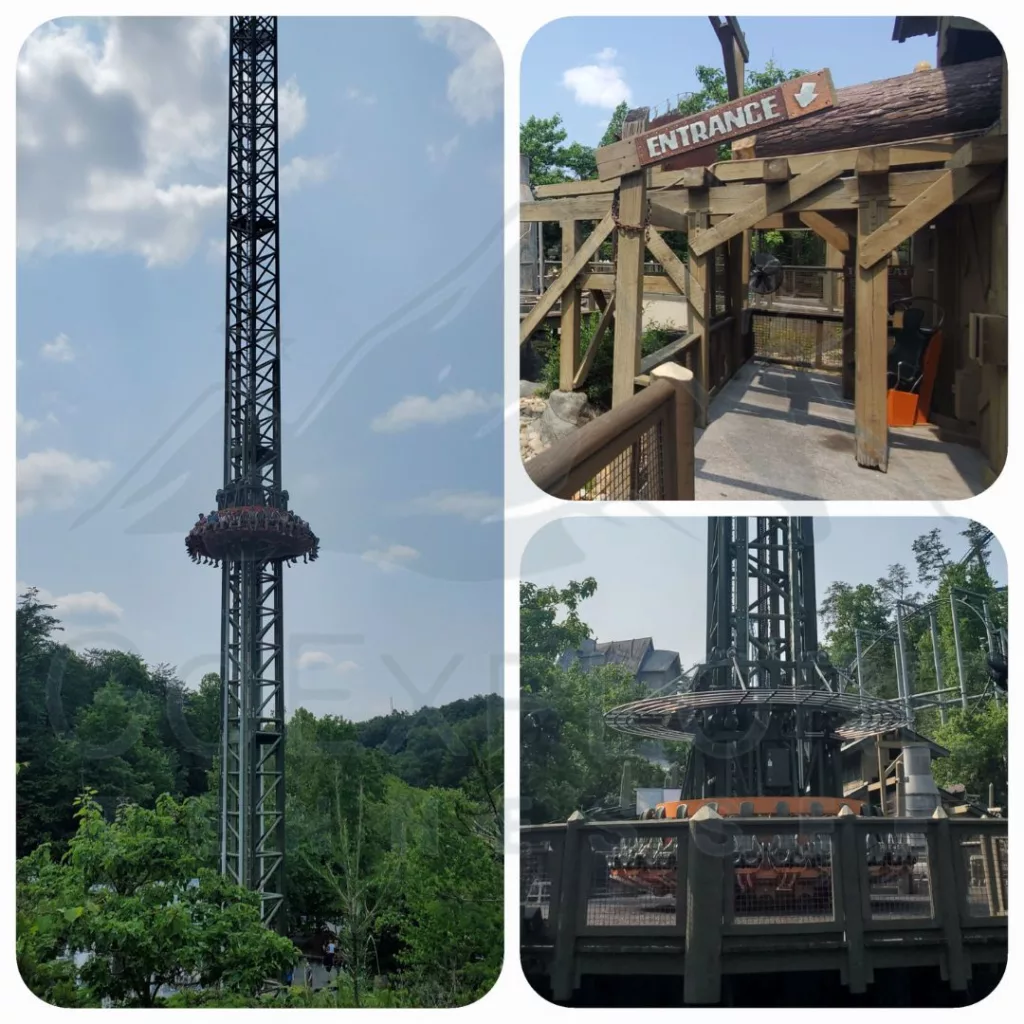 ---
---
What's it like to Ride Dollywood's Drop Line? ( Review )
---
You will not miss this drop tower ride as you walk by Timber Canyon. Drop Line's towering structure has an impressive 200 foot height!. The ride vehicle is a ring and it has 24 seats with over-the-shoulder restraints, which allow for unobstructed views of Dollywood and the beautiful surrounding Smoky Mountains!.
After boarding and being checked for safety, you are ready to embrace the impending thrill. As the ride begins to rise slowly, you will forget for a moment about how nervous you are by taking in the beautiful view that changes slowly because as you go up, the seats also slowly rotate!.
Once you get to the top, the car makes a full 360-degree rotation, giving each rider a panoramic view! But in an instant, the tranquility is gone as Drop Line lives up to its name. The ride plunges more than 20 stories at speeds of 78 miles per hour and the G-forces creates an indescribable feeling!.
The magnetic brakes smoothly bring the ride to a stop, and you are done!
---
How intense is Dollywood's Drop Line?
---
Dollywood's drop line is definitely an intense ride. I Do not recommend this ride for those who are scared of height or with weak stomachs. This ride might be ok to go with your teens, but I wouldn't take the younger kids on it. Of course, this is only my personal opinion.
---
What are the Requirements to Ride the Dollywood Drop Line?
---
Height requirement :

This ride does have height restrictions. The minimum height requirement for Drop Line is 55 inches. This is because riders must be tall enough to safely secure the restraints. It does not have a maximum height.
Personal belongings:

Loose articles such as hats, sunglasses, and phones are not allowed on Drop Line due to safety reasons. They could fly off during the ride and become a danger to other riders. All of the rides that don't allow loose articles usually have cubbies where you can store them safely until you get back.
Health conditions :

Riders with certain health conditions such as heart problems, neck or back issues, or motion sickness may want to skip this ride. This is because Drop Line could worsen pre existing conditions.
Age restrictions :

There are no specific age restrictions for Drop Line, but again, I don't recommend taking the younger kiddos on this ride. Even if you have a bigger kid, it might be too intense.

Weight Restrictions :

Guests weighing more than 287 pounds cannot ride Drop Line because of the restraint system that must properly engage to allow the ride to start. Regardless of a guest's weight, if the restraint does not accommodate the body type, the guest will not be allowed to ride.
---
Frequently Asked Questions
---
How Long Is The Dollywood's Drop Line Experience?
Drop Line Lasts approximately 3 Minutes, From The Moment You Board The Ride Until It Drops Back Down.
Are There any Safety Measures in Place On The Drop Line?
Riders are Securely Fastened With Over-The-Shoulder Restraints and Go through a safety Check Before it Starts.
Can I Bring Personal Items On Dollywood's Drop Line?
For Safety Reasons, it's Best To Leave Your Personal Items Including Bags and Loose articles, with a non rider or cubby.
What's the average wait time For Dollywood's Drop Line?
The average Wait Time For Dollywood's Drop Line Can Vary Depending On The Day and Crowd Levels. You can Expect anywhere From 15-30 Minutes
---
Get ready to experience the joy, excitement, and pure magic of Dollywood. Have fun!
Have you experienced the exhilaration of Drop Line? Share your story with us in the comments.
---