When it comes to family friendly fun at Dolly Parton's Dollywood Theme park, the Treetop Tower is an attraction that stands tall. This family tower gives you a great view of Wildwood Grove as you soar nearly 40 feet in the air seated inside giant acorns!.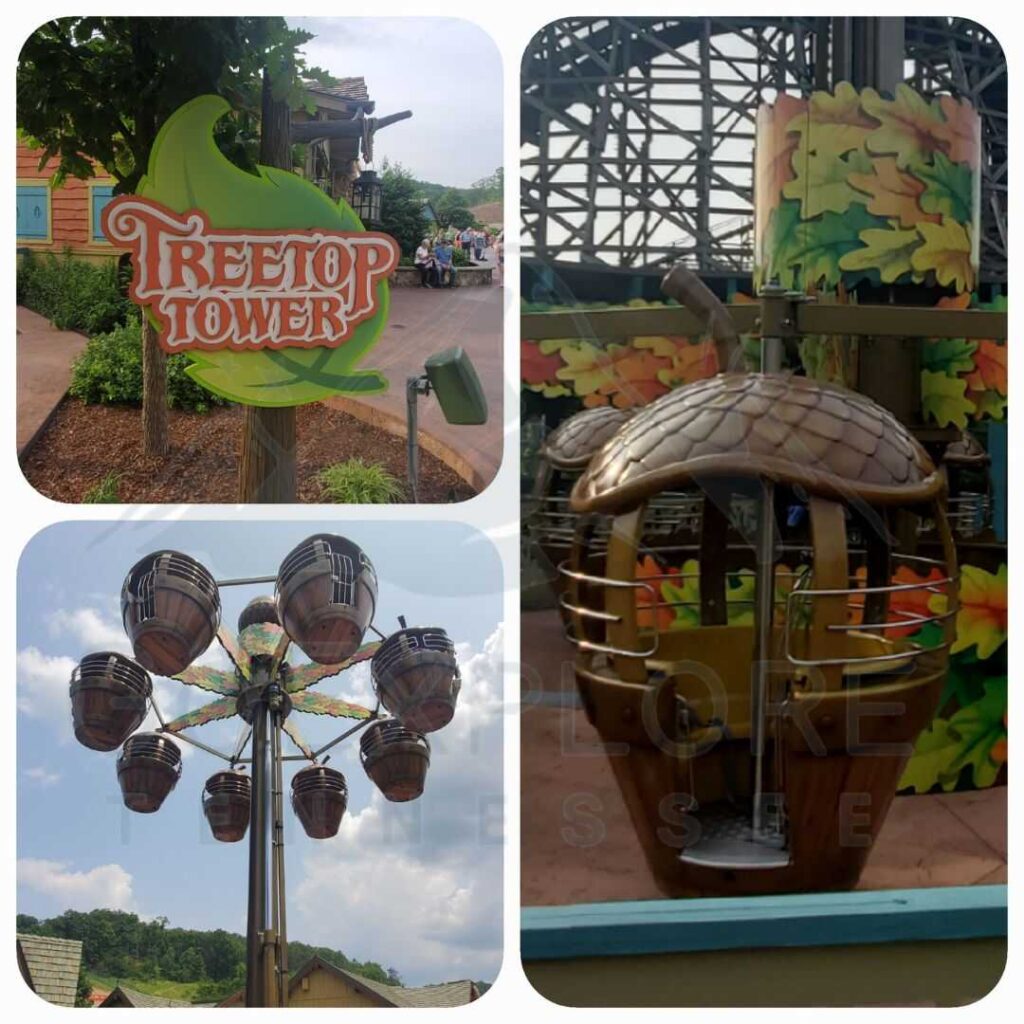 ---
---
What's it Like to Ride Dollywood's Treetop Tower? (Review)
---
You can find Treetop Tower in the middle of Wildwood Grove's area, before you reach the great tree swing. As you walk up to the tall oak tree ride, you catch a glimpse of the acorn cars that you will be riding in. Each car has been lovingly hand carved, to look just like the ones you can find in the nearby forests of the Smoky Mountains.
When its your turn to board the ride, your entire family can sit inside together since each gondola style car can sit up to 4 adults, or small families with their kiddos. The setup is perfect for parents with little explorers, who can relax and enjoy the ride knowing that seatbelts and secure bars across the door and windows will keep their little ones safely seated throughout the adventure.
Once everyone is checked for safety, the ride can start. You are gently lifted up almost 40 feet! As the ride spins around, you can see the whole area including the iconic Wildwood Tree and the beautiful mountains in the background. The ride itself is really smooth, no bounces, dips, or swings.
---
What are the Requirements to Ride the Treetop Tower?
---
Height requirement

There's no height requirement for the Treetop Tower,  but kiddos Under 42 inches
must be accompanied by someone 14 or older.

Health Conditions
Pregnant Mamas and Riders with certain health conditions such as motion sickness, heart problems, or that are currently in a cast may want to skip this ride.

Age Restrictions
There are no age restrictions for this super family friendly ride!.

Accessibility
Riders may need companion assistance transferring to the ride vehicle.
---
Frequently Asked Questions.
---
Is The Treetop Tower Suitable For Young Children?
The Treetop Tower is gentle and perfect for families with young kiddos or kids of different ages. The secure seating with seatbelts and bars across the door & windows will keep kiddos safe during the ride.
Can My Entire Family Ride Together on Treetop Tower?
Yes, the Treetop Tower is designed for families to enjoy together. Each gondola-style car can comfortably seat up to 4 adults or small families with children. It's a perfect ride for parents with little explorers.
Where is Treetop Tower Located Within Dollywood?
You can find Treetop Tower in the middle of Wildwood Grove, just before you reach the great tree swing.
How Long is The Typical Wait Time For Treetop Tower?
TreeTop Tower is very popular and can have long wait times, especially after noon. If You want to avoid long lines, you should consider doing this ride early in the morning.
---
Enjoy every moment, make great memories and Have fun!.
Did you go on this cute tower ride? Share your experience in the comments.
---