As a mama myself, I can tell you that Dollywood in Pigeon Forge, TN is an amazing place for families with kids of different ages. It has plenty of rides, live music, shows, and fun activities to keep them happy and entertained!.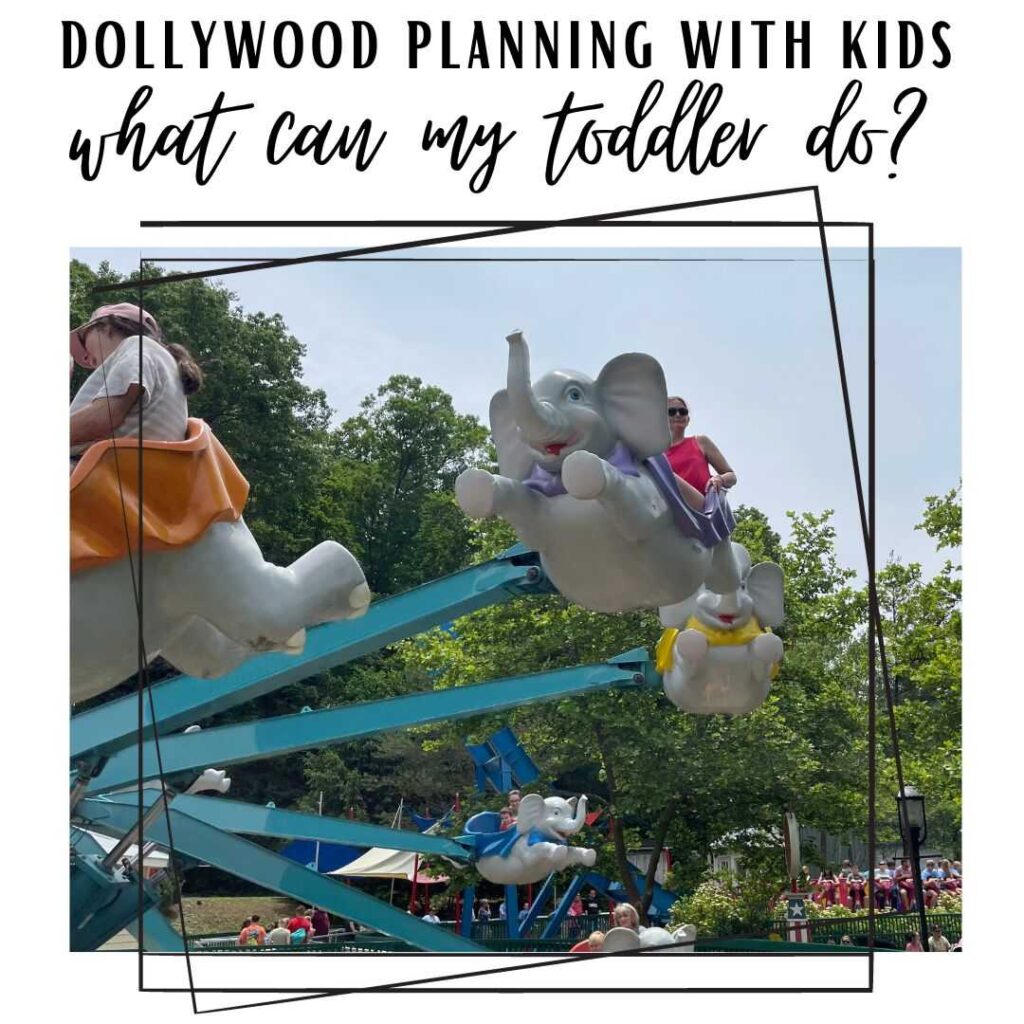 ---
what are some Of The Rides for Toddlers?
---
Dollywood has a number of fun attractions for the littlest explorers in the family, from kiddie rides to gentle junior roller coasters. Here are just some of the great options;
Dollywood's Village Carousel

Dollywood's Village Carousel is Located in The Village area, this is a classic carousel ride with beautiful horses that move up and down to the music. It's a great ride for the entire family to enjoy together.
Busy Bees
This ride is perfect for babies, toddlers and the younger kiddos. On this ride, they get to ride around and around on the back of the bees! The bees light up, and as the ride starts going around, the bees go up and down slowly to a catchy song!. There is no height requirement for this ride and little ones can ride on their own, or with an adult. You can find this ride in the Country Fair area of the park.
Piggy Parade

Another ride that is great for babies & toddlers and is located in the Country Fair area of the park. Just like Lucky Ducky, they sit on the backs of oinking pigs and the ride goes around and around. It sounds super simple, but little ones love it and end up with a huge smile on their little face.
Lemon Twist

You will take a seat inside a big, yellow cup & grab the steering wheel that's in the middle. Once the ride starts, you can use the wheel to make your cup spin faster and faster! If you or your kiddos don't like fast, spinning rides don't worry, your cup will spin slowly on its own. You can find this ride in the Country Fair area of the park.
Lucky Ducky

This ride is like Busy Bees but it doesn't move up and down, so it's perfect for the little ones who are just starting to get on rides. Your toddler sits inside and they have a steering wheel they can use to drive their ducky around and around!. This ride is in the Country Fair area of the park and it doesn't have height requirement.
The Amazing Flying Elephants

You can find this ride in the Country Fair area of the park and is a fun ride for the whole family, your toddler will love it. On this ride, you get to take a seat aboard one of the elephants, and once the ride starts you will fly!. You can make the elephants fly up and down.
Frogs & Fireflies

This ride is in the Wildwood Grove area of the park and it's fun, if your little one likes bouncy rides. Frogs & Fireflies is an enchanting ride made for little adventurers. Kids will love the frog themed cars that gently bounce and circle around and around, chasing fireflies!. 
Black Bear Trail

You can find this ride in the Wildwood Grove area of the park and is a toddler favorite. They get to sit on the back of a friendly bear, and ride! They will want to go again and again. 
Rocking Roadway

If you have a kiddo who loves cars, then you cant miss this one!. You get to drive a cool classic Corvette, Thunderbird or Cadillac along a route set in the 1950s, while you listen to some music. It's really fun car ride and everyone can go together.

This ride doesn't have a height requirement, but if your little one is under 42 inches, they will need someone 14 years or older to ride. This ride is located in the Jukebox Junction area of the park.

Whistle Punk Chaser

If you are just introducing your little thrill seeker to roller coasters, take them on the Whistle Punk Chaser. It is a short junior coaster with no drops or intense movements, and it only goes 16 miles per hour. This coaster is located in the Timber Canyon area of Dollywood.

Dollywood Express

Dollywood Express is perfect for taking a break or for the kiddos who just love trains. This awesome steam powered train will take you on a journey through the foothills of the beautiful Smoky Mountains. The train ride is about 20 minutes long. The train has open air cars, so you can take great pictures from anywhere you sit.

If you are riding with your kids, I recommend sitting towards the back of the train. The coal engine produces tons of ash and you don't want that getting in the eyes of your little ones. The train is in the Village area of Dollywood.
---
what are the kid friendly zones?
---
Dollywood's Playgrounds and interactive play areas are full of endless opportunities for fun and excitement.
Hidden Hollow
(Wildwood Grove)

This indoor playground is perfect for kids who love to explore and play, plus parents can relax and watch their kids play in a safe & secure environment. Since it is in a large, climate controlled building, Hidden Hollow is the perfect place to stay dry when it rains, cool off in the summer, or warm up on a cold day.

Hidden Hollow has different levels of play for kids to explore. They have slides, nets, climbing, soft play structures and more. Toddlers can stay safe in their own dedicated play space.
Firehouse Fun Yard
(Wilderness Pass)

Your little one can climb on a firetruck, slide down the truck's back, and during the warm months, shoot water!. This soft play area is designed especially for the littlest explorers. The fire truck is located in the splash zone.
( Remember to bring extra shoes and a change of clothes )

During the summer, your little one can avoid the water if they want by playing with the large blocks and chalkboard wall. You can find this playground below Fire Chaser Express roller coaster, its a great place to bring your little ones while older kiddos enjoy the roller coasters nearby.
Lil' Pilots Playground
(Owens Farm)

You can find Lil' Pilots Playground near the Barnstormer. This playground has a 16 foot wooden bi-plane and other aviation themed play areas, including a slide!. it's perfect for kids who love planes and want to explore the skies. 
Granny's Garden
(Owens Farm)

Granny's Garden is near the Barnstormer and across from Lil' Pilots Playground. Granny's Garden is a peaceful and natural looking play area located in Owens Farm. This space is perfect for toddlers. it has small slides, tunnels, and play structures.
Lumberjack Jam Band
(Timber Canyon)

Lumberjack Jam Band is a small but fun play area in Timber Canyon. This area has pots and pans for drumming, including a giant cast iron skillet!. kids can play music and perform for their friends and family. 
Wildwood Creek
(Wildwood Grove)

Wildwood Creek is a fun play area in Wildwood Grove, by the Wildwood Tree that has a little creek, water features, and play structures. Your kiddos can splash around in the water on a hot day to cool off ( remember to bring extra clothes and shoes ). Next to the creek, you can find musical instruments waiting for your kids to make some beats!
---
Food and Snacks Your Toddler Will Love!
---
When it comes to food and snacks, Dollywood has something for everyone, including toddlers! There are lots of options for your kiddos that are not only delicious, but also easy for little hands to hold and eat. One of the most popular snacks is Ice Cream!. It is creamy, cool, and perfect on a hot day. You can find ice cream throughout the park, and you can choose different toppings!.
Another favorite is cotton candy. It's fluffy, sweet, sugary goodness!. You can find cotton candy all around the park, and it's a classic treat that its sure to bring a smile to your kiddos face. Who doesn't love a good Funnel Cake! These delicious fried cakes are topped with powdered sugar. You can enjoy them plain or with many different toppings like strawberries and whipped cream. Your toddler will love the sweet taste, and the large size makes it perfect for sharing with the whole family.
Besides all the snacks, there are plenty of meal choices at Dollywood. Great options for even the pickiest toddlers are chicken tenders, grilled cheese sandwiches, and mac & cheese.
Now, if your looking For something a little more unique, you can try some of the park's specialty foods like their awesome cinnamon bread, pork rinds, turkey legs, and kettle corn. These treats are not only delicious, but they are also fun to try and share with your toddler.
---
Is Dollywood a Great Destination for Families with Toddlers?
---
YES! Dollywood is a great spot for a family vacation, even for families with toddlers. The park has a lot of different activities, attractions and shows that are great for little kids.
Dollywood has everything to make your day with a toddler filled with laughter, excitement, and memories that will last forever, Have fun!