When it comes to family friendly fun, Dollywood never disappoints. If you're visiting the theme park with your toddler, another perfect and gentle ride for them is Lucky Ducky.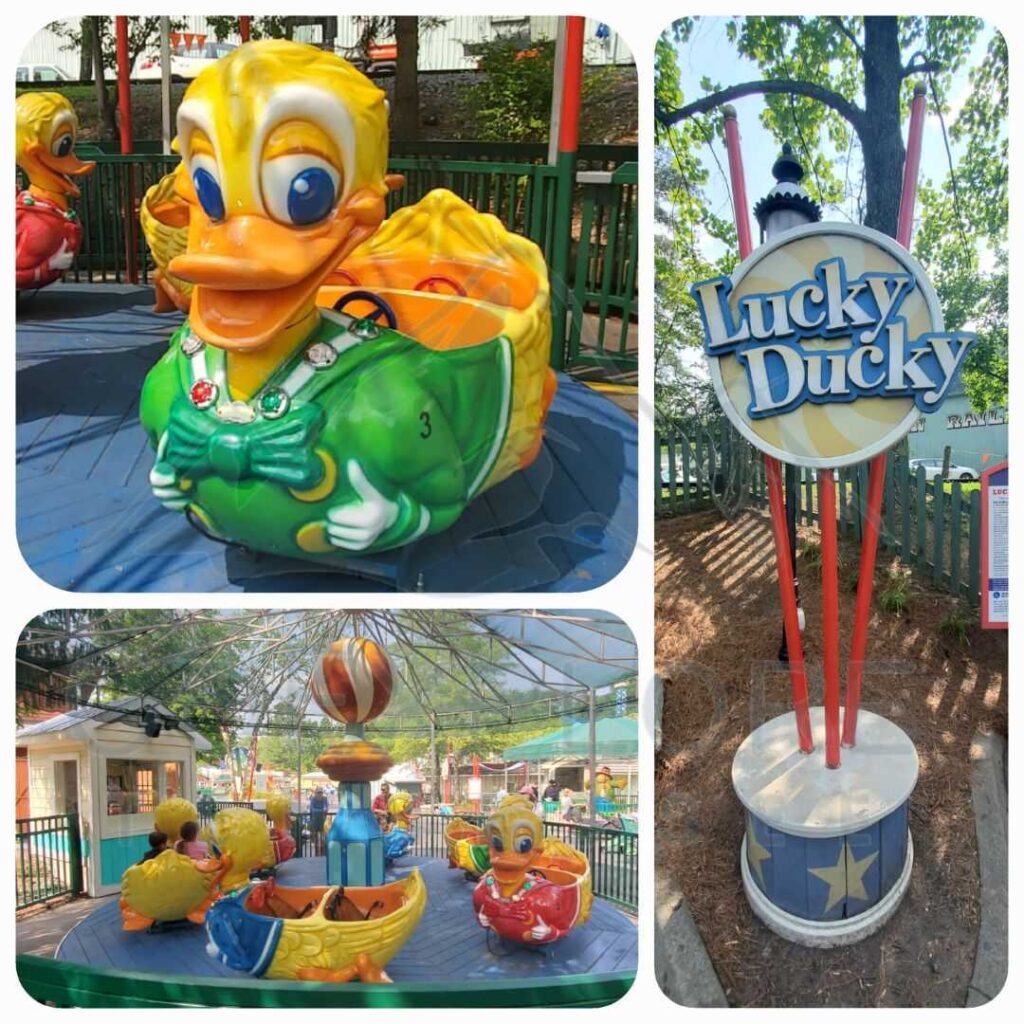 ---
---
What's it Like to Ride Dollywood's Lucky Ducky? (Review)
---
You can find Lucky Ducky in the Country Fair area of Dollywood, right next to Piggy Parade and Busy Bees. The line before boarding is really short and wait times for this ride is almost always less than 5 minutes. Once its your kiddo's turn to board, you will help them get on their seat on one of these brightly colored ducky boats. Each Lucky Ducky can sit up to four kids, and what makes it even better is that each seat has its own steering wheel (no fighting!). You will buckle them up and after that you can either walk towards the exit and wait there until the ride is over, or you can ride with your kiddo. The ride host will check everyone for safety and then they are off.
The ride slowly spins as the ride host sings a song or makes quacking noises with a toy. This ride does not go up and down like Busy Bees. It's a short ride so the kiddos don't get overwhelmed with spinning. After the ride is over, parents can go back in through the exit doors and help their kiddos off the boats ( and probably head back to the line to ride it again! )
---
What are the Requirements to Ride Dollywood's Lucky Ducky?
---
Height requirement

There is no Height Requirement to ride Lucky Ducky.
Age Restrictions

Lucky Ducky does not have Age Restrictions.
---
Frequently Asked Questions.
---
How Long Is The Lucky Ducky Ride?
Lucky Ducky is a short ride, 2 minutes long. Perfect for the littlest riders.
Where Can I Find Lucky Ducky in Dollywood?
Lucky Ducky is in a toddler area inside of Country Fair called
"Happy Valley Farmyard".
The ride is right next to Piggy Parade and Busy Bees.
How Many Kids Can Ride In One Lucky Ducky Boat?
Each Lucky Ducky boat can sit up to 4 kiddos,
making it ideal for siblings and friends to ride together.
Can Parents Ride along With Their Children On Lucky Ducky?
Yes, parents have the option to ride with their kids on Lucky Ducky.
---
Enjoy and make awesome memories together, have fun!
Did your kiddo love this ride? Share your story in the comments.
---